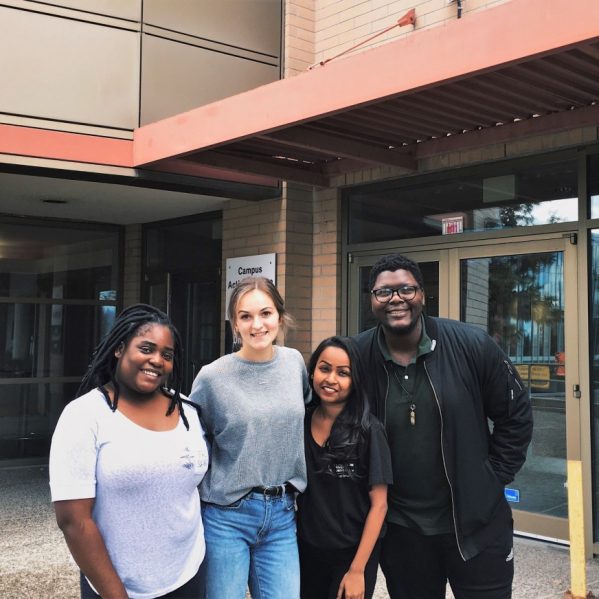 Get to know your friends behind the delightful eats at TRU.
Food Services currently has 20 full-time student and alumni employees and 47 part-time student employees. We wanted to introduce you to some of the faces you see on campus regularly and share their bite-size advice when it comes to eating on campus.
Sophia Koutsandreas– Sophia is a fourth-year bachelor of tourism student. After graduation, Sophia would like to work in the hotel industry within a marketing or public relations role. Sophia has been working as the TRU food services marketing intern for the past two years and her favourite part of the job is the flexibility it provides, which allows her to work around class schedules.
Sophia's' bite-size advice: Make sure to follow TRU Food Services on Instagram to get updates on yummy specials and daily features. Check out our Food Features page online so you can plan your meals for the week 🍔.
Sukhpal (Sukhii) Kuar – Sukhii is a first year, post-baccalaureate diploma student in human resources. After graduation, Sukhii plans to own a human resource business that will assist other companies with recruitment. Sukhii joined the TRU food services team in September working at both Tim Hortons and Urban Market  According to Sukhii, the best part of working with TRU food services is the different locations and the different people she gets to meet.
Sukhii's bite-size advice: You can find healthy options at all the locations. Eat at Urban Market Chop 'N Top for delicious salads. 🥙
Berlin Msiska – Berlin is a fourth-year computing science student with plans to become a software engineer after graduation. Berlin just started working with the TRU food service as a member of the conference centre set-up crew. According to Berlin, the best part about the job is that it is close to home and provides him with the flexibility to attend classes and study between his work schedules.
Berlin's bite-size advice: Try the pizza at the Urban Market. 🍕Try different locations on campus and the variety of food options available.
Myra Mapuvire – Myra is a third-year tourism student. After graduating, Myra's career goal is to be an event planner or make-up artist. Myra has been working as a Starbucks barista with TRU food services for two years. She likes working on campus because of convenience and the accommodation of working around her class schedules.
Myra's bite-size advice for Starbucks: Use your own to-go mug and get a $0.10 discount at Starbucks on any beverage.☕ Purchase a dining card and load it with $500 and receive $25 bonus dollars.
Eat on campus and take advantage of Sophia, Sukhii, Berlin and Myra's bite-size advice!
TRU Food Services welcomes your feedback and looks forward to working with all members of the TRU community to improve the overall dining experience. Send your comments to foodservicesfeedback@tru.ca