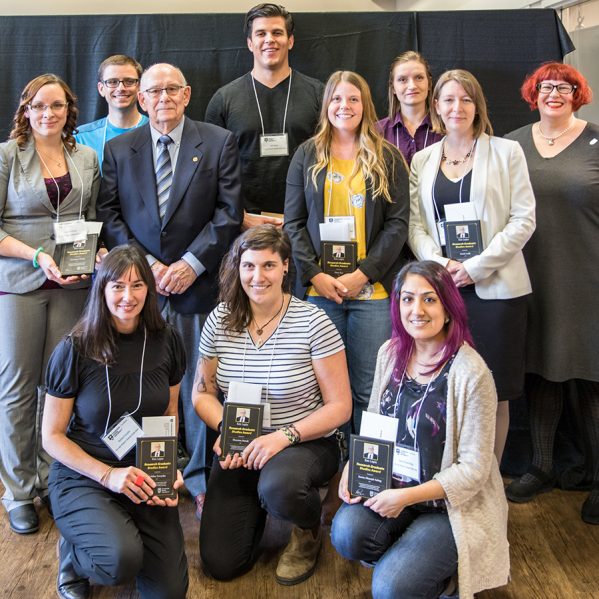 Kamloops philanthropist Ken Lepin presented $51,000 to nine graduate students during an Oct. 10 ceremony. This is the fifth year the awards have been offered.
The awards are available to help domestic students who are entering their first or second year of a full-time graduate studies program.
The awards are given on the basis of outstanding academic achievement in course work, research and leadership activities, and students who are originally from Kamloops and who completed their undergraduate studies at TRU are prioritized.
"Ken Lepin has been supporting students at TRU since 2006. To date, 26 students have received the Ken Lepin Graduate Student Awards for a total of $146,000, and 16 students have received the Ken Lepin Prize of Business Excllence, Entrepreneur and Communication MBA Award for a total of $43,000," said Dr. Christine Bovis-Cnossen, President and Vice-Chancellor (interim). "Thank you, Ken, for your continued support to help students in their academic journey to become the leaders of tomorrow."
"It's always a pleasure to celebrate graduate students at TRU and these students have proven themselves as exceptional academics, researchers and leaders," said Troy Fuller, Director of Research and Graduate Studies.
The awards have an immediate impact on the lives of the students who receive them.
"I am understandably ecstatic about this award. The generosity of the Lepins is amazing and their commitment to assisting students at TRU is inspiring. The award grants me the opportunity to focus on my Masters project in a way that otherwise would not be possible and for that I am very grateful," said recipient Brandon Turner, who is working toward a Master of Science in Environmental Science.
Recipients of the 2018 Ken Lepin Graduate Student Awards each receive $6,000. Recipients are:
Dana Michelle Eye, Master of Science
Eric Prytula, Master of Science
Shannon Mendt, Master of Science
Brandon Turner, Master of Science
Jeannine Chung, Master of Nursing
Robline Forsyth, Master of Education
Samta Dhanjal-Suhag, Master of Education
Sarah Ladd, Master of Education
Bhreagh Huber, MBA, was awarded the 2018 Ken Lepin Prize of Business Excellence, Entrepreneur and Communication (MBA), and received $3,000.