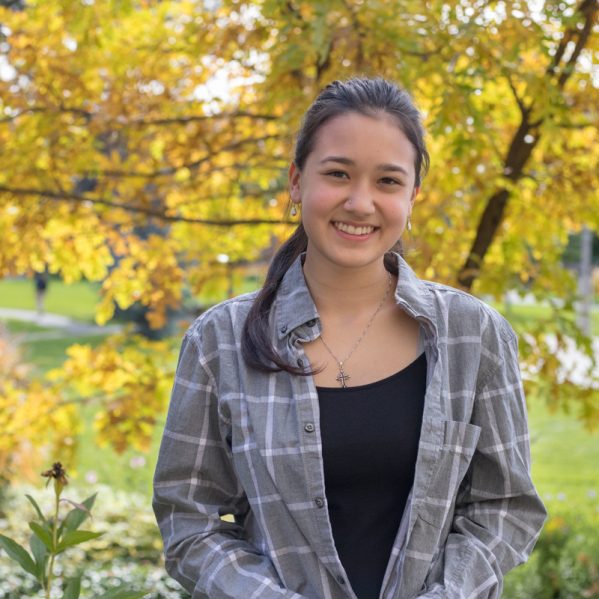 They are community builders, athletes, volunteers and scholars. In our TRU Trailblazers series, we're profiling some of our 2018 major entrance scholarship winners. Get ready to meet some of the newest members of the TRU community who are ready to make their own path.
TRU Trailblazer: Lily Scholtens
She was born in Holland, grew up in China and now lives in B.C.'s country-music capital of Merritt. But that's not the most unique aspect of Lily Scholtens's life.
"I am very determined," says Scholtens, now a first-year engineering transfer student who received her $5,000 scholarship for demonstrating exemplary leadership and community volunteer service along with academic success.
"The engineering field has so many opportunities, and it also doesn't have many ladies in it. I like being different, and in a way proving that girls can do things as well as guys. I admit there are some things that they do better, but engineering is something I and other women can do well. I also love algebra, physics and chemistry so it's a perfect fit."
Scholtens's life began with a lot of travel because her parents worked as missionaries. She was also homeschooled along with her four younger siblings. Their highly educated parents and their Christian faith have created a strong and supportive family unit that she can lean on when she needs to.
She has been involved with numerous aspects of the community in Merritt, from taking special training for Search and Rescue ice and helicopter teams to volunteering with the Centennials hockey team.
"I used to be part of the hockey teams chapel program, I don't do that anymore but I volunteer for events like their annual golf tournament and things like that. I'm friends with a couple of the players so I go see them and support the team," she said.
Volunteering is best when it's something you genuinely have a passion for, Scholtens said.
"It has to be a mix of having to enjoy what you are a part of, and of course putting in extra time. You have to ask yourself the question: is it something you enjoy and care about? If it is, it gets you out there in the community where you can make genuine connections," she said.
Before committing to university, she took a year off to travel around Germany. When she returned, TRU stood out because of its closeness to Merritt, its small class sizes and its engineering options.
There was also the fact that Scholtens loves math and science and wanted to pave the way for other women in a male-dominated field.
"I'm excited about university because it offers a new aspect of community life," she said.
Down the road, she aspires to work as an engineer in Europe so she can continue to see the world she has been exploring from a young age.