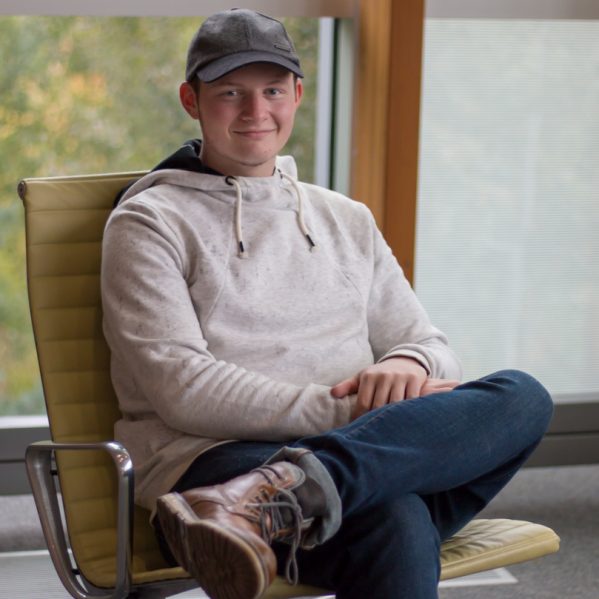 They are community builders, athletes, volunteers and scholars. In our TRU Trailblazers series, we're profiling some of our 2018 major entrance scholarship winners. Get ready to meet some of the newest members of the TRU community who are ready to make their own path.
TRU Trailblazer: Brody Butts
A volunteering rock star, aspiring neurosurgeon and first-year science TRU student, Brody Butts is bound to make his mark at the university just as he did in his hometown of Salmon Arm.
Butts is a recipient of the $5,000 TRU Leadership Entrance Scholarship and is focusing on a major in biology for his Bachelor of Science degree. The scholarship is awarded to students who have demonstrated leadership, community service and academic achievement.
Diagnosed with high-functioning autism in middle school, Butts has been determined to use his diagnosis to fuel his academic and career plans. His diagnosis sparked such an avid interest in neurology that his long-term plan is to go to medical school and specialize in pediatric neurosurgery.
"After my diagnosis, they told my parents that I wouldn't graduate, that my social skills would hold me back so much that I wouldn't be able to do well in classes, and I most likely wouldn't have the ability to pursue a higher education," said Butts.
"I realized that my diagnosis wasn't going to change and I just had to get used to it, so that is what I did. I started advocating for myself, making sure I got what I needed in school."
In Salmon Arm, Butts volunteered, participated in and organized numerous events for his school and community. He was on his school's leadership committee and he pioneered events like the school's inaugural wellness conference. Particularly meaningful to him was being part of a mentoring program where he worked with other students on the spectrum, mentoring and teaching self-advocacy. His work got him nominated for the Self-Advocate of The Year award from Autism Society of B.C.'s Excellence in Autism Awards, and he won the Trevor Linden Community Spirit Scholarship.
"It doesn't take much to get involved with your community. On a smaller scale, do the smaller events with your school. On a larger scale, get involved with organizations in your community. Talk to active organizations within your community and ask them about volunteer opportunities," he said.
Butts has lots to look forward to in the next four years: a change of scenery, a fresh perspective and finding community among like-minded individuals. Only a few weeks into his university classes, he has already found a way to get involved on campus. He has joined multiple clubs and he expects to get involved with more activities in the future, but for now, he is settling into his new environment.
"I'm looking forward to seeing how I settle in here, it already feels really comfortable."
Butts is driven by his own journey, succeeding despite his challenges. He stressed how important it is to not let others distract you from your goal.
"There are going to be people in your life who are going to say 'That is a little too ambitious, are you sure you want to do that? Maybe you want to settle for something else.' But no matter what people say to you, you can't let that doubt sink in. If you do, you are going to start focusing on things that distract you from your goal," he said.
"I took what was inspiring me, I applied that to what I had to do, and I recognized what I had to do to get there."