Leaving home to attend university was always an option for Evan Choy, but strong family values and a desire to be a present and positive role model for his younger brother kept him home in Kamloops and led him to TRU.
Throughout his studies, Choy maintained a razor-sharp focus and racked up an impressive list of extracurricular accolades. All that contributed to him being chosen to represent the School of Business and Economics as valedictorian at the June 6 convocation ceremony.
He admitted he didn't do it alone and credited his family's help for much of what he's accomplished.
"I would not be here, or be the person I am today, if not for support from my family," he said. "I'm very appreciative of them."
Choy took full-time classes, worked a co-op term which evolved into a management position at TD Canada Trust, held several positions with Enactus Club, stayed involved with the TRU Marketing Association, acted as undergraduate student representative in the School of Business and Economics faculty council, and was  career ambassador for the Career Education department. He also spent a term studying abroad in Barcelona.
See below for Choy's valedictorian address
Additionally, Choy was a student representative on the TRU Senate and participated in the TRU Presidential Search Committee that selected TRU's soon-to-be president and vice-chancellor, Dr. Brett Fairbairn.
His path is a successful one, but it wasn't without challenges.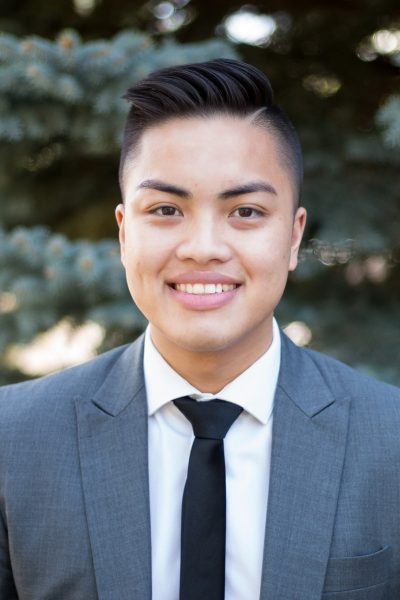 Choy excelled in high school without much effort and he thought post-secondary would be the same. His first year of studies proved to be much more difficult than he expected and it took time to adjust to the demands of university. Looking back, he doesn't have any regrets with how he met the challenge.
"It's actually great that people struggle in first year. The only way to find out about who you are and what you're actually interested in, is to endure failure," he said. "You have to get comfortable with being uncomfortable. Enduring the low moments and failure and seeing how you come out is so important."
He rose to the test and amassed a lengthy list of awards and accolades.
Evan was presented with the 2018 Ken Lepin Entrepreneurship Spirit Award, 2017 Scotiabank Award for New Venture Creation and Small Business Management, the International Mobility Study Abroad Exchange Award, the Irving K. Barber One World International Scholarship and the BC Interior Community Foundation Award. Additionally, he was nominated for co-op student of the year and the 3M National Student Fellowship.
Being invested in his education and extracurricular activities has benefitted him in many ways, but Choy especially values the professional network he's built while here. He hopes to one day become a mentor for students.
Down the road, he'd like to return to university to earn a Master of Business Administration. He also has a keen interest in property management, entrepreneurial ventures and managing private equity funds. Soon Choy will relocate to Toronto and later Prince George for a branch manager training program with TD Canada Trust.
Watch Choy's valedictorian address