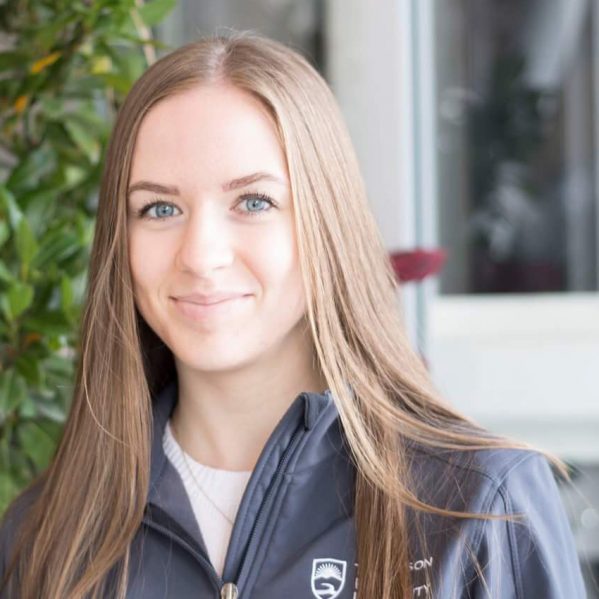 Even without the title and the award, Breanne McAmmond actively promotes research at TRU.
"Doing research has truly changed my career path and how I view my education, and I want others to experience that as well while they're attending TRU," said the fourth-year microbiology student.
This will be McAmmond's second year as an Undergraduate Research Ambassador. She is one of 13 students selected to receive an ambassadorship for the 2018-19 school year, which also comes with a $3,000 award.
As part of this peer-to-peer mentorship program, Ambassadors guide students through the Undergraduate Research Experience Award Program application process, and provide feedback on unsuccessful applications. They provide constructive critique for poster presentations during the Undergraduate Research and Innovation Conference, and participate in a variety of activities designed to support undergraduate research throughout the year.
"I'm looking forward to reaching out to the incoming wave of new-to-TRU students. Making new students aware of the research opportunities at TRU from the get-go is a huge priority; the earlier students get involved in research, the more they'll benefit from it. I want to be able to share my story of how doing research at TRU has changed my life, because I know it has the potential to benefit so many others as well," McAmmond said.
Incoming Graduate Research Mentor Jackson Baron, who is entering his second year of the Master of Science in Environmental Science program, is excited for the opportunity to build connections with students from outside his program.
"My work is very interdisciplinary so it'll be interesting to see what research is taking place in the next cohort, and to see how I can help these students by sharing some of my own experiences with them," he said.
Graduate Mentors meet regularly throughout the academic year to plan a variety of events including the annual Three Minute Thesis and the Graduate Research Symposium. Each Graduate Mentor receives a $7,000 award, and 10 have been awarded.
Both the Undergraduate Research Ambassador and Graduate Research Mentor programs are in their fourth year, and were established to help create a unique culture of graduate and undergraduate research at TRU.
2018-19 Undergraduate Research Ambassadors
Lindsay Bamford
Payton Comazzetto
Kyley Drach
Mai Hayashi
Cole Hooper
Spencer Jaroszuk
Nikola Klassen
Marta Lefsrud
Lavaraj Lidher
Breanne McAmmond
Madelaine Morton
Mathew Norman
Shayla Piccini
Maria Stoney
2018-19 Graduate Research Mentors
Elisabeth Awadey
Jackson Baron
Zoey Bradshaw
Rhyannon Garant
Rubayeth Haque
Satvir Kaur
Meera Munusamy
Pate Neumann
Rien Okawa
Martin Schulte