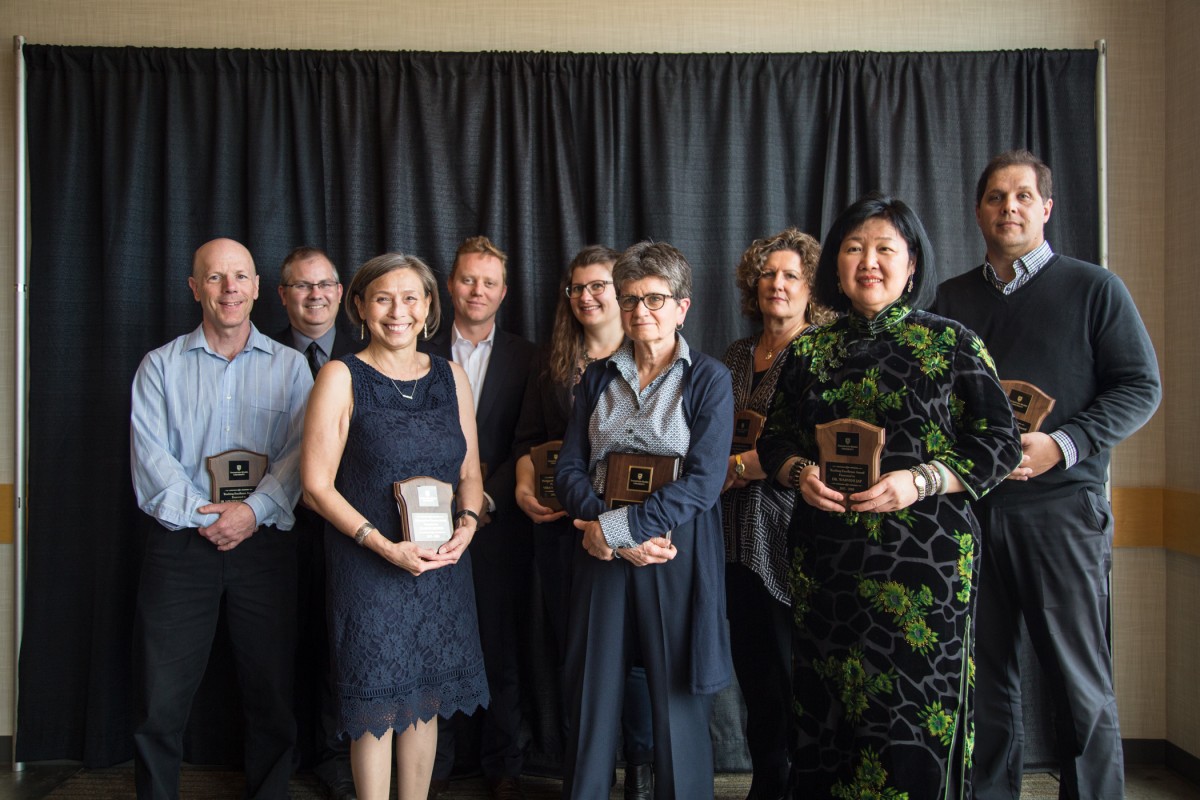 Hundreds of colleagues and supporters flooded the Mountain Room on April 19, 2018, for the President's Annual Merit and Long-Term Service Awards. Gathered to celebrate this year's nine outstanding award recipients and recognize 185 faculty and staff members for their long-term service, Provost Dr. Christine L. Bovis-Cnossen emceed the afternoon while President Alan Shaver and Board of Governors Chair Jim Thomson presented the awards.
The 2018 Merit Award recipients are as follows:
TRU Master Teacher Award
TRU annually recognizes a faculty member who demonstrates long-term career achievements in teaching, pedagogy and the promotion of good teaching. Nominees must be faculty members currently employed on a full-time or part-time basis in any of our faculties or schools.

Dr. Nancy Flood, Faculty of Science
Nancy is a senior lecturer in Biological Sciences who has been inspiring students in courses and field schools since 1992. Her ability to excite students has influenced their career choices and success as scientists and teachers. Many found her editorial expertise critical in enabling them to publish their theses. Dedicated to mentorship, Nancy has been a long-time advisor to the Biology Undergraduate Society and coordinator of the Biology Honours program. Mentoring too in the scholarship of teaching and learning, she has worked to build a community of scholarly teachers, and most recently co-authored Place-Based Education: An Inter and Multidisciplinary Approach. Her leadership on the academic integrity committee has made TRU a model of best practice across Canada.
TRU Teaching Excellence Award
TRU annually recognizes up to three faculty members who represent the best qualities of teachers, in and out of the classroom. Nominees may be full-time, part-time or sessional faculty and must have taught at TRU for five continuous years.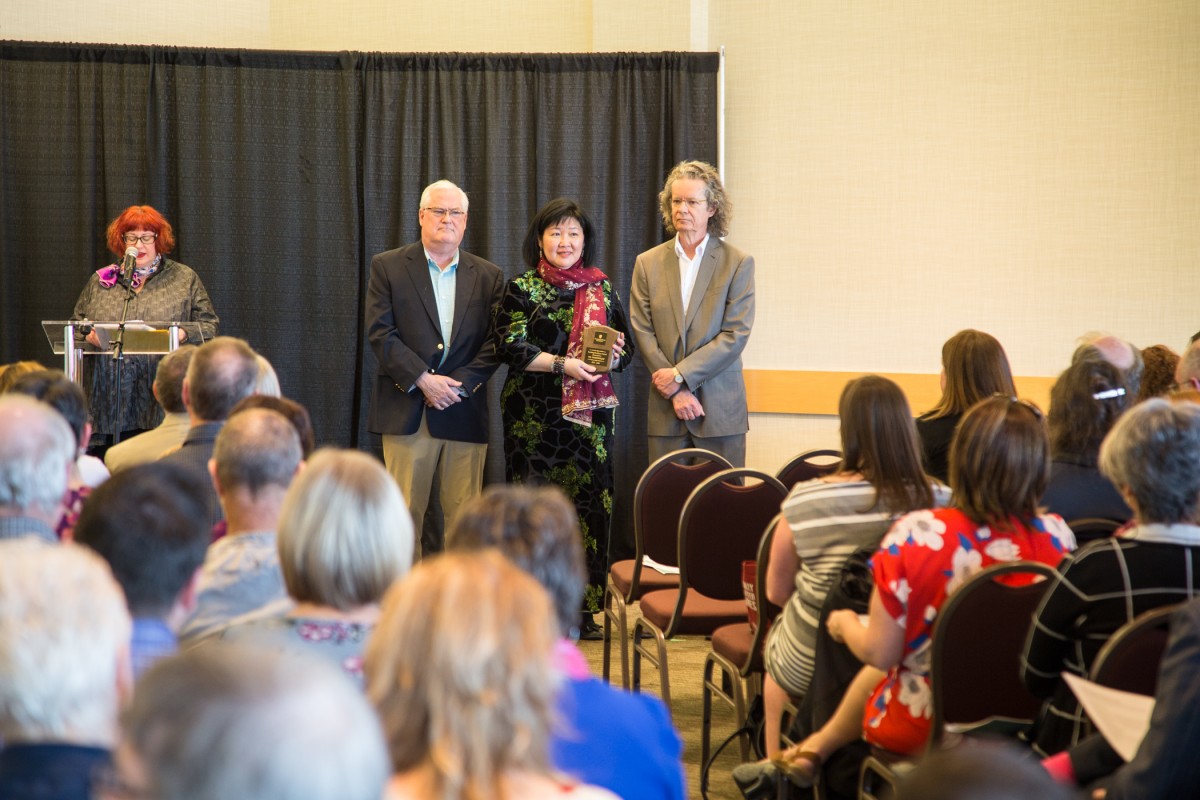 Dr. Warveni Jap, School of Business and Economics
Warveni is an assistant professor in Marketing and International Business and has been a driving force in making curriculum more international and globally aware since joining TRU in 2002. She was a critical player in developing the Master of Business Administration program both face-to-face and online, and the Bachelor of Business Administration's international business major, minor and post-baccalaureate. She's a passionate educator and strong advocate of international learning opportunities, gifted in her ability to integrate a wealth of global experience into lessons. Warveni has completed teaching assignments at TRU's partner institutions in China and has been an invaluable resource for many international students, providing educational resources and encouraging class participation and networking.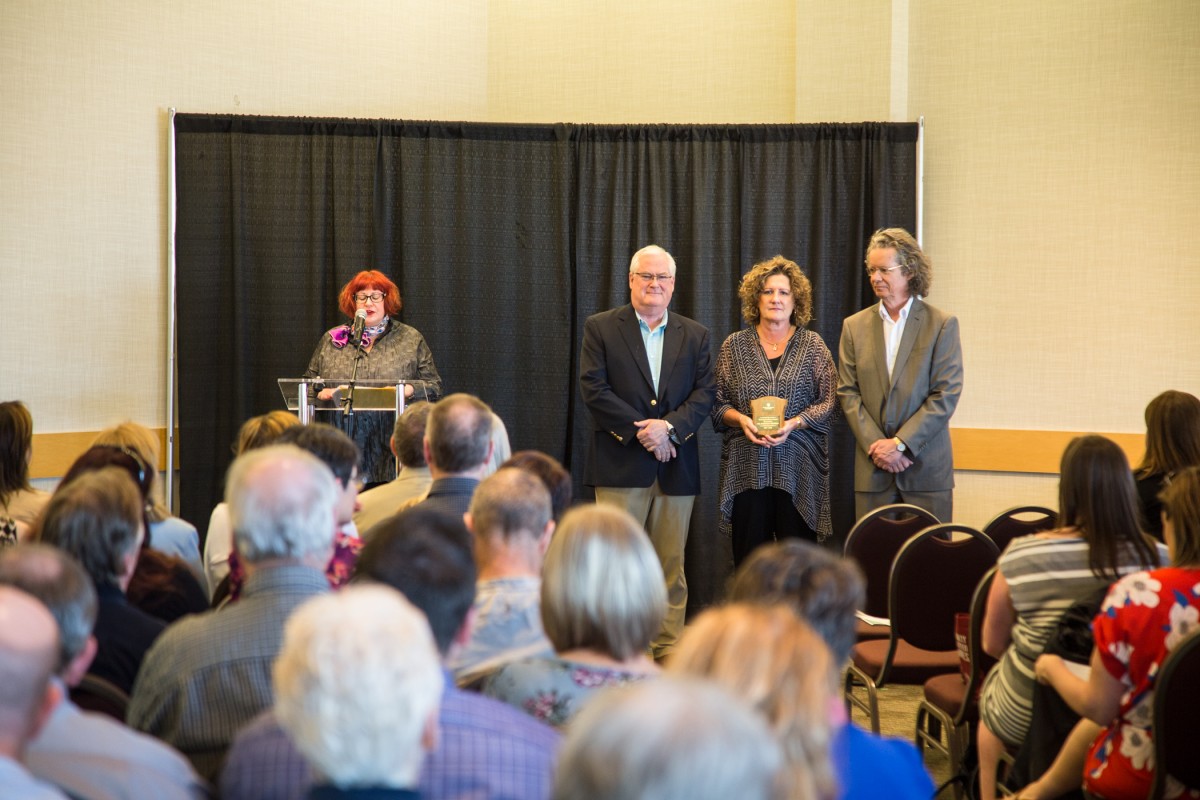 Dr. Patricia Neufeld, Faculty of Education and Social Work
Pat is a professor in both Education and Social Work who has been instrumental in developing TRU's Master of Education program and mentoring its students since joining the university in 2009. Students describe her teaching as refreshing, modern and reflective, and her knowledge of course material and its practical application provide them a fuller understanding. Always accessible and supportive, she actively engages in coordinating relevant internships and supporting graduates. She developed an international partnership with the University of Education, Heidelberg, enriching learning with international perspectives and opportunities abroad. Pat is a self-described lifelong learner, challenging students to think critically and integrating their feedback into the curriculum.

Dr. Iain Stewart-Patterson, Faculty of Adventure, Culinary Arts and Tourism
Iain has been a faculty member with Adventure Studies since joining TRU in 1992 and has been a passionate educator since 1979. One of very few fully-certified ACMG Mountain Guides to complete a PhD, he's an internationally acclaimed researcher in human factors affecting expert decision-making. With decades of guiding expeditions under his belt from some of Canada's top outfits, students relate to the real-life experiences he lends course curriculum. His classes are famous for creative approaches fostering student participation and deeper understandings. Iain is known for his open-door policy and has inspired countless young mountain guides to join the ranks.
TRU Excellence in Scholarship Award
TRU annually recognizes a faculty member whose research, scholarly activity or production of creative works represents a significant contribution to the field of inquiry. Nominees must be full-time faculty members who have worked at TRU for at least five continuous years and have not received the award within the past five years.

Dr. Chris Hunt, Faculty of Law
Chris is an associate professor in TRU Law who joined the faculty in 2012 after completing his PhD in Law at Cambridge University. A leading scholar in privacy law, he has published peer-reviewed articles in leading law reviews nationally and abroad, and is working on his third book. He co-founded the Canadian Journal of Comparative and Contemporary Law at TRU in 2013, and is co-editor-in-chief. He was recognized with the 2013 David Watson Memorial Award for two articles in the Queen's Law Journal that made a significant contribution to legal scholarship, and has been cited by the Supreme Court of Canada. A committed mentor, Chris has supervised directed research projects and worked with students to co-publish in top-quality law reviews. Read more about Dr. Chris Hunt
TRU Distinguished Service Award
TRU annually recognizes up to five individuals who demonstrate outstanding abilities and contributions, drawn from all employee groups: two support staff, one faculty member, one Open Learning faculty member and one administration member. Nominees may be full-time or part-time employees and must have worked at TRU for five continuous years.

Glenn Read (Administration), Ancillary Services
Glenn is executive director of Athletics, Recreation and Ancillary Services and joined TRU in 2007. His compassionate leadership style spans various departments where service excellence and innovation are paramount, and where he collaborates with TRU's sustainability office to ensure ancillary services are meeting or exceeding the university's goals. He has increased and diversified food options, extending hours and adding more dietary options. Glenn is passionate about student success and providing opportunities for student employment across ancillary departments. In the past five years, students have received over $2.3 million in wages to help fund their education, and Glenn also implemented a textbook rental program and introduced e-books to the Bookstore to reduce costs.

Cliff Robinson (Faculty), Faculty of Student Development
Cliff has served TRU and the wider community as counsellor, leader and volunteer since 2005. His contributions to the health and wellbeing of students are profound. He has shared his caring and expertise tirelessly with colleagues and students at the Residence; with supplemental learning leaders, Writing Centre tutors and Aboriginal mentors; on faculty council and other TRU committees; and as president of the Boys and Girls Club of Kamloops. He is a founding member of TRU's interdisciplinary Behaviour Intervention Team. With humour and his signature civility, he synthesizes contradictory views and focuses his colleagues on identifying what's best for students. Cliff makes himself available at all times to students in crisis.

Joanne Brown (Support Staff), Faculty of Student Development
Joanne has been the supervisor of services for Aboriginal students since 2004. For many years, she was the sole staff person dedicated to supporting prospective and ongoing Aboriginal students—walking alongside them, as she describes it. Joanne initiated many of the key features that make Cplul'kw'ten a home away from home, and established partnerships in the community. Later, she nurtured the growth of the services team, advocating to establish TRU as a place where Aboriginal students could see themselves reflected in the staff and faculty. With warmth, wisdom and non-judgmental guidance, Joanne has skillfully steered the TRU community toward forgiveness, understanding and inclusivity.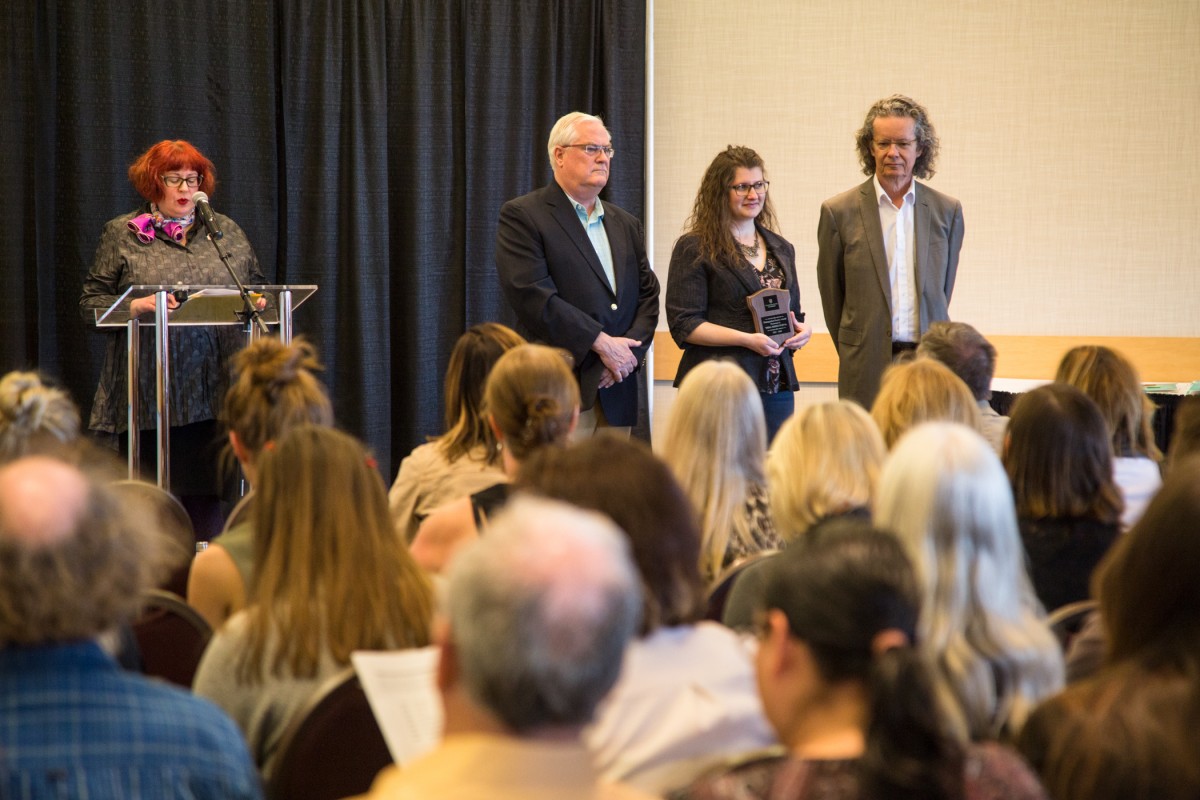 Vera Merkusheva (Support Staff), Information Technology Services
Vera has worked on the Enterprise Systems team as a software analyst since 2010. A dedicated and empathetic colleague working quietly behind the scenes, she has contributed to several mission-critical projects over the years, with significant results. She designed, championed and implemented an innovative replacement for the former myTRU portal, providing an easier-to-use, efficient and more cost-effective option for accessing TRU services that has received kudos from students and faculty. Her diligence on the single-sign-on project and the TRU Go app have improved services the entire TRU community uses on a daily basis. Vera goes the extra mile for others each day, and will now tackle a new challenge as web and internet services coordinator.
President's Annual Long-Term Service Awards
TRU recognizes the contributions of its employees with 10 through 40 years of long-term service with a series of service award pins.
40 Years of Service (since 1978)

35 Years of Service (since 1983)
Rob Anderson, School of Business and Economics
Bernadette Harris, Open Learning
Les Matthews, Faculty of Science
John O'Brien, Open Learning

30 Years of Service (since 1988)
Wayne Babinchuk, Faculty of Science
Lorne Bellamy, Faculty of Arts
Alfie Butt, School of Trades and Technology
Nina Chernoff, School of Business and Economics
Derek Cook, Faculty of Arts
Raymond Folvik, Faculty of Adventure, Culinary Arts and Tourism
Wayne Hendry, Enrolment Services and University Registrar
Deborah Huber, Faculty of Education and Social Work
Darlene Kalynka, Faculty of Arts
Debora Marchant, Open Learning
Brenda McGregor, Faculty of Adventure, Culinary Arts and Tourism
Anita Penner, University Library
Dan Thompson, School of Business and Economics
Keith Whitmore, Open Learning
Lena Whitmore, Enrolment Services and University Registrar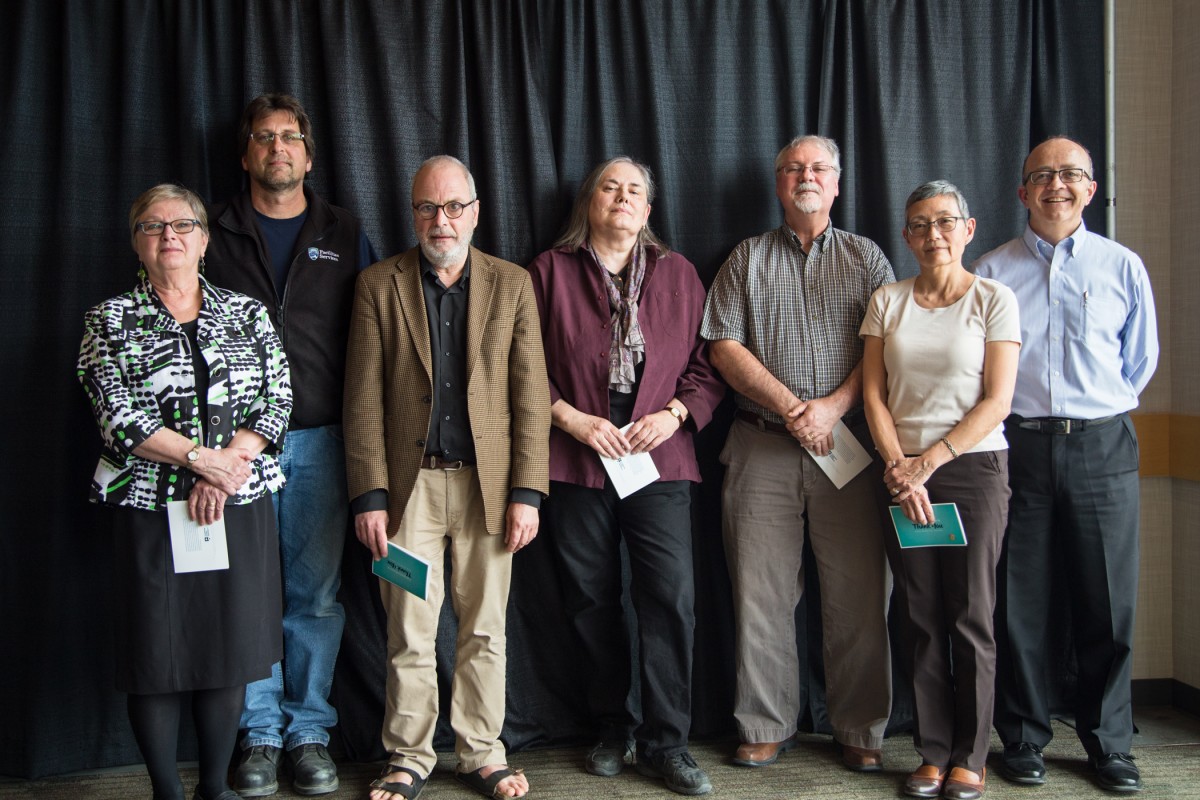 25 Years of Service (since 1993)
Daniel Bissonnette, Faculty of Science
Julie Bowser, Continuing Studies
Rolf Demale, Facilities Services
Ivan Desjardins, School of Business and Economics
Gordon Down, Enrolment Services and University Registrar
Don Ferguson, Faculty of Science
Tom Friedman, Faculty of Arts
Michael Gorman, Faculty of Arts
Penny Haggarty, University Library
Brian Heise, Faculty of Science
Wendy Krauza, Faculty of Education and Social Work
Mary Kruger, Open Learning
Leona Lang, Continuing Studies
Genevieve Later, Faculty of Arts
John Marasigan, Open Learning
Randy Matter, Ancillary Services
Linda McAbee, Enrolment Services and University Registrar
Jeff McLaughlin, Faculty of Arts
Carey Miggins, School of Trades and Technology
Elizabeth Reimer, Faculty of Arts
John Salvatore, Faculty of Education and Social Work
Michael Sansome, Faculty of Education and Social Work
Gord Setka, Facilities Services
Teresa Torchia, Faculty of Law
Peter Tsigaris, School of Business and Economics

20 Years of Service (since 1998)
Fran De Vries, Ancillary Services
Angie Douglas, Finance
Josey Fischer, Faculty of Arts
Mona Hall, Open Learning
Dallas Ingram, Continuing Studies
Kimberley Johnstone, Faculty of Adventure, Culinary Arts and Tourism
Mila Kwiatkowska, Faculty of Science
Lisa Lake, School of Business and Economics
Eileen Leier, Faculty of Arts
Leslie Matthews, TRU World
Erin McCarthy, Faculty of Student Development
Dianne Miszkurka, TRU World
Kevin O'Neil, Faculty of Science
Christine Petersen, Faculty of Science
Robin Reid, Faculty of Adventure, Culinary Arts and Tourism
Sherri Ressler, School of Nursing
Joanne Rosvick, Faculty of Science
Susie Russo, Enrolment Services and University Registrar
Kathy Senft, Finance
Wanda Story, School of Business and Economics
Shawn Thompson, Faculty of Arts
Tom Waldichuk, Faculty of Arts
Margaret West, Enrolment Services and University Registrar

15 Years of Service (since 2003)
Eric Agyekum, Open Learning
Terryl Atkins, Faculty of Arts
Tasha Baker, Faculty of Student Development
Pat Barringer, School of Trades and Technology
Jason Bermiller, Faculty of Arts
Veronica Boughton, Faculty of Arts
Richard Brewster, Faculty of Science
Stephen Butt, Ancillary Services
Nancy Carson, School of Business and Economics
Brian Cassell, Faculty of Arts
Joe Dobson, Faculty of Education and Social Work
Melvin Doherty, School of Trades and Technology
Michael Finch, School of Trades and Technology
Laura Ford, School of Nursing
Shahriar Hasan, Open Learning
Percy Hebert, Open Learning
Roman Hessel, Facilities Services
Richard King, Faculty of Science
Sherri King, TRU World
Ernie Kroeger, Faculty of Arts
Cameron Lindsay, Facilities Services
Michael Looney, Open Learning
Jonathan Mackintosh, Ancillary Services
Nelaine Mora-Diez, Faculty of Science
Sheldan Myers, Faculty of Science
Susan O'Connor, Open Learning
Shawn Read, Faculty of Student Development
Carly Royer, Faculty of Student Development
Vicky Smith, TRU World
Peter Soberlak, Faculty of Education and Social Work
Deborah Sproull, Enrolment Services and University Registrar
Saskia Stinson, Faculty of Education and Social Work
Debbie Thomson, School of Trades and Technology
Jonathan Van Hamme, Faculty of Science
Yaying Zhang, Faculty of Arts

10 Years of Service (since 2008)
Christopher Adams, Regional Centres – 100 Mile House
Sofi Almers, Faculty of Education and Social Work
Anthony Bell, School of Business and Economics
Kelvin Booth, Faculty of Arts
Allen Boyda, Information Technology Services
Paul Bradbury, Open Learning
Dawne Bringeland, Open Learning
Sharon Burchart, Human Resources
Juan Caldera-Noriega, Open Learning
Tanis Carmichael, Finance
Judith Chomitz, Faculty of Adventure, Culinary Arts and Tourism
John Church, Faculty of Science
Rhea Clements, Continuing Studies
Clint Cochrane, Facilities Services
Billy Collins, Faculty of Adventure, Culinary Arts and Tourism
Debra Cousineau, TRU World
Sandra Coyston, Open Learning
Bart Cummins, Marketing and Communications
Richard Duguay, Open Learning
Maxine Gaye Dunkley, Faculty of Law
Meg Durvin, Faculty of Student Development
Kimberly Eichhorn, Finance
Gladys Elliott, Finance
Suzanne Feldberg, Faculty of Science
Joanne Fennell, Open Learning
Sean Finucane, Open Learning
Boyd Fischer, Information Technology Services
Lisa Fiset, Finance
Rosalind Flockhart, Enrolment Services and University Registrar
Nancy Gale, Faculty of Education and Social Work
Mary Gordon, School of Nursing
Kristen Hamilton, Integrated Planning and Effectiveness
Laura Helfrich, Finance
Melody Hessing, Open Learning
Janet Hildebrandt, Faculty of Education and Social Work
Robyn Hollas, Ancillary Services
Lorain Hupman, Faculty of Science
Lorna Hutchinson, TRU World
David Johnson, Open Learning
Denise King, School of Business and Economics
Shaun King, Faculty of Adventure, Culinary Arts and Tourism
Shana Kushniruk, Open Learning
Jennifer Leibel, Office of VP Administration and Finance
Kristina Lidster, Human Resources
Duncan Low, Open Learning
Jack Massalski, Faculty of Education and Social Work
Gerald Matus, Human Resources
Sean Mauricio, Open Learning
Rhonda McCreight, School of Nursing
Tinille McKenzie-Wyatt, Faculty of Science
Debbie McNichol, Human Resources
Nicole Merritt, Finance
Chris Miller, Faculty of Adventure, Culinary Arts and Tourism
Johanna Norman, Finance
Julie Orobko, Finance
Catherine Ortner, Faculty of Arts
Satwinder Paul, School of Trades and Technology
Larry Phillips, Human Resources and Planning
Ron Polischuk, Open Learning
J. Randolph Radney, Faculty of Arts
Andrea Rhodes, Information Technology Services
Sheila Rice, Open Learning
Arlana Sale, Finance
Sandy Scarff, Human Resources
Kathleen Scherf, Faculty of Arts
Melissa Schuurman, Open Learning
Brianna Senner, Enrolment Services and University Registrar
Fina Sirianni, Human Resources
Carol Smith, Open Learning
Shannon Smyrl, Faculty of Arts
Carolyn Teare, Open Learning
Russ Turner, Faculty of Adventure, Culinary Arts and Tourism
Trina Valin, Enrolment Services and University Registrar
Robert Van Leeve, Human Resources
Tracy Vickers, Open Learning
Catherine Waddell, TRU World
Kristin Webb, Enrolment Services and University Registrar
Visit our Flickr album to view and download more photos from this event