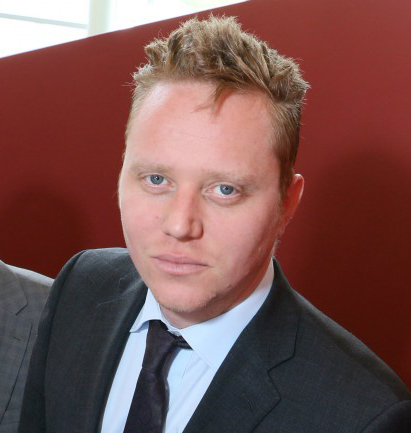 Dr. Chris Hunt is the first member of TRU's Faculty of Law to receive the prestigious Excellence in Scholarship Award.
Hunt, who received the award during last week's Merit Award ceremony, began his career at TRU in 2012, the same year that he received his PhD from the University of Cambridge.
"We've very much put research at the front and centre of our mandate within the Faculty of Law, and I'm happy to be able to contribute to that research culture," Hunt said. "It is gratifying and humbling to be the first person awarded from within the Faculty of Law. This is a great honour. My colleague, Dr. Robert Diab, nominated me and that was a really generous and gracious thing for him to do."
This award recognizes excellence in research, scholarly activity or in the production of creative works over a sustained period of time that represents a significant contribution to the field of expertise. There's no doubt Hunt's research has had impact in the field of privacy law.
Hunt's privacy scholarship has been cited extensively within the academic community, as well as by the Supreme Court of Canada and the Australian Law Reform Commission. His work on privacy has appeared in many leading journals in Canada and abroad, including the Cambridge Law Journal, the Oxford University Commonwealth Law Journal and the McGill Law Journal.
In 2013, he received the David Watson Memorial Award, given by the Queen's University Faculty of Law for two articles he published in the Queen's Law Journal that were deemed to have made the most significant contribution to legal scholarship that year.  
Along with Diab, Hunt is founding Editor-in-Chief of the Canadian Journal of Comparative and Contemporary Law, which launched at TRU in 2013. He was awarded the Teaching Excellence Prize by the TRU Student Law Society in 2012-13 and again in 2013-14.
Read the full recap of the 2018 Merit and Long-Term Service Awards