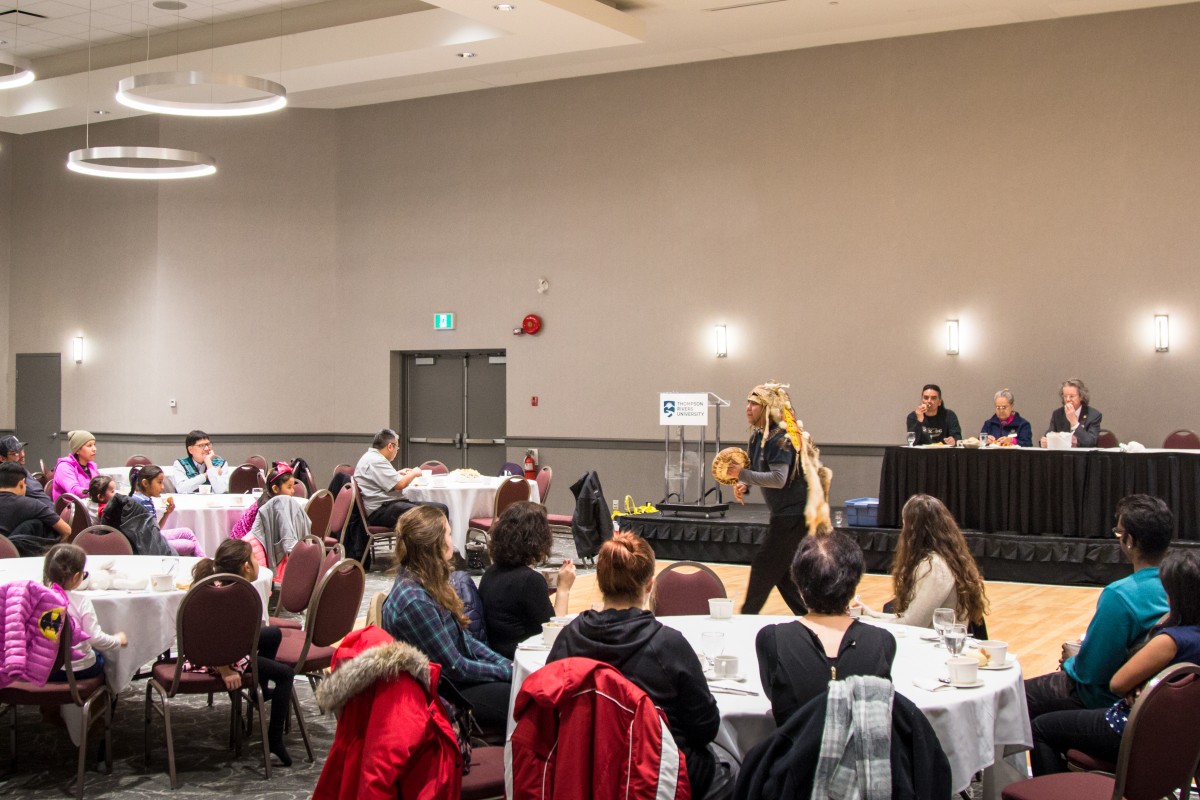 A traditional staple of Indigenous peoples diets, bannock is also known for being a part of gatherings and togetherness. TRU's first Bannock Bake-Off event on Tuesday, Feb. 27, followed that tradition of bringing people together as students, staff, faculty and the local community congregated to share stories and break bread.
Many of those who attended the bake-off, held at the Campus Activity Centre as part of Aboriginal Awareness Week, commented on how bannock seems to bring people together. TRU elder Estella Patrick Moller fondly reminisced about summer evenings baking bannock on Shuswap Lake, where the smell of her sp̓íxle7cw—the Secwépemc word for the delicacy—drew neighbours to her campfire from around the lake.
Traditionally, the Secwépemc people prepared sp̓íxle7cw by wrapping the dough around a stick swathed in a special moss to prevent the dough from sticking. It was cooked over coals from an open fire. Today, there are many different methods for preparation and countless ingredient variations, but bannock's ability to bring people together continues. 
The bake-off began with an acknowledgement that the event was being held on traditional and unceded Secwépemc territory, where local Tk'emlúps te Secwépemc band members would play lead roles in the proceedings. Spectators, competitors and judges shared a meal of hearty soup and rich conversation before a lively storytelling performance began.  
While the judges tasted their way through the bannock entries, spectators listened to charismatically delivered Indigenous tales about suckerfish and eagles. Themes of spirituality, the interconnectedness of all living organisms, camaraderie and humour kept the audience engaged while judges argued about the subtleties of their preferred bannock contenders.
When the crumbs had settled, TRU Bachelor of Commerce alum Hillary McLean was crowned the 2018 bannock bake-off champion. McLean was unable to attend, but her brother stepped forward to accept the award on her behalf. He told the audience his sister would be thrilled to learn she'd won first prize.
With the victors appointed, the remaining bannock was shared among the crowd. As the bake-off entries disappeared, audience members ventured back into the cold winter night, with full stomachs and open minds.