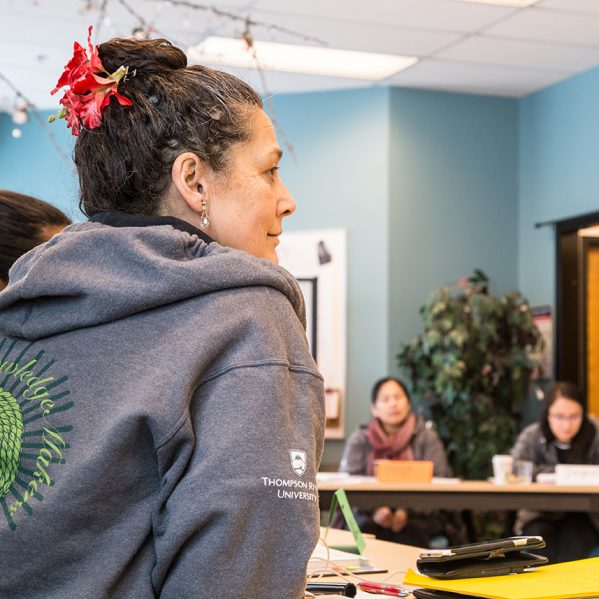 For design student Lyle Paul, it was an opportunity to spend two days exploring a topic he's passionate about — the accurate representation of Indigenous ways of knowing in modern communication and graphic design.
For nursing student Jayne Wenlock, it was a chance to learn how to incorporate Indigenous methodologies within research that explores access and advocacy for First Nations patients in palliative care.
For social work student Roxie Defant, it was a difficult choice to make — to spend two days focused on her own research and learning — despite having so many competing demands for her time and energy. But as difficult as it was, it was worth it.
"I had to make this last semester my own. I had to commit myself to this. I feel like I belong here. It's such a rare opportunity," said Defant, who intends to pursue graduate school.
Now in its third year, the Knowledge Makers program takes place annually during Reading Week and is designed to inspire Indigenous students to participate in research. Each year a new cohort of 10-15 students takes part in two days of workshops, enriched by Indigenous elders, scholars and mentors. Students develop e-portfolios — personal websites detailing their learning journeys — while also developing a research article, which will be published, following peer review, in the Knowledge Maker's Journal.
"Your way of thinking belongs in the university and the world, and can expand our knowledge. There are as many approaches to research and writing as there are stars in the sky," Airini, Dean of the Faculty of Education and Social Work told the 2018 Knowledge Makers. Airini, along with Sereana Naepi, PhD candidate, and Associate Director of All My Relations: An Indigenous Wellness Research Network, founded the program.
"We want to increase Indigenous research because it's transformative, not just for the university, but for those who take part," said Naepi.