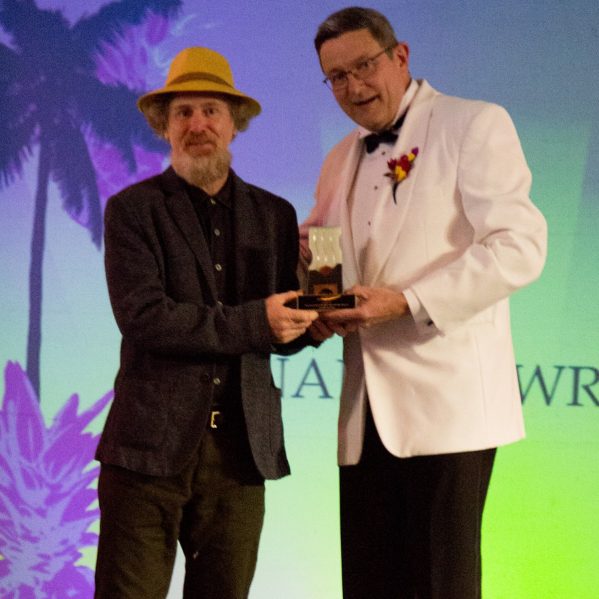 Whether he's installing a camera obscura on campus, assisting his students, or running any number of faculty committees, Donald Lawrence has long been a recognizable figure on campus.
On Jan. 20, however, Lawrence was recognized off campus for his contributions to arts and the artistic community in the City of Kamloops—being named Artist of the Year during the annual Mayor's Gala for the Arts.
"It's really good to be recognized like this, and it was very obvious to me at the awards that TRU is well integrated into its community," Lawrence said, noting that the Emerging Artist Award was given to Andrew Cooper, Artistic Managing Director of Chimera Theatre, and a TRU alumni.
"Don is a star, and I'm so proud for our community that he's here and he's sharing his practice with us," said Margaret Chrumka, Executive Director of the Kamloops Art Gallery.
> Read: Lawrence, Ross Friedman honoured for mentorship, InsideTRU, April 11, 2017
Lawrence, who arrived at TRU in 1989, received a 2017 Undergraduate Research Mentor Award for the exceptional support he provides to his students. He has also been recognized nationally for his acclaimed Camera Obscura Project: Optics, Learning and Play in Canada's Wilderness and the North. The project, which received a $300,000 Social Sciences and Humanities Research Council Insight Grant, drew artists and scholars to the Midnight Sun Camera Obscura Festival in Dawson City, YK in 2015. Since then, he has been active across Canada, and his work is currently part of the a national touring exhibition that follows from the Dawson City Festival and is curated by University of Lethbridge Art Gallery Director Josephine Mills.
> Read: Camera Obscura sets off on national touring exhibition, InsideTRU, Aug. 23, 2016
When asked to offer advice for up and coming artists in the community, Lawrence said the key is to take risks and push yourself.
"It's important not to be limited by being in a small city. That can happen—and you can be very successful in your city—but any serious artist needs to push beyond, and once they've done that, bring those experiences back with them."