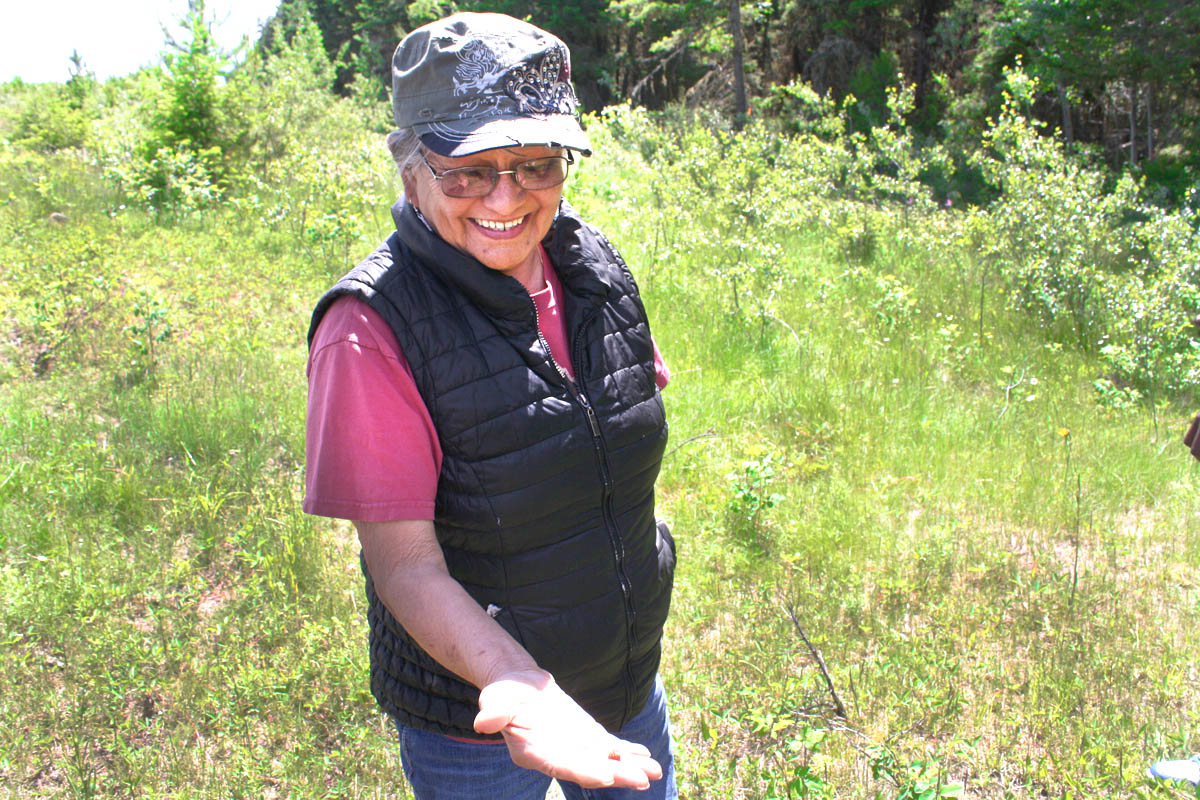 A Shuswap Elder who works at TRU's Williams Lake campus and has championed her native language is one of 13 Indigenous Canadians who will receive an Indspire Award in March 2018.
Cecilia DeRose is being recognized for her expertise in teaching Secwepemctsin, as well as her handiwork with hides and beads and her knowledge of traditional and medicinal plants.
She is a member of the Esk'etemc First Nation, a long-time Secwepemctsin teacher and an Elder advisor to the Culturally Safe Dementia Care research project. She works with the Elders College in Williams Lake and a local Aboriginal Head Start program.
The Indspire Awards are being handed out at a ceremony in Winnipeg on March 23, 2018, but the 13 recipients were recognized on Nov. 7 in Ottawa during Question Period in the House of Commons.
Indspire is an Indigenous-led charity that is also the second-largest funder of Indigenous post-secondary education (the first being the federal government). The organization partners with various stakeholders to promote education and serves First Nations, Inuit and Metis students in communities across Canada.
Marianne Ignace, who nominated DeRose for the award, described DeRose as someone who "has tirelessly given her wisdom and knowledge to the important task of maintaining and preserving our Secwépemc language and culture through volunteerism, teaching and her contribution to research projects."
The two met in the 1980s when DeRose was teaching Secwépemc in schools in Williams Lake. Several years later, DeRose was a "student" in the language courses that Ignace began teaching in that city.
"It was she and some of the other Elders who came to our class—many of whom have now passed away—who taught us the advanced difficult grammatical structures of the language and the beauty of how it connects to land and stories. Not because she needed to prove that she was fluent in Secwepemctsin (the Shuswap language), but because she wanted to show young learners the importance of taking learning and preserving the language seriously, and to maintain high standards for this, Cecilia completed the SFU Certificate in First Nations Language Proficiency as an Elder," said Ignace.
"Since that time, she has continued to train many young people in becoming proficient in Secwepemctsin, and has mentored additional learners individually. She has also co-led numerous language immersion camps on the land with me, not only teaching the language but showing her many practical skills of surviving and camping on the land."
DeRose's skills and expertise aren't limited to language. She also has a vast knowledge of plants and how to prepare and use them for food, medicines or other purposes and she has worked with Ignace to create a comprehensive Secwépemc ethnobotany. She also shares her knowledge with students in TRU's Applied Sustainable Ranching (ASUR) program in Williams Lake.
On top of that, DeRose is adept at tanning and sewing deer hides, another skill she has passed on to younger generations. She even created hide-making kits for NSTC skills development, with instruction book and required materials. She has also taught birch bark basket making.
"The 2018 Indspire Awards are the highest honour bestowed on Indigenous people, marking the significant contributions of our people in Canada. We not only recognize the recipients' individual successes, their discipline, drive and determination to set high standards and accomplish their goals, but also to share and celebrate, the impact of their stories and journeys with all Canadians," said Roberta L. Jamieson, president and CEO of Indspire and executive producer of the Indspire Awards.
"We also celebrate the future, through our three youth recipients, each of whom serves as a role model, promoting self-esteem and pride for the Indigenous community at large and providing outstanding role models for Indigenous youth across the country."