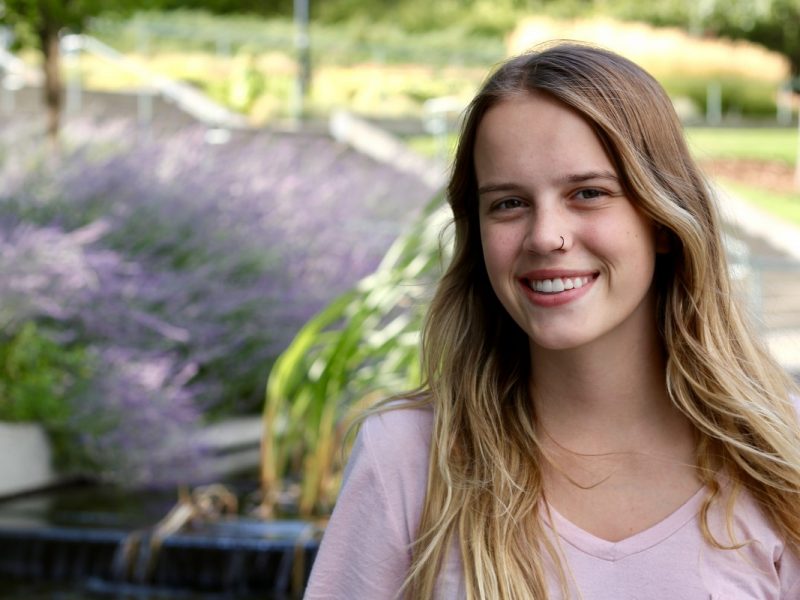 They're community builders, athletes, volunteers, and scholars. In our TRU Trailblazers series, we're profiling some of our 2017 major scholarship winners. Read on to meet TRU's most accomplished first year students and learn their best study tips, volunteer suggestions, and leadership advice.
TRU Trailblazer: Abbey Bachand
Meet Abbey Bachand: Valleyview Secondary graduate, competitive ski racer and high school rodeo star.
Abbey is one of six recipients of the 2017 TRU Ambassador's Entrance Scholarship, a $22,000 award recognizing exemplary leadership and community service combined with strong academic performance.
She has chosen to study in the Bachelor of Business Administration program, and her strong grades, passionate hobbies and countless volunteer hours made her an excellent candidate for one of TRU's largest entrance scholarships.
Abbey raced for many years as a skier in the Sun Peaks Alpine Club before becoming a volunteer coach. When she wasn't cruising the slopes she was a dedicated member of BC High School Rodeo association, both as a competitor (she won a provincial gold medal in pole bending) and as secretary. As Secretary, Abbey was responsible for bringing in sponsorships for scholarships, promoting the association and voting at AGM meetings, where she learned that being a strong leader means speaking up for what you believe in.
"If you believe what you think is right, then fight for it," she said. "Try to get other people to agree with you."
Abbey's hobbies also include volunteering as a basket maker for the Kamloops Food Bank, biking and travelling. When it comes to volunteering, Abbey suggests that if you don't know how to start, follow your passion. "Find something that interests you, like a company or an organization, and get a hold of them. See if they can head you in the right direction."
While school has only been in session for a couple of weeks, Abbey already has a favourite course. "Professor Bernie Warren's Intro to Business class is my favourite so far," she said, citing her professor's fun personality as one of the highlights. She plans on maintaining her high grades by "putting in the time and not slacking off."
As for what's next, Abbey doesn't have a 10-year plan. "I'm not sure where I see myself in one year!" she said. But with so many opportunities available to her at TRU, Abbey is excited to explore, expressing interest in majoring in Accounting.
Abbey had great advice for current high school students applying for the Ambassador's Entrance Scholarship. "Be diverse in what you do and make sure that you stand out. When you write your application, don't be afraid to share what makes you different."