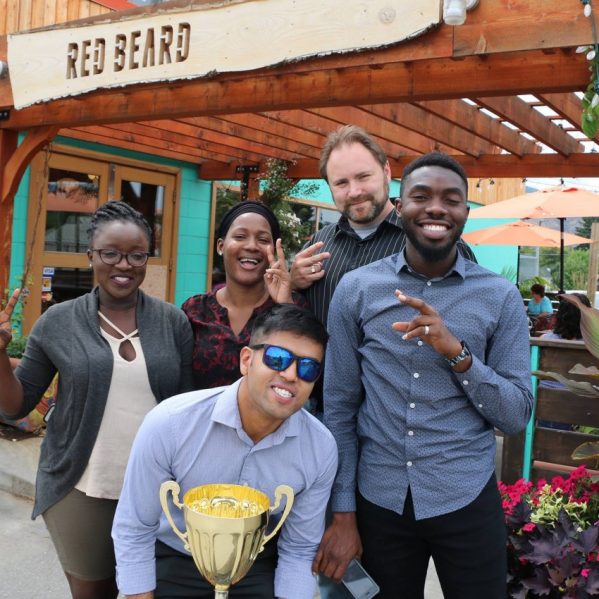 Preparation for the School of Business and Economics (SoBE) hosting the BC MBA Games is in full swing.
SoBE's Master of Business Administration (MBA) students won the games last year in Nanaimo—resulting in the cup coming to Kamloops—and the event being held on TRU turf.
An organizing committee of students is gearing up for the games this fall, which are happening Oct 20 to 22, 2017.
Tomi Owoyemi completed his MBA at TRU this summer and is now coordinator of the BC MBA Games organizing committee.
Owoyemi started out as a volunteer and when a position was created to organize the games, he jumped on it. It's been a great way for Owoyemi to improve his event coordination skills, building on his experience from back home. He planned events for Covenant University, in Nigeria, where he earned is undergrad in economics before attending TRU.
Owoyemi also participated in the National MBA Games in January 2017 in Nanaimo. He was on TRU's marketing team, which took third place overall.
Q & A with Tomi Owoyemi
What can you tell me about the games?
We've chosen a theme "open insight." This is all about expanding your horizons, being receptive to possible solutions and taking steps to act towards them. Problem solving is woven throughout the theme, open insight and social innovation speak to providing solutions to social problems in and around the community in a new way.
Our charity partner is the Canadian Mental Health Association (CMHA), our drive to provide social solutions that are new and creative led us to choose CMHA. We (the organizing committee) are all passionate about different things, I want to help kids, others are passionate about improving working conditions, or interested in mental health issues and initiatives. So we put it all together and found that CMHA was a great fit.
We are really making the BC MBA Games ours as hosts, hosting for the first time means that we can make it memorable and a fun experience for all participants. Adding new events to the components of the games, restructuring the fundraising component. In the past, you just raised money in the traditional sense. This year, you make a plan to throw an event and then you video the event, which adds an element of experiential learning and increases engagement with the charity partner.
Five schools are participating: Vancouver Island University, Simon Fraser University, University of BC, University of Victoria. This means that five groups of highly motivated MBA students are throwing five different high-caliber events across BC for CMHA.
Not only do we raise money, but awareness for the cause is forefront to this new structure. The minimum amount teams must raise is $500, so worst case we raise $2,500 in total, but we're confident it's going be so much greater. Last year's games raised in the tens of thousands and we should see at least that again.
How many volunteers do you have right now and how many more do you need?

We have 35 now, but are looking to recruit another 65 for a total of 100, in order to have enough support for a successful event.
What kinds of roles will are there to be filled?
We need people for event organization—everything from sporting events to our big dinner with all the universities.
We need assistance with logistics, managing the info desks, giving out refreshments, guides and support with set up and tear down.
This is a great opportunity for all students, and especially for SoBE undergrads or grad students who are not participating in the games. We also welcome any faculty or staff who would like to get involved. We have opportunities for them to be judges in cases and the spirit events.
Why volunteer for the BC MBA Games?
This will definitely be a fun experience.
It looks great on your resume and you will get to meet dozens of MBA students from across BC and network with local business owners. If you're an aspiring MBA student, this is a good chance to work alongside many diverse MBA students and gain some unique insight into the program.
Visit the BC MBA Games site for more information on volunteering and to register as a volunteer.
What are some goals you have before the games?
We want to increase awareness around TRU about these games and get support from other faculties. For example, we are receiving some help from the theatre program (but the details are still secret) and TRU World.
We're working with social media ambassadors on campus and we've been working with advancement as well.
Another goal is reaching out to the community to increase their knowledge of the TRU MBA program in general through the games. We just want to have as many deptartments and faculties involved as possible, as well as as many local businesses. Local businesses can still sponsor an event, donate items and judge cases.
We have sourced all of our cases from local businesses and those details are also top secret at this point.
What goals do you have during the games?
We, as the team from TRU, want to bring our "A game." Of course, we want TRU to win again. But if it's a tight competition, it's all about good sportsmanship.
And we hope that all participants fully enjoy themselves. If people have fun while here in Kamloops and on campus and they have something to talk about after leaving—that will be the a success.
What do you hope other MBA students get out of the experience of coming to TRU?
It would be nice to think that after they've visited, they look forward to working in this region eventually.
I want to attract more MBA grads to our centre, whether as employees or entrepreneurs. This is another chance for us to show off our great city and what we have to offer.