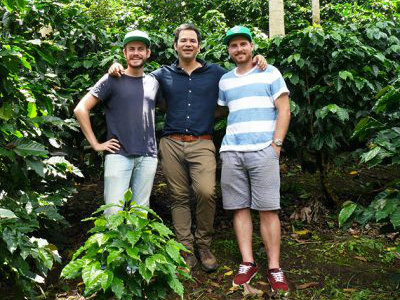 Bachelor of Tourism grad Max Rivest co-founded the successful coffee leaf tea business Wize Monkey that launched in 2014. We interviewed Rivest back in January of 2015, just after being named the Best New Product at the 2015 World Tea Expo.
Since then, Wize Monkey has grown significantly, most recently hiring a national sales manager that will manage all Canadian accounts as they get set to launch in the US this fall.
Currently, the socially responsible company who's mission is to break the global poverty cycle in coffee communities through sustainable harvesting by putting a unique spin on traditional herbal teas, can be found in 230 stores nationwide, including Whole Foods Market. They were even listed as one of Whole Food's top 10 2017 food trends on Global TV. Their unique coffee leaf tea has been traditionally consumed in Ethiopia and Sumatra for up to 200 years and creates a lightly sweet, full-bodied and smooth infusion.
We caught up with Rivest to get the scoop on everything from what it's been like growing a tea empire to what his future plans look like.
How's business—what's the biggest priority for you guys as you grow?
Business is great, really busy and growing fast. We recently did a discovery session to flesh out our focus moving forward. The main reason people buy our product is because it tastes good, so we really want to focus on that and spend time on the product development side.
What has surprised you most about entrepreneurship?
Money goes fast. As fast as you can raise money, you spend it. During the growth path you have to invest heavily while making sure to add tangible value and build a business that is scalable.
You say the tea industry lacks innovation, what are you guys doing differently?
The tea industry could use a bit of colour, there is nothing really Avant-garde going on and we want to change that. We created something called the Wize Collective, which is our team of artists that we collaborate with for music, photos, and videos. We wanted to created a team of innovators in the space and invest in arts to create emotional media, not just stock photos and music.
What does an average work day look like?
My average day starts at 8:30 a.m. and ends at about 7:00 p.m., but I manage all the social media accounts myself, so I try to reply to all the social media inquiries and that often happens in the evenings.
Have you had mentors? What's the best advice you have received?
Yes. We have had so many mentors, many who are now our directors and we wouldn't be where we are today without them. We have received so much great advice but one I really like was, "ask for advice and you will get money, ask for money and you will get advice."
What's your advice for the next generation of entrepreneurs?
Everyone will tell you to follow your dreams and that's great, go do it, but do it with low risk. Look at the competitive space and understand if it's worth it and if there is demand. Viability is paramount.
Also, ask the right people for help, have patience, be nice and work hard.
What's your fave Wize Monkey bevy?
I drank the earl grey for about three months straight, but during the summer I really like the mint on ice. We also have cocktail recipes on our website, and the mojito is great.
We taste tested the tea for ourselves and we give it a solid A. If you are a fan of herbal tea, or you are looking to replace that morning cup off coffee, this might be just what you are looking for. Check them out online or in stores and watch out for big things to come in the future.