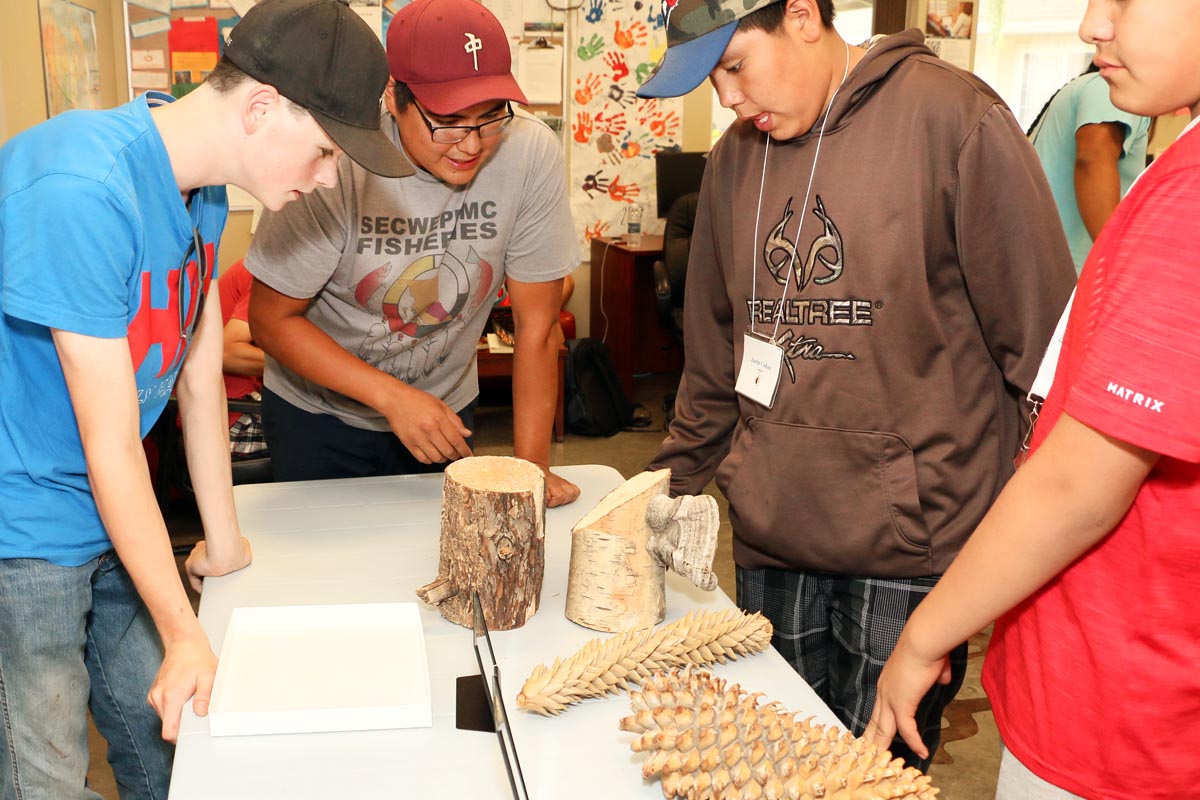 With less than one percent of Canada's Indigenous population working in science and technology, some TRU students did their part this month to help change that.
They were among the presenters or those behind the scenes during the eighth annual science and health camp for Indigenous youth going into grades 8 through 10.
Here is how some of them participated:
Jeremy Sterling
"This is a way for me to give back to the younger Aboriginal community and hopefully help them to find their way. It's a way of showing them reasons for getting more education," said Jeremy Sterling (Simpcw First Nation), a fourth-year natural resource science student and among the camp's presenters.
For students in grades 8 through 10, the camp attracted students from around the region and as far away as Hazelton—an 11-hour drive northwest of Kamloops. Two of this year's group were back for their third year.
The camp went from July 31 to Aug. 4 and continues to be a partnership between TRU's Aboriginal Education department, the Faculty of Science, the School of Nursing and School District 73.
Why the underrepresentation? Science is generally viewed as not directly linked to helping people the way social work, education, nursing and even business does.
Torrie Nicholas
Presenting alongside Sterling was Torrie Nicholas (Splatsin First Nation), who is another fourth-year NRS student and an enthusiastic role model and inspiration.
Among her tips and suggestions, she said, "Get out there and experiment with what you enjoy doing and volunteering is a good way to do both. If you want to find out what opportunities are available, you can contact different work places and ask around. Follow what you're passionate about and don't settle for something you're not fully into."
Along with NRS, campers heard from students and faculty in respiratory therapy, nursing, computing science and the Master of Science in Environmental Science program. They also took in a Science World demonstration and thanks to Genome BC's travelling Gene Skool, collected and analyzed their own DNA. TRU's Secwepemc language program coordinator, June Kelly, led activities focussed on the identification and collection of traditional medicines and foods. The student chaperones provided further guidance by being supportive, friendly and ready to share their school experiences.
All mentoring opportunities at TRU
Tatyana Daniels
For the second year in a row, the camp was coordinated by third-year science student Tatyana Daniels (Gitxsan First Nation). In building off last year's success, she incorporated more of the voices she wished she heard growing up.
"I wanted the students to hear and see that there are people like them who they can relate to, who are in the field of science and who are working towards a degree," said Daniels, who also served as one of this year's chaperones. "When I was growing up, we would get speakers in who I couldn't relate to. I would say, 'Yeah, but they're not from where I'm from, they didn't have the same life growing up that I had.' I wanted to bring in more Aboriginal people who could be role models for the kids. I wanted more Aboriginal youth to hear and see that science is achievable for them and they can reach their goals."
The camp's roots are in faculty members Naowarat (Ann) Cheeptham, (microbiology) and Starr Mahar (nursing), who not only got the camp up and running, but for years did the bulk of the organizing.
Dolan Paul
Dolan Paul (Tk'emlups te Secwepemc) shared his love of computers, his journey and the many options that exist in the field—everything from programming and designing apps to complicated networks and data bases.
"Ever since I was a kid, I loved seeing the code start out and develop, and along the way, seeing the problem start to be solved. I liked the problem-solving and would spend hours upon hours trying to come up with different solutions," said Paul.
Melvin James
Presenting alongside Paul was Melvin James (Stl'atl'imx Territory). Their advice to campers was much the same: Gotta get your math and the best time to do that is in high school instead of spending time upgrading after Grade 12.
"I try to convey to Aboriginal youth that computing science is the future of careers and jobs," said James. "Technology creates the ability to be innovative so you can do innovative things or to be the one creating the innovative software or hardware. The future is technology and that's what the computing science department at TRU tries to portray as well."
Like science in general, Indigenous people tend to be under-represented in computing science, though Paul is seeing a shift and is glad to be part of it.
"I haven't met too many Indigenous people in computing science, so I haven't had too many mentors to look up to," said Paul. "It's starting to build and develop and I think there will be opportunities opening up for Indigenous students in their communities and communities all across the country. Being a role model is something that I've become comfortable with, especially having my own kids. I aspire to be someone for them to look up to. That's something I cherish."