Posted on: August 10, 2017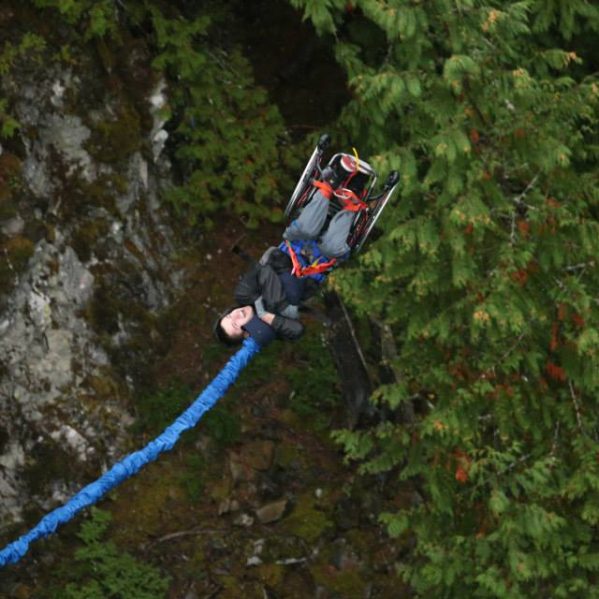 Canada Games wheelchair basketball star Riley Martin recently wrote his final Master of Business Administration (MBA) exam.
Martin is a 25 year-old paraplegic, having lost muscle use and feeling below his chest after being hit by a truck entering the highway eight years ago.
He underwent several surgeries and months of rehabilitation, preparing him for the adjustment of a lifetime. Back at high school in time to complete grade 12 on schedule, he was determined to continue to lead his best life.
Initially, Martin was inspiring others through motivational speaking gigs, but he decided that he's not the first person to be chair-bound by no fault of his own and didn't feel his message was unique.
"I would rather do as much as possible, and if people are inspired by actual action and overcoming barriers, I feel that's much more genuine," said Martin.
He's since done a lot.
By 2015 he had completed a solo 20,000 km road trip exploring all of North America in his station wagon, his wheelchair-bungee jump went viral, and he earned his Business Administration degree, majoring in finance at Okanagan College.
Martin then took a year off, picking up his competition auto racing license, solo backpacking in Australia and New Zealand, and raising $5,000 for charity when he set a new record for swimming across Okanagan Lake in 1:02.42, finishing ahead of almost 300 able-bodied entrants!
This past year he's been hard at work earning his MBA and studying for the Law School Admission Test.
Hoping to advance his contributions as treasurer of the BC Wheelchair Basketball Society and director of the Highway to Healing Support Society, he opted to further develop his knowledge of business with an MBA.
The flexibility of the MBA program was perfect for him—he opted for a couple of online courses in order to open up his schedule for extracurriculars.
"I really appreciate the incredible diversity of the students and faculty
—

the depth and perspective in discussions and experiences across all courses added so much value to my projects and overall degree."

Martin was also able to combine his projects with his passions while at TRU.

He created Web Presence for Nonprofits, a website and social media reference guide for nonprofits in Bernie Warren's Strategic Management Information Systems course. It's had steady traffic and positive reviews—catering to those who aren't necessarily tech savvy and potentially do not know exactly what they want to do website-wise going into their nonprofit project.

"Bernie put a great spin on that class in terms of bringing in guest presenters and making the topics and projects particularly applicable to real-world situations instead of just theory on information technology."

Decision Modeling and Analysis with Dr. Mohammed Mahbobi also stands out for Martin.

"His passion for the topic was more clear than I've seen before in a professor. I felt I had a good grasp on computing before the class, but that was an eye-opener. I gained a lot from that class that I didn't know belonged in a business program, and definitely have (another) new educational interest."

"Nancy Southin's badassery coming to class after an eye cancer operation, Dr. Andrew Fergus' anecdotes from his past, and Dr. Randall Kimmel's witty delivery of finance-related one liners will all stick with me as well."

Martin enjoyed his online Innovation and Entrepreneurship course. "Our major-project team members all got along well. On two occasions, we worked hard on a project over Google Docs for a few hours, then spent another couple in the chat just talking about anything and everything. I've never had that kind of a distance team before."

He's inspired to pursue a career in law after forming a strong friendship with the lawyer who represented him after the car accident in 2009.

"It was deemed zero percent my fault, so naturally, a tiring and drawn-out lawsuit ensued to seek remuneration from insurance. I ended up becoming very close with my lawyer, we still regularly have lunch, four years after the client relationship ended."

The lawyers ability to represent Martin with nuance, knowledge and success turned him into a professional role model for the young student.

"If I could instill only half the confidence and comfort in any clients as he did in me, I'd still be the second-best lawyer of all."

"I think the experience with graduate studies will help prepare for the difficulty involved with law school. I believe the MBA itself will give a great deal of context about why certain plaintiffs and defendants act the way they do, especially in the corporate world. The high level of discussion in TRU's MBA program and the sheer diversity of students involved in these discussions only furthers my ability to analyze this."

Martin plans to attend law school at the University of Victoria in 2018, but first he's headed to Germany for a few months where he'll improve his German language skills alongside his girlfriend whom he met at orientation for the MBA program. She was at TRU for a semester abroad, completing transfer courses for her Masters in International Management degree in Northern Germany.