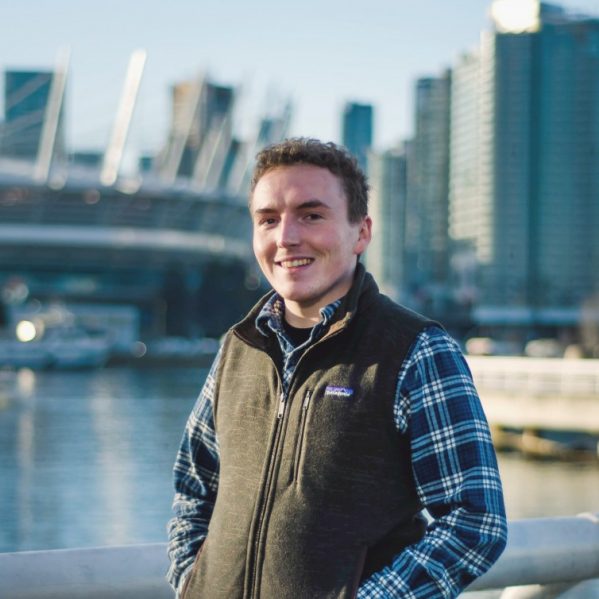 After having completed a semester in Manchester, England, Martin McFarlane, a fourth year Bachelor of Journalism, Public Relations Major says that dropping yourself into a country you're not familiar with is one of the best choices you can make at university.
With a long list of extracurriculars, including a Global Competency Certificate and a practicum term with Parks Canada in Jasper National Park, McFarlane is feeling ready to launch his public relations (PR) career when he graduates next year.
We caught up with him and asked about his time at TRU and what's made his higher-education journey memorable.
Why did you choose TRU?
I chose TRU because it had the program I was looking for, was close to home and I had also heard that the class sizes were smaller than larger universities, allowing students to get to know their professors and create a tight-knit community. This definitely held true as I entered studies and became a part of the TRU community.
Was there a specific feature that supported your decision?
Other than the tight-knit community and small class sizes, the one feature that really attracted me to TRU was the study abroad opportunities. I was so excited when I learned of the program and the numerous destinations available. This was something I knew I wanted to incorporate into my education, so it was definitely one of the deciding factors.
What has been a favourite experience at university been so far?
One of my most memorable on-campus experiences was my time with the study abroad ambassadors. Never before had I worked with such a multi-disciplinary team with such diverse talent, international experiences and such ambition. And, as a former exchange student, it was moving for me being able to help students prepare for their own international experiences and take similar journeys. Studying Abroad had such an impact on my life and it was exciting knowing it would do the same for those groups of students.
There is one single experience that has led to the empowerment I feel now with academic and professional experiences: Studying abroad in Manchester, England. I hadn't done a lot of traveling before I went abroad and it was the first time being on my own. The initial fear of being in the unknown was replaced with empowerment as I made new friends, took part in new experiences, and learned how interconnected the world really is.
I visited ten countries before I returned home, and that experience inspired me to take a global focus during my final terms, and gave me the confidence I needed to explore exciting opportunities in journalism and public relations.
What is something that you've been able to achieve due to your learning experience?
TRU provides students with so many opportunities to grow skills learned in classes and apply them in scenarios outside of coursework, either through university-supported volunteering, student union advocacy or clubs, practicum and co-op, or other extra-curricular activities.
I am very proud of my resume, and that is because of the combined volunteer and work experiences available on campus and off-campus, such as with my practicum course. Providing these opportunities for personal and professional growth, supplemented with mentoring from faculty mentors, made me confident in my abilities and have allowed me to successfully market myself and my skill set.
In what ways does your program prepare students to enter the work force upon graduation?
I feel that the Department of Journalism, Communication, and New Media—really emphasizes from day one of class—the importance of work experience before graduation.
Admittedly, it wasn't until second year that I learned that a degree is only one half of the equation, and that student work experience fills the other half of successfully starting a career post-graduation.
The department reinforces this message throughout students' studies, and provides lots of support in finding opportunities on- and off-campus, letting all students know of upcoming opportunities both in Kamloops and other areas in Western Canada. Practicum coordinators work with you to determine what types of opportunities would be a good fit for your future plans and help you prepare your skill set for future positions or careers that interest you.
What other extra-curricular activities or clubs have you been/are you involved in?
TRU Undergraduate Research conference (presenter), CFBX (presenter and board member), Writing Centre (tutor), Study Abroad Ambassadors, The Omega (Staff Writer), TRU Modern Marketing Association (member), Model United Nations (participant). Unofficially, I have also helped a TRUSU election slate campaign and a few TRU World projects. Next year I will not be involved in as many activities as I am currently working in marketing and PR for Lightship, a Kamloops software company.
What are your plans after graduation?
After graduation, I hope to continue my studies, either in Ontario or the UK, studying global affairs and becoming involved either with the diplomatic service or an internationally-focused institution.