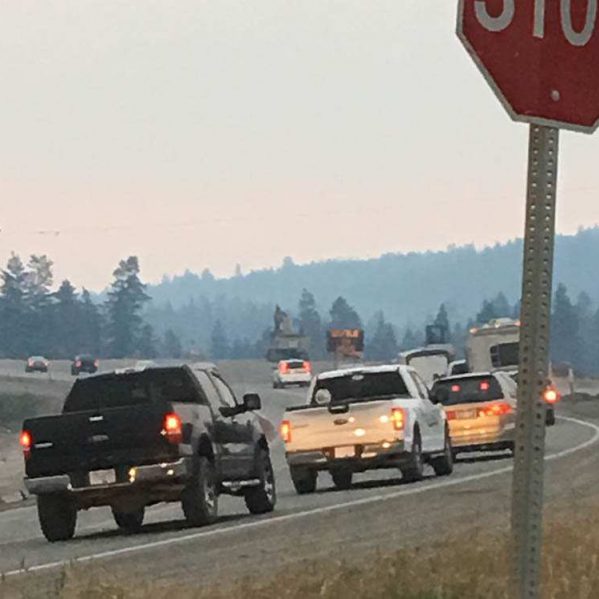 Jasjeet Singh didn't think twice before rushing to the aid of an RV that had gone off the road during the Williams Lake wildfire evacuation last Saturday, but he did think on his feet and put his education to work despite the most stressful of times.
The 2017 Practical Nursing Program grad is still finishing his final practicum placement at the Cariboo Memorial Hospital in Williams Lake, but said the words of his instructor Jennifer Mason stuck with him as he and a friend rushed to assist a 66-year-old woman and her dogs about 40 km outside of Little Fort.
"I remember my instructor Jenny saying, 'whenever you see an accident like this, make sure you are safe, make sure the victim is safe and call 911,' and that's exactly what we did," said Singh.
"The woman was in shock and in a lot of distress. I tried to calm her down and assess her from the head down, which is what we were taught in school. I asked her if she had hit her head and if she had any chest pain, and moved downwards form there. We removed the debris in front of her RV to create a clear path for paramedics and helped move the dogs out of harm's way," he said describing the scene at 2 a.m.
Because of the evacuation and heavy traffic, the paramedics arrived a few hours later and the RCMP were able to assist the women to her family's house in Little Fort where she was meeting up with her son.
Mason, who teaches Integrated Nursing Practice at the Williams Lake campus said, "Jas is an excellent student, he is an international student from India and he has done exceptionally well in the program. He has fantastic assessment skills, so I was happy to hear that he was able to put those skills to practice in a stressful situation."
Integrated Nursing Practice courses make up about 180 lab hours during the program and aims to teach students hands-on skills and practical experiences that are as accurate to real life as possible so students can learn to think clearly under pressure.
Those courses paid off for Singh, who came to study nursing in Canada and chose the Williams Lake campus because it's community oriented. The student-to-teacher ratio means you get more attention and everyone in the hospital knows your name. He plans to finish his practicum this summer and complete his Bachelor of Nursing at TRU in Kamloops.
"When the paramedics arrived they started by asking the woman if she had hit her head and if she had any chest pain—literally the exact same questions as I had asked. It made me feel pretty good, that I had done the right things," said Singh.