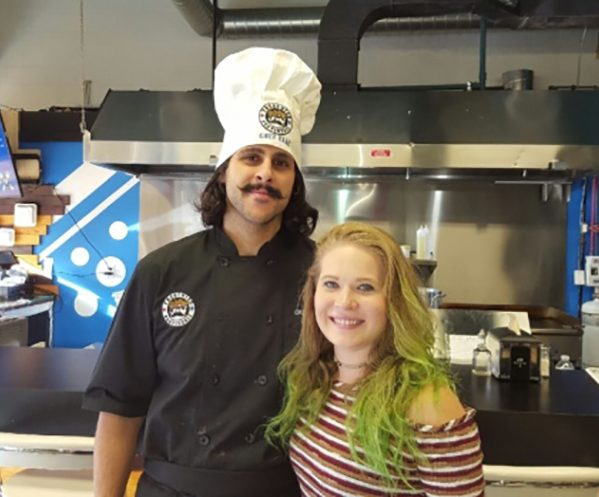 When we think about Canada we often think maple syrup, hockey, toques and of course the beloved French-Canadian delicacy, poutine.
Growing up in Gatineau, Quebec, Elie Toni Hanna got his start working at a pountineree cutting fries at the age of 14. It wasn't until moving across the country that the TRU School of Business alumni thought about opening his own piece of Quebec right here in Kamloops.
"I noticed that people out West loved poutine and no one was really doing it—at least not authentic poutine," said Hanna. "I create everything form scratch. We cut our own fries, our own meat, create our own sauces and everything we serve is a unique creation."
Since opening Frenchies Poutinerie last year, the business has grown quickly and continues to grow. He credits his success to a focus on product quality and great customer service, as well as a lot of hard work.
With help from friends and family, he spent 16-18 hour days getting the business up and running and now even though things have levelled out, he still works seven days a week both in the shop and behind the scenes. But the food speaks for itself and customers are loving what they are tasting.
"I have yet to find any poutine comparable to Frenchies in western Canada. The fries are crispy, the gravy is amazing, it's gluten free and reasonably priced. I'm already looking forward to going back," said Krystal Holte.
The most popular poutine they have ever created was the turkey dinner poutine, which is basically an entire thanksgiving dinner on top of a bed of crispy fries and cheese. The last time it showed up on the menu they went through seven turkeys in five days.
The other popular day-to-day menu items include the pulled pork poutine and the perogie poutine.
"The secret to a perfect poutine is in the gravy, and making sure everything is layered just right," said Hanna.
The young entrepreneur hopes to see the business continue to grow with plans of opening a second location in Kelowna next year. He has his sights set on eventually growing Frenchies Poutinerie into a franchise.
His advice to students that are looking to become entrepreneurs?
"Believe in yourself and go for it. No one believed in me, people told me my location was cursed, but if you have drive and passion you will succeed and if you fail, just get back up."