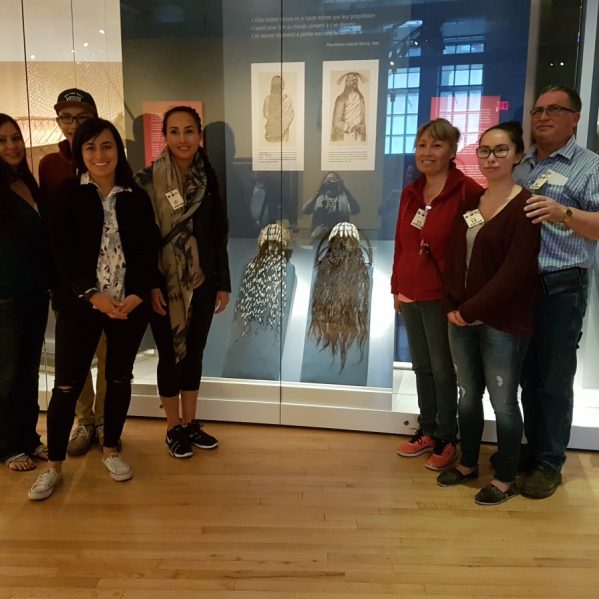 A lifetime's worth of Air Miles brought Charlotte Munroe and her family face to face with the ceremonial headdress worn by her family's predecessors nearly 140 years ago. It was an experience the TRU law student says she will never forget and serves as motivation to continue with her education.
Munroe and her family hail from Maiyoo Keyoh, a 17,000-hectare parcel of land situated about 100 kilometers north west of Prince George. It's one of the scores of Keyohs used to mark family territories from an area between Prince George to Fort St. James. Keyohs existed long before the creation of Indian Bands and Indian Reserves by colonial administrators. They signify a long held system of land relations and Indigenous rights to land and territory in ways that do not conform to imposed Indian Band and Reserve boundaries.
The headdress, which is nearly 200 years old, was inherited from Charlotte's grandmother, hereditary Chief (Keyohwhuduchun) Sally Sam's predecessors and eventually found a home in the Royal Ontario Museum, donated by father Adrien Gabriel Morice, a missionary from northwestern BC.
It was believed that the headdress had been burned in a fire, but when the family discovered it was in a museum back east they used every Air Mile ever collected to take a family trip to see it.
"It was amazing to see in person," said Munroe about the headdress. "It was extremely powerful and emotional and was a reminder of the important connection that we have to our history."
"Growing-up on the Keyoh, my parents always instilled a connection to our land with conversations around Indigenous Rights and Title and the right to enforce our own jurisdiction and manage our own natural resources on our land. That was one of the drivers behind my enrolling in law school—to learn the other side of the law and its procedures."
Munroe, who holds an undergrad in psychology and anthropology from TRU, has always been very interested in Indigenous and settler relations within Canada and Indigenous relationships between space and place. She will spend the summer working as a research assistant to Nicole Schabus, assistant professor in the Faculty of Law.
The position is in direct response to the Truth and Reconciliation Commission Calls to Action #28 which call upon law schools in Canada to require all law students to take a course in Aboriginal people and the law, which includes the history and legacy of residential schools, the United Nations Declaration on the Rights of Indigenous Peoples, Treaties and Aboriginal rights, Indigenous law, and Aboriginal–Crown relations. This will require skills-based training in intercultural competency, conflict resolution, human rights, and anti- racism.
While first-year law students currently take a field trip to the former Kamloops Indian Residential School (KIRS) in Kamloops, Charlotte's main focus will be to help develop a land based education day for second-year students. According to Schabus, the objective is to provide more upper-level content such as natural resource law, as well as teach and break down Indigenous law.
"Charlotte is a perfect fit for this position because of her background and her intergenerational knowledge of Indigenous land use," said Schabus. "It will be a great opportunity for her to develop her research skills and gain an understanding of Indigenization in the context of curriculum reform."
"There is more work that needs to be done to support our Indigenous students, but we are moving in the right direction."
For Munroe, despite facing many adversities during her lifetime, education has been the cornerstone to reclaiming her voice. She hopes to use both her education and her experiences to further recognize Indigenous laws and governance structures, so that proper means of Indigenous protocols is implemented when it comes to procedures of consultation.
"When I think about my education at TRU thus far, it rings profound tunes. It was not long ago that both my grandparents attended residential school, where education combined with law sought to suppress my people and their ways of life."
"However, over time institutions like TRU are seeking to create both equitable means of education for all and make efforts in changing the discourse of Indigenous-settler relations on and around campus. In doing so they recognize the traditional Indigenous lands which TRU is situated. They are also seeking to further develop and implement cultural knowledge within curriculum across various programs. Thus, Indigenous students are increasingly seeing higher education as places of broadening oneself and the future of their communities."
"For me, TRU has not only been instrumental in developing my education, it has become a place in which I identify as a home away from home and I am honoured to continue to attend TRU and have the privilege to live and enjoy the beauties of Secwepemculecw."
After graduating from TRU Law, Munroe is already looking ahead to the future with her sights set on pursuing a Master of Laws (LLM).