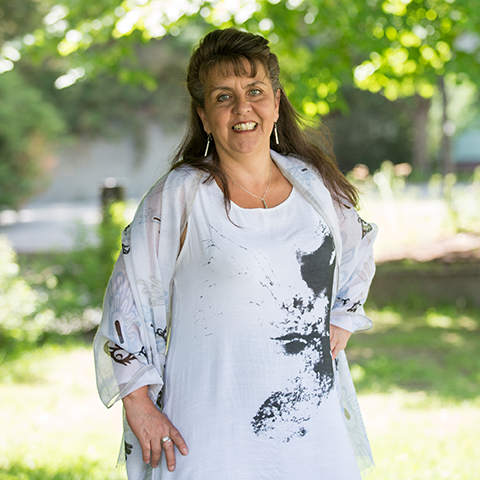 For 10 years, Dr. Lisa Bourque Bearskin has worked alongside a group of Indigenous women who are recognized as knowledge keepers, community leaders and grandmothers who uphold traditional knowledge practices for community wellness.
This group, known as Women as Sinew, or WASi Communities, is a research support network of women from across northeastern Alberta, and provided the inspiration for Bourque Bearskin's latest research project, "Indigenous Wellness Knowledge in Action: Evaluation of Research Protocol, Processes, Principles in Practice."
The project, which recently received a $150,000 Catalyst Grant from the Canadian Institutes of Health Research (CIHR), aims to identify how traditional knowledge practices have been sustained, and how this knowledge is incorporated into ongoing community activities. This project acts like sinew, said Bourque Bearskin, as it binds Indigenous communities together by supporting the wellness of one another.
"I would love to be able to refer my clients to people familiar with traditional medicine, and have time and space to share this knowledge with our communities so that they are no longer hidden practices," said Bourque Bearskin, Associate Professor in the Faculty of Nursing, and member of the Beaver Lake Cree Nation.
"My experience in working with these communities is that there is already training happening. It has been happening a long time, with traditional medicines, songs and language," she said, but what is necessary, is to make this knowledge more accessible to health care practitioners and other professionals who work within these communities. Research shows an important part of healing for Indigenous people is having access to activities relating to their own culture.
The project involves three groups: WASi Communities — which self-identify as Cree, Métis, Dene and Chipewyan — the Beaver Lake Cree Nation, in Treaty 6 in Alberta, which focuses on projects specific to reclaiming traditional ceremonies and incorporating them into their health and education plans, and the Tk'Emlups te Secwepemc Nation, which has used its own form of traditional governance and is doing work on protection of their local waterways.
Bourque Bearskin will be joined in her research by several others, including Dr. Weber Pillwax, Dr. Brenda Cameron from the University of Alberta, Dr. Rod McCormack, professor,  Dr. Darlene Sanderson, an assistant professor in the School of Nursing, Jeffrey McNeil-Seymour, a sessional lecturer in the Faculty of Education and Social Work and community leader within the Tk'Emlups te Secwepemc, and Brittaney Katternick, a recent TRU nursing graduate, who will help to organize and host community events.
"I'm really interested in building community capacity to reclaim Indigenous peoples' right to health and wellbeing," said Sanderson. "We have the opportunity to take action that can inform the wider community to the value of traditional knowledge."
Earlier this month, the project's advisory team met to set the direction for the research project, with each community highlighting the work that is currently underway. Following a knowledge gathering phase, the project moves into a knowledge sharing phase.
"Even with all of this research, our people are still dying faster than ever. This is all a symptom of colonial violence and this project provides an opportunity for Indigenous people's from these diverse to develop parallel systems of health care that stem from traditional health governance models used to sustain communities from time immemorial," said Bourque Bearskin.
The CIHR Catalyst Grant funds researchers who, in collaboration with the Indigenous community, will develop, evaluate and build on existing tools and methods to better incorporate Indigenous concepts of wellness in research designs.
---
The Research Support Fund provides a portion of the costs associated with managing the research funded by the Natural Sciences and Engineering Research Council, the Social Sciences and Humanities Research Council, and the Canadian Institutes of Health Research, such as salaries for staff who provide administration support, training costs for workplace health and safety and maintenance of libraries.