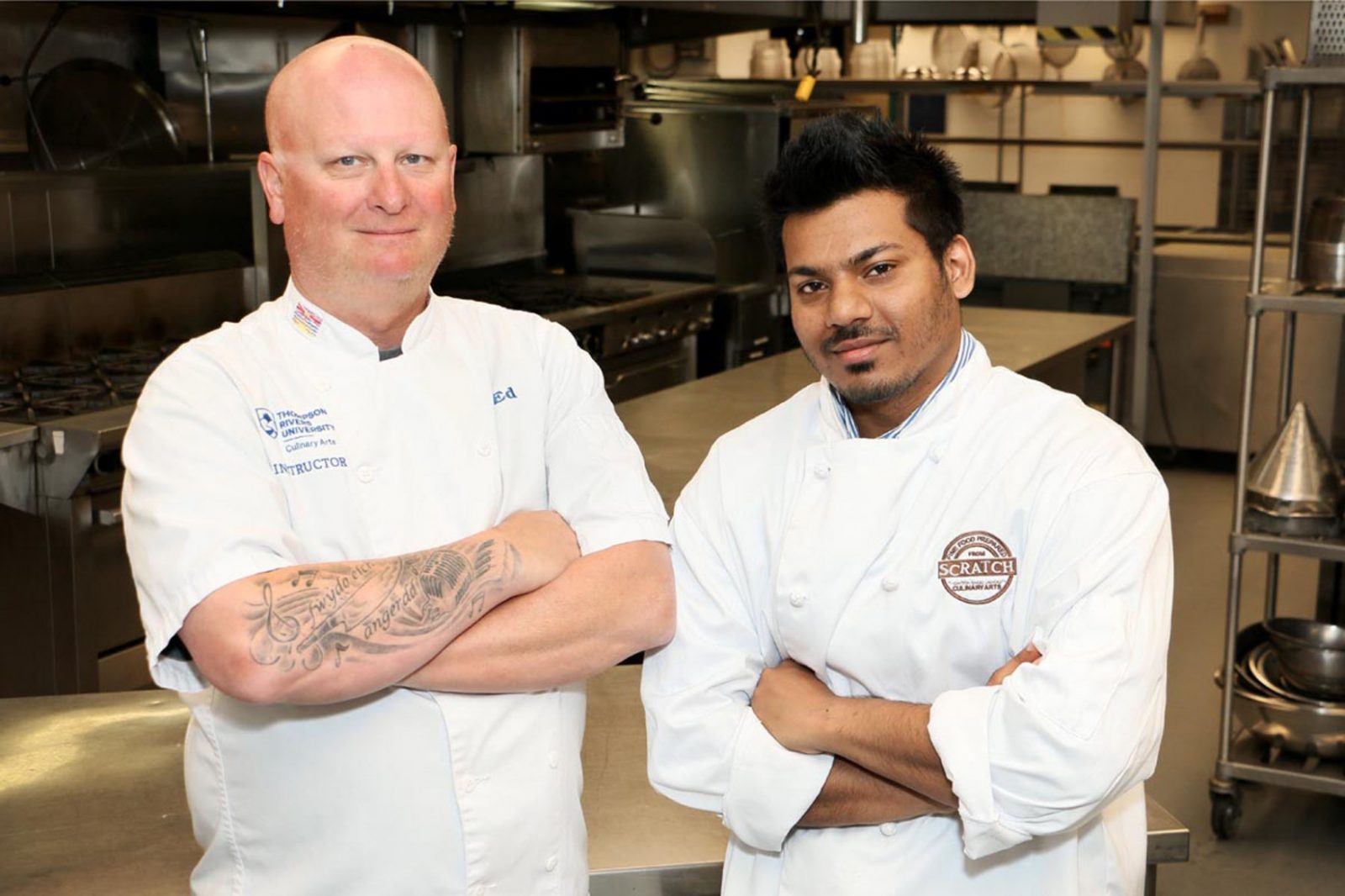 A love for cooking not only landed Nishant Doshi his Red Seal certification, but also the distinction of being TRU's first international student to have completed the three levels of the Professional Cook program.
"It feels really good because it's been a long journey since I got here," said Doshi, who came from India to take business, but switched direction after a year. "It feels like quite an achievement because I didn't know a lot about cooking when I started the program, but I kept catching up and catching up and here I am today. It's such a wonderful feeling and I didn't know that I was the first international student, so that makes it extra special."
TRU's culinary program has had international students in the past, but none had gone beyond level 2. For some, it was a matter of finances and for others, it was a matter of juggling visa rules around school and work with collecting enough applicable work hours. To receive Red Seal certification, graduates must complete a total of 5,000 work hours, with 3,000 of those in level 3. Levels 1 and 2 each require 1,000 hours.
It took three years for Doshi to reach this point and it could have been quicker had he not taken that first year of business. But with a goal of one-day opening his own restaurant, that year is likely to come in handy.
"I know a lot of Indian cooking and a lot of Chinese cooking and I want to open up a restaurant with all kinds of flavours that people are familiar with. In Canada, you have people from all over the world and I would like to put up all the flavours people know and do it my way. I have business background and kitchen experience — what a perfect combination."
Because all his paperwork had not been approved in time, Doshi will formerly recognize his accomplishment at Fall Convocation on Oct. 13.
To get a feel for Doshi's style and approach to food, the Newsroom asked him two additional questions:
▧  If you were stranded on a desert island and could only have five spices, what would they be?
▧  What are five underrated foods?
5 spices on a deserted island
Being the smart and industrious guy he is, Doshi went with blends, ensuring he had more ingredients to work with than just the five.
Cajun blend — Mine is a garlic powder, onion powder, paprika, chili and a little bit of thyme. It's used a lot in kitchens.
Garam masala —  That's my home cooking and I grew up eating that almost everyday. That's my origin and that's how I know cooking, that's the smell of my childhood — home and comfort.
Jerk — Mine is a Caribbean and Nigerian combination. It's hot, but I love spicy food and people are starting to like it here. It's a blend. It has some citrus, hot chilis, dry herbs and it's refreshing and spicy at the same time – I really like that.
Curry powder — Curry is a blend of spices, too, but it's more of a Canadian way of eating curry because back home we don't really have anything like that. The flavours are balanced – it's sweet and spicy, so it gives you the heat and the sweetness, so people are able to handle it. It goes well on relishes, fruit.
Mango chipotle — Growing up we had a yard and grew mangoes so I grew up eating them. This blend put the mangoes in there and some spice. Nothing is better than what you grew up eating and putting those flavours in food.
Comfort food at the end of the day is something that makes you comfortable, like a pillow. A pillow, that's what it is to me because it brings back the memories. Sometimes I will get off work at one in the morning and go home and I don't have any energy to cook, so I'll make something quick and easy. I'll put on rice, use a spice blend I already have, put a chicken breast on and in 10 minutes, my food is ready. It's fast, it's comforting and it's filling.
5 underrated foods
Vegetables — Vegetables tend to have disappeared in cooking at many of today's restaurants. Many restaurants seem to respect proteins more because they're more expensive, but when people first started eating, we started with vegetables and fruit and I think we should respect our basics.
I would like to see more respect for vegetables. If you know how to cook, you can infuse a lot of flavours into vegetables, which also taste good and are healthy for you. Doctors will tell you when you reach a certain age to cut down on meat, but they won't tell you to cut down on vegetables.
If I had my way, I would bring them back and make them interesting. I love vegetables.
Squash — I make squash all the time at home. We have an instructor here in the program, Jeff (Jordan) and one time he made an acorn squash salad. He marinated it in spice and baked it off and it was the best thing I've ever had. I make it pretty much every week. When I go to friends' places and they ask me to bring something, that's usually on my menu. It's sweet, spicy and healthy; what else could you ask for?
Okra — I don't see it a lot, said Doshi, before chef instructor Ed Walker joined the conversation and said that's probably because when cooked improperly, okra can be slimy and have a consistency similar to raw egg whites.
Doshi continued: My mom is a great cook and I grew up eating okra and other vegetables. She would make it in onions to sweeten it up. But it's like Ed said, you have to know how to cook it because if you overcook it, it's destroyed. A lot of people don't use vegetables because they tend to struggle with them. You have to take a lot of care with vegetables. With a steak, you can grill it, let it rest and sort it out, but with vegetables, there's a lot of process involved. There's the process of washing them, working with knives, cooking them…
Cauliflower — If I had a choice, I would serve it as an entree. A lot of people serve it as a side — as a mash, puree or boiled. As an entree, I would cook the whole head — roast it off — hollow it out and fill it with assorted vegetables
Brussel sprouts — Roasting is one of the best things you can do with vegetables because the roasting brings out the sweetness. Roast them off, add some seasoning. You can serve Brussel sprouts with anything; you can add them to salads.