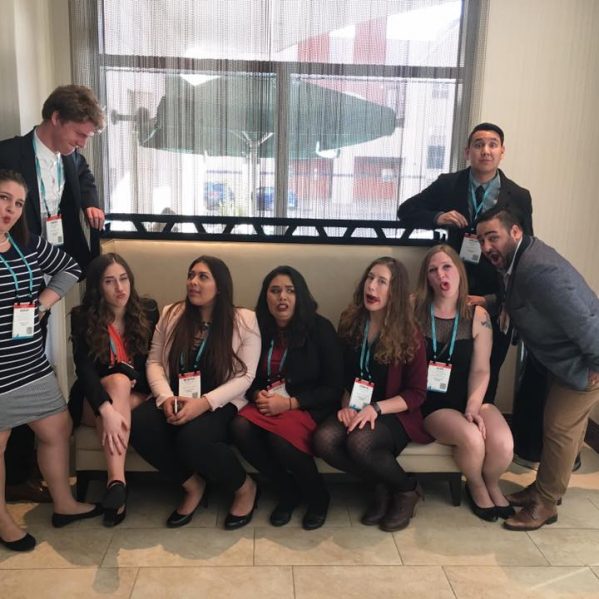 Vivek Punwani is set for an all-expenses paid trip to New York City for the Professional Convention Management (PCMA) Education Conference this June after taking home a pair of major scholarships.
Punwani, a third-year student who is currently doing the tourism double degree option through TRU and a partnership with NHTV University of Applied Sciences in Breda, Netherlands, is the recipient of the 2017 Roy B. Evans Scholarship.
The award is a major scholarship from the PCMA Education Foundation which recognizes hard work, dedication, contributions to the meetings and hospitality industry and can be used toward tuition expenses for the 2017/2018 school year. On top of the Rob B. Evan's Scholarship, he is also the recipient of the 2017 Education Conference Scholarship and a trip to the Big Apple.
"While maintaining an impressive 4.33 GPA, Vivek has been actively involved in PCMA as an executive member responsible for recruitment and member engagement," said tourism faculty member, Robin Reid.
"He not only demonstrates an ability to maintain a high level of academic achievement, he also has an uncanny ability to reach out to the larger student body—encouraging not only participation in PCMA sponsored activities but also in enhancing a culture of engagement on the TRU campus."
Punwani is no stranger to the tourism industry, currently working as a global account administrator for Conference Direct in Vancouver, BC. Born in Jamaica and raised in Victoria, he has lived and worked globally, including a recent stint in Melbourne, Australia. However, he says his passion for for the field didn't come naturally.
"I definitely didn't always want to work in tourism and events. I used to want to be a chef, and a forensic anthropologist with the RCMP. The more I travelled, the more I wanted to be involved in the industry that makes so many memories and opportunities for personal growth and intercultural understanding possible," he said.
"I think that the tourism program broadened my understanding of the field and its impacts on communities. It also provides a very global perspective as well as a philosophical and theoretical framework that I can apply to my future studies and outlook on tourism."
Punwani is looking forward to networking, reconnecting with friends from across the globe, learning about the latest industry trends and spending time with like-minded people at the conference next month.
One of those like-minded people is fellow third-year tourism student and PCMA-TRU president Janelle Lapointe. Lapointe is also the recipient of two scholarships from PCMA, a tuition based scholarship and a chance to attend the conference in New York. The pair will be on hand to take in all that the conference has to offer and bring it back to TRU and PCMA for the up-coming year. 
"PCMA is a primarily American organization and PCMA-TRU is the only registered student chapter in Canada. The fact that two of the four scholarships were given to Canadian students from the same university is extremely rare and something that should be celebrated," said Lapointe.
Conference activities include conversations with thought leaders who bring fresh outside perspectives. In a city rich with design, art, architecture, fashion and more, New York City provides the perfect backdrop for student-leaders to think outside the traditional meeting paradigm.