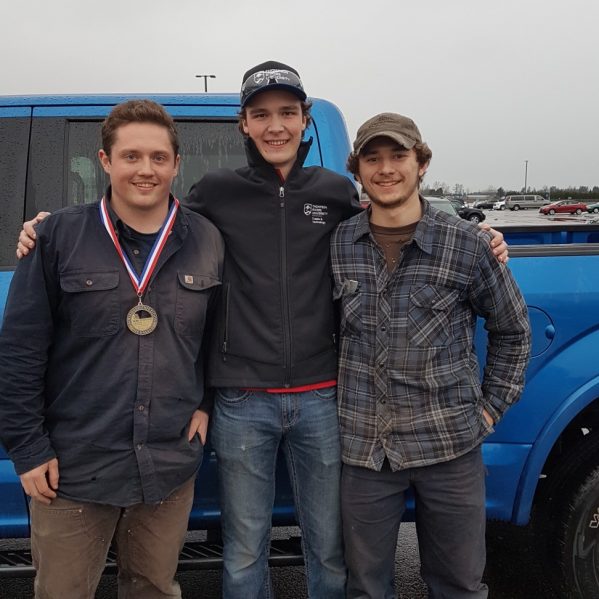 Third-year welding student Ben Chenuz is off to the Skills Canada national championship after winning a gold medal last month at Skills Canada BC.
Chenuz has big shoes to fill, following in the footsteps of fellow welding student Andrew Christensen who won the same competition last year and is now training for the World Skills 2017 which takes place Oct. 14 to 19 in Abu Dhabi. 
During Skills Canada competitions—regional, provincial, national—students complete a series of tasks within a time limit and in doing so, test their understanding of theory, hands-on learning, safety and industry best practices.
So, what does it take to be a Skills Canada champion?
Q&A with Ben Chenuz
Age: 21
From: Kamloops, BC
Trade: Level B welder
When did you start welding?
I started welding in grade eight, so I have been welding for about nine years.
How did you get into competing?
A buddy of mine in class mentioned competing at the Skills Canada provincial competition in Vancouver and I wanted in. I talked to our instructor, Larry Franzen, but there was only one spot. Larry set-up a weld-off between us and the winner would get the chance to compete. I ended up winning, so that was pretty cool.
What does training for a trades competition entail?
I practice lap joints, t-joints and corners on all different kinds of metals and using different processes. I also go over the competition blueprints and practice those over and over again while working on different welding positions and techniques.
How many hours a day do you train?
Coming up to a competition I will train around ten to 11 hours a day, usually from 7:30 a.m. to 5:00 p.m.
What is your pre-competition breakfast of champions?
Usually toast and fruit.
What is your favourite cereal?
Corn pops

What is your pump up song?
T.N.T by ACDC
What is your welding super power?
I would say my steady hand. I have good hand-eye coordination from years of playing sports. I boxed competitively up until recently, and I think that has contributed.
What are three things a welder can't live without?
My mig pliars, helmet and gloves.
Do you have superstitions?
I pretend everyone is better than me and go in with the mindset that I am the underdog. I don't expect to win and have low expectations which pushes me to try my hardest.
Do you have any mentors or role models? Andrew Christensen, we have been training together a lot as he prepares for worlds. Also our instructor Larry Franzen.
What inspires you?
My passion for welding and making things perfect. I love working with steel, you can always mold and change things. I just really love it.