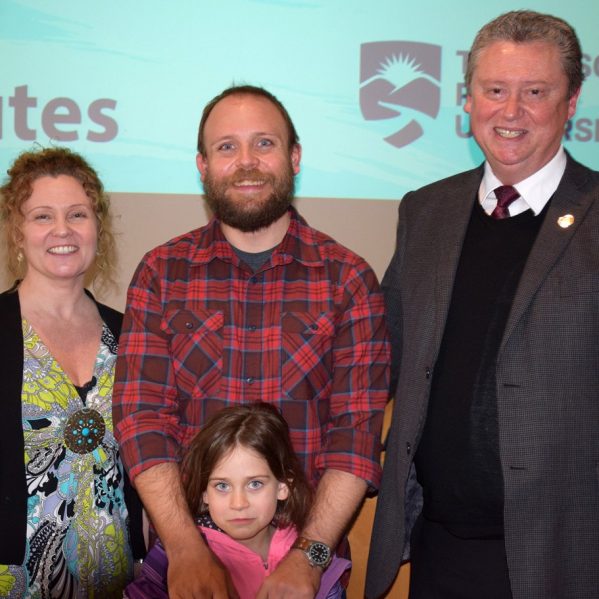 It was fast, entertaining and informative, but despite the great energy that filled the packed house for TRU's first ever 180-second Research Challenge (180sRC), only one researcher could come out on top.
Nina Johnson, lecturer in the Faculty of Arts,  took that honour for her riveting presentation,  "The Wellness 180: The Labyrinth is a Mindful Path to Low-Stress Learning."
Coming in second place, and also taking People's Choice, was Dr. Matt Reudink for his presentation, "As the Songbird Flies: Using Smart Bird Feeders to Track and Visualize Bird Movements."
"I teach communication to my biology students and they all do short verbal presentations, so I thought if I'm going to talk the talk, I better walk the walk," Reudink said.
The presentations were judged by Master of Science in Environmental Science students Sarah Whitehouse and Janelle Paulson, who took first and second place respectively in the Three Minute Thesis competition earlier in the day, and Savithri Duddu, a Master of Business Administration student and Graduate Research Mentor.
Read: Presentation about 'No. 2' takes No. 1 spot, Inside TRU, March 30, 2017
The event was modelled after the internationally renowned 3MT, and the goal was identical: Deliver a compelling presentation of research to a non-specialist audience in 180-seconds or less.
The event was coordinated by TRU's Faculty Research Mentors, Cindy James, Ginny Ratsoy and Amie Schellenberg.
The event was a huge success, said James, and she expects it will continue annually.
"What really came through in every presentation was how passionate each researcher is about their subject matter."
180sRC Presenters
Wilson Bell, "44 Lenin Avenue: Siberia's 2oth century history as told through its most remarkable building."
Nina Johnson, "The Wellness 180: The Labyrinth is a Mindful Path to Low-Stress Learning."
Soumya Ghosh, "White Nose Syndrome – killer of bats"
Monica Sanchez-Flores, "Mindfulness and Complex Identities in Equity Training."
Oleksandr Kondrashov, "Welcome to Kamloops: Help for newcomers is a course away."
Naowarat Cheeptham, "Drugs from the dark?"
Michael Woloszyn, "Online dating preferences: what women want, and what men think they want."
Patrick Walton, "Online Indigenous University Student Supports, Barriers, and Learning Preferences."
Karl Larsen, "Just how old is a snake?"
George M. Johnson, "Making Mockus."
Derek Cook, "Belief systems and ego defense mechanisms."
Matt Reudink, "As the songbird flies: using smart bird feeders to track and visualize bird movements."
Bruce Baugh, "Off the beaten track."