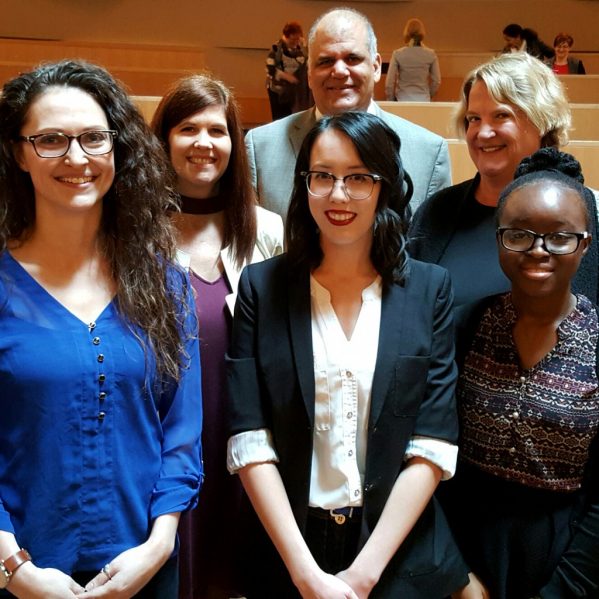 Sarah Whitehouse took first place in TRU's fourth annual Three Minute Thesis competition by talking about something nobody really wants to discuss: Poop.
The Master of Science in Environmental Science student's presentation, "Biosolids: Where do we go from here," infused a bit of humour into her presentation, but the seriousness of the problem — dealing with the ever-increasing amounts of treated human waste — was not lost on the judges.
Cathy McLeod, MP for Kamloops-Thompson-Cariboo, radio personality Cheryl Blackwell, and city councilor Arjun Singh unanimously agreed that Whitehouse was engaging, and skillfully able to weave her research and its relevance into a well-paced presentation.
"I have a fear of speaking in front of people, but I always like to challenge myself to do things I'm afraid of," Whitehouse said after the event.
"Whenever I bring up my field of research in general conversation people always tell me that it's really interesting and that they'd like to learn more. I think the 3MT is a great way to start that conversation."
Fellow MSc student Janelle Paulson took second place for her presentation, "Drying up: The investigation of drought on temperate grasslands in the Southern Interior of BC." Medina Jeff-Zanni, MSc., was awarded People's Choice for, "Long term trends in environmental and economic performance, nation-by-nation: An investigation of a win-win case."
This was a record year for 3MT participation at TRU, with 18 graduate students competing.
Whitehouse will now move on to represent TRU at the Western Canadian 3MT, hosted by the University of Saskatchewan on April 28. Sixteen universities will participate in the regional event, and the winner will then go on to compete virtually in the Canadian 3MT hosted by the Canadian Association of Graduate Students.
What is 3MT?
The first 3MT was held at the University of Queensland, Australia, in 2008 with 160 students competing. Since 2011 the popularity of the competition has increased and 3MT competitions are now held in at least 170 universities across more than 18 countries worldwide. There are 32 universities in Canada competing in the event.
3MT presenters
Vi Tran
MSc
Analytical Characterization of Choline Chloride in Oilfield Waters
Moses Msiska
MBA
The Investment Performance of UNGC Companies: Asset Pricing of Climate Change Champions
Matthew Coghill
MSc
The Ghost of Spotted Knapweed
Vera Ziwei Wu
MEd
Employment and Career of Graduates of Canadian TESOL Program in British Columbia
Olanike Imuh
MBA
EFFECTIVE LEADERSHIP STYLES FOR NON-PROFIT ORGANISATIONS
Lachlan Gonzales
MEd
Evolve your History: Learner Engagement in the University History Classroom through Augmented Reality
Adrienne Clay
MSc
Fantastic owls and how to find them
Ernest Ana
MBA
How Multinational Firms Measure their Foreign Currency Risks
Jordann Foster
MSc
Are Aliens "Bugging" Biodiversity?
Nishant Shilu
MBA
Business Optimization: Walmart Kamloops
Sarah Whitehouse
MSc
Biosolids: Where do we go from here?
Medina Jeff-Zanni
MSc
Long term trends in environmental and economic performance nation by nation;

An investigation of a win-win case

Savithri Duddu
MBA
Effective leadership styles in IT sector
Denise King
MSc
Outdoor Cats and Wildlife:

Perceptions of Risk and Value of Conservation

Hana Al-Zahrani
MBA
The Emergence of Female Participation In the Workforce

In Saudi Arabia.

Shital Upadhyay
MBA
Comparing the costs and benefits of hot-iron branding versus freeze branding for the beef cattle industry in interior British Columbia, Canada
Janelle Paulson
MSc
Drying up: The investigation of drought on temperate grasslands in the Southern Interior of BC
Flowealth O. Nikoro
MBA
Entrepreneurial personal branding in accessing capital