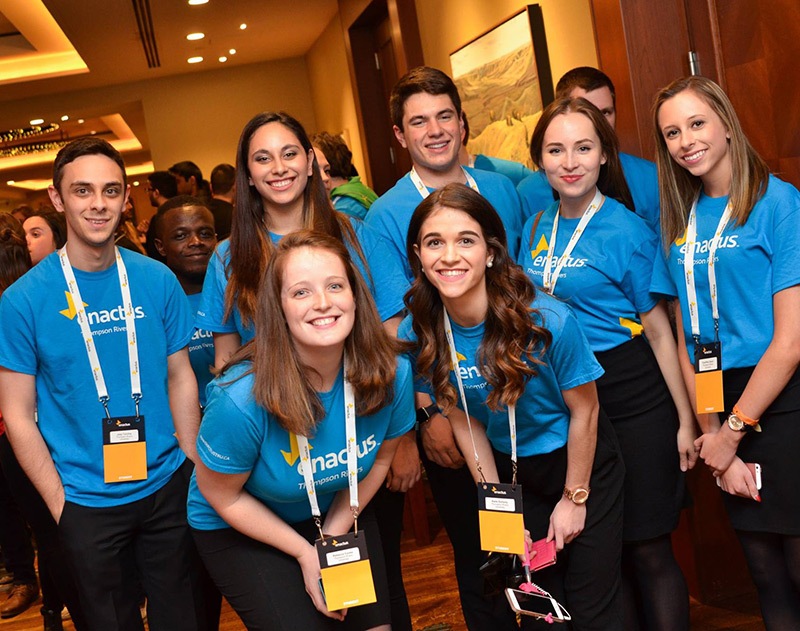 Students, academic leaders and industry influencers came together to celebrate the achievements of Canada's future leaders and entrepreneurs at the Enactus Canada Regional Exposition—Western Canada in Calgary earlier this month.
During the event, students has a chance to showcase how their community outreach projects and business ventures are making a real impact in Canada and beyond.
Through rounds of live, presentation-based competitions, business leaders serving as judges determined which Enactus teams and student entrepreneurs would be named regional champions.
Enactus Thompson Rivers sent a team of 20 students, many from the School of Business and Economics, who placed second in the Scotiabank Youth Empowerment Challenge.
Other universities in their league were University of British Columbia, Simon Fraser University, University of Regina, Brandon University, Capilano University, Southern Alberta Institute of Technology and BC Institute of Technology.
"The regional Exposition is always a fantastic experience for all members," said Katie Doherty, a soon to be BBA graduate with a double major in marketing and international business.
"New members are able to see the larger impact that Enactus is having across our country, which really motivates them to do amazing things in our own community."
The TRU team's Scotiabank Youth Empowerment Challenge project—On Your Own—is a program dedicated to empowering at-risk youth in Kamloops.
"Coming in second with the On Your Own project, was just the cherry on top for the whole weekend. All the projects we competed against were incredible, so being recognized for the work we're doing with such an important audience was a really great feeling for all of us," said Doherty.
On Your Own was founded in 2015 with the help of their partners from Interior Community Services. Last year they worked with youth who had aged out of foster care and were lacking skills like budgeting, cooking and resume building.
Enactus Thompson Rivers through On Your Own provided a series of workshops on various topics to these young students based on their needs assessment. They also developed a bursary with the help of the provincial government of British Columbia, in partnership with United Way.
"Through our fantastic community partners we are able to provide these youth with a path toward their future, as well as the financial and academic resources and supports needed to seize their goals," said Richard Baker, Enactus program director.
"It was an unforgettable two-day experience packed with like minded students bettering our world," said Joel Mercer, a third-year finance student. "Placing second in the youth empowerment competition not only put TRU on the map but having our team's hard work pay off was also very rewarding."
Tatiana Fedotova, a recent BBA graduate and now Enactus faculty advisor says the competition is a wonderful experience.
"It's been great transitioning from a student on the team to a faculty advisor. I am very proud of our students and their accomplishments this year!"