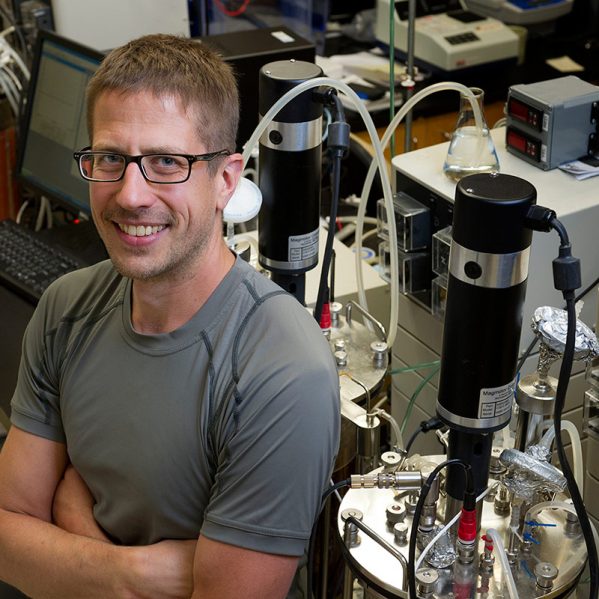 Thompson Rivers University will soon be home to the first high-throughput genomic sequencing lab in BC outside of the Lower Mainland, thanks to a $291,000 investment from Canada Foundation for Innovation's (CFI) John R. Evans Leaders Fund.
This is part of a $51 million boost to Canadian universities, announced today by the Government of Canada for the cutting-edge tools researchers require to keep Canada at the forefront of innovation.
The Applied Genomics Laboratory, or TRUgen, will be under the direction of microbiologist Dr. Jonathan Van Hamme, with a primary focus on advancing knowledge of environmental remediation and waste treatment, as well as within the agricultural industries, including Canadian food, beverage and nutraceuticals.
"This grant from the Canada Foundation for Innovation supports research in land reclamation science and technology.  Genomics research is a powerful new tool to ensure environmental sustainability of our grasslands—one of TRU's major strategic priorities. The resulting knowledge and understanding from this approach will be of interest nationally and globally," said Alan Shaver, President and Vice-Chancellor.
"This federal investment in research infrastructure represents yet another vote of confidence in the growing research profile of TRU, and in Dr. Van Hamme's outstanding genomics research," said Dr. Will Garrett Petts, Associate Vice President of Research and Graduate Studies.
"I congratulate Dr. Van Hamme on his well-deserved success. He is one of the most innovative scientists I know, and I know that he and his colleagues will use this research space to address a whole range of research questions that have not yet been asked," said Dr. Tom Dickinson, Dean of Science.
This funding is a boost to Van Hamme's already robust research program and unique lab, which has benefited from two previous CFI grants. Just this past December, Van Hamme was also awarded a $190,000 grant from Genome BC for a project that assesses the long-term impacts of biosolids on soil microbial communities during mine tailings reclamation.
Read: Unravelling the genomic mysteries of long-term biosolid use, InsideTRU, Dec. 5, 2016
"We got our first sequencer in 2012," said Van Hamme, who said his lab has seen steady infrastructure growth to match the increased demand for sequencing services.
"This grant expands our facility. We can add more sequencing equipment, additional quality control measures, as well as some automation, including sample-preparation robots. All of this will allow us to acquire more data in a shorter amount of time, and allow our technicians to use our sequencing tools more fully," he said.
While there are similar labs in Vancouver and Victoria, Van Hamme says they are often overwhelmed by demand and the wait to access that equipment can be lengthy. Many of those labs are also dedicated to medical research, he said, which is not the intent of TRUgen with its focus on environmental and agricultural research.
This infrastructure funding will support Van Hamme's current research in environmental remediation and land reclamation, which is critical for the continued development of new resources and environment improvement.
Research in the use of biosolids, for example, will assist policy makers in regulating biosolid application. Research in wastewater treatment may help save taxpayers money through improvements to municipal water treatment processes. Research into Canadian neutraceutical and beverage products will allow Canadian small- and medium-sized businesses remain competitive in a global economy, and help to generate new jobs.
All of these impacts will have benefits at the local level and beyond, said Van Hamme.
"We really want to focus on helping other industries get the most out of their data."
Construction on TRUgen will take place over the summer, with equipment installed and ready to use by September 2017.
Quick facts:
The John R. Evans Leaders Fund helps a select number of exceptional researchers at institutions across the country to conduct leading-edge research by giving them the research tools and equipment they need to be or become leaders in their field.
This in turn helps institutions compete internationally in their priority research areas.
The Fund is an important strategic investment tool designed to help institutions attract and retain the very best of today's and tomorrow's researchers.
There are four different streams under the Fund: the unaffiliated stream and three partnership streams.
JELF – Unaffiliated stream: This stream allows institutions to give individuals or small groups of researchers (up to three) the research infrastructure they need to conduct
their research.
JELF – Partnership streams: These streams are a result of a joint process that has been developed with the Canada Research Chairs Secretariat, the Natural Sciences and Engineering Research Council of Canada and the Social Sciences and Humanities Research Council of Canada. They offer eligible institutions and their researchers the opportunity to create competitive packages for the funding of infrastructure and
research support.
The CFI is contributing more than $50 million through this Fund to 223 projects at 39 institutions across Canada.
As part of this announcement, an additional $11,992,627 was awarded under the Infrastructure Operating Fund to help institutions with the incremental operating and maintenance costs associated with the acquisition of new infrastructure.
More information
Dr. Jonathan Van Hamme
jvanhamme@tru.ca
250-377-6064