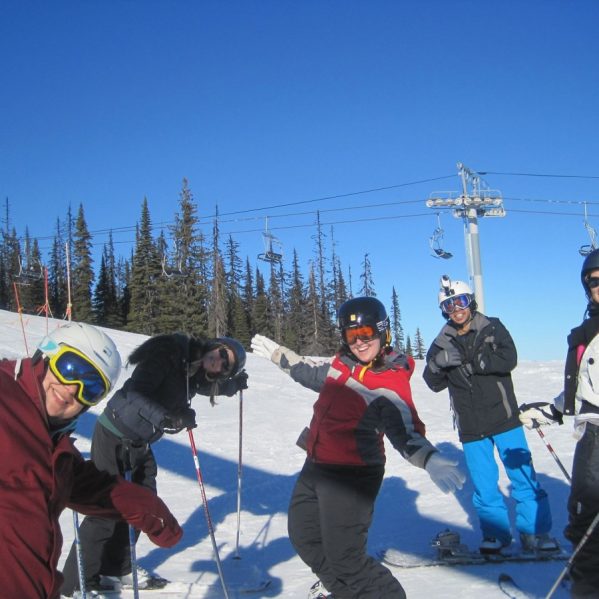 An innovative partnership on-campus is creating unique opportunities for students to expand intercultural understanding through outdoor activities.
TRU World and the AdventureU Club have joined forces to build upon the already successful Leisure Explore Activity Program (LEAP) by capitalizing on upper-level adventure students to lead activities that offer a greater outdoor component.
LEAP is the new acronym for what used to be known as the International Student Activity Program (ISAP), which was rebranded last fall to reflect the evolution of the program to be inclusive of all students on campus and when space is available, staff and faculty as well.
"LEAP traditionally offers ground-level experiences for students, like ice skating and Blazers games," said Craig Engleson, manager of events, activities and housing at TRU World.
"This new partnership has created a second level to that, utilizing our campus programs and their learning outcomes to offer experiences for our more adventurous and experienced student population. Fall events were so popular they sold out within 12 minutes of being posted."
The foundation of the program is unique to TRU, giving adventure studies students the chance to gain hands-on experience while also earning course credits. Students in the club get to practice guiding activities such as canoeing, kayaking, ice climbing, snowshoeing, camping and skiing.
Craig Campbell is a faculty member in the Adventure Studies Department as well as faculty advisor to the club and has been a huge supporter and resource working closely with Engleson on the partnership. They have aligned the program closely with the university's strategic priorities to increase intercultural understanding and enhance student success.
The AdventureU Club students even undergo training by Intercultural Coordinator Kyra Garson, to increase intercultural competency and understanding and help leaders gain the ability to think and act in appropriate ways that support the achievement of goals in culturally diverse contexts.
"We are arming the students in this program with the skillset to make it more inclusive," said Engleson. "It's wonderful to watch their enthusiasm and see the knowledge they are gaining."
Not only is the partnership affording opportunities to adventure students, but it's a great chance for international and domestic students to experience the outdoors, build relationships and discover the vast landscape that Kamloops and the BC interior has to offer.
"Participating in LEAP events has helped me gain knowledge about Canadian culture," said international student, Kunwar Singh. "When I went to SunPeaks on a ski trip, I realized that a lot of Canadians start teaching their children to ski from a young age. I was amazed to see young kids skiing effortlessly on the beginner-level hills dressed in flashy coloured ski gear."
The program is so unique and innovative that Campbell and Engleson will be presenting a breakdown of the partnership and how it came together at the BC Council for International Education Conference (BCCIE) this spring in Kelowna.
The conference attracts senior leaders, researchers, practitioners, student service providers, administrators, government, NGOs, and students to explore these ideas with the aim of advancing outstanding leadership in the field of International Education in BC.
To learn more about up-coming LEAP events, check out the events calandar.
More information
Craig Engleson
Manager of events, activities and housing
TRU World
cengleson@tru.ca