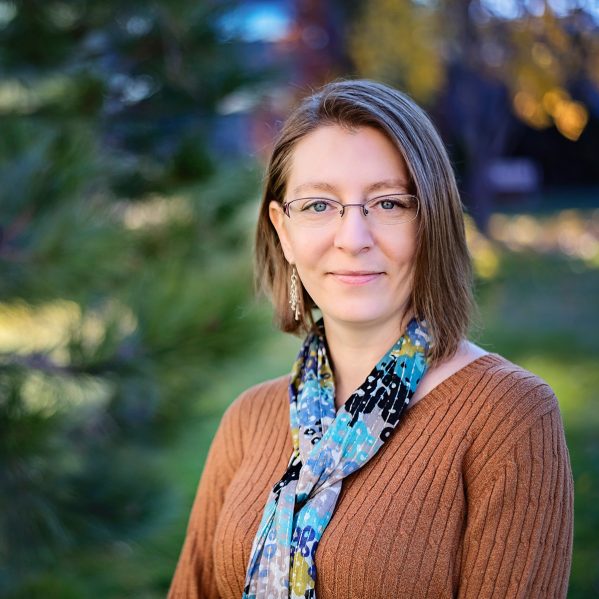 Upon filling in for Career Coordinator Susan Forseille during her yearlong sabbatical, Sarah Ladd described the task as "stepping into some very big shoes…her reputation definitely proceeds her."
Recently named TRU's first Engineering Co-op Coordinator, Sarah is returning to a position she held at UBC for seven years.  "I've missed working with engineers – students, employers, and faculty alike, and I look forward to using my past experience to build new relationships with local, regional and national employers to connect them with TRU's future engineering co-op students!"
Sarah's original field of study was Archaeology, and the humor is not lost on her now that she works in Career Education. "I used to study ancient dead people, now I'm helping students with their resumes" she chuckles, "talk about skills transfer."
In truth, her career focus has been on helping others uncover their talents and "guiding them to their place of confidence." The professional world is a vast and complicated web, and Sarah helps reduce the complexities by helping establish logical steps towards a satisfying career.
Sarah's initial professional growth was mostly observational. As a secretary at the Simon Fraser University Co-op Program, she educated herself by "watching people performing tasks and interacting with one another."
Following university, Sarah developed professionally through temporary postings, covering maternity and sick leaves. "I had a clear progression of roles within the career and co-op education field, through temporary postings, before getting the full-time role at UBC Engineering Co-op."
Throughout this transitory time, she would ask questions, get advice, and gather information. As her career developed, Sarah continued to absorb techniques; she now encourages students to practice consistent self-assessment and observational styles in their own journeys. Sarah treats her own professional experiences as a personal toolbox for guiding others.
Above all, patience is key. Success takes time—it is a rare occurrence to graduate and step into a CEO position. There will be growing pains; there will be learning curves. "As a student, think of career development as building a foundation or platform from which you can embark on different paths from."  Part-time, summer, volunteer positions, extracurricular activities; "they all count towards strengthening that platform."  Sarah asserts, "Every job is valuable; every experience is worthwhile."
Sarah recommends acknowledging your place in the career development life cycle; "seek jobs that target what you want to do".  Ask yourself, what do I want, need, love, dislike? "Understanding your strengths and weaknesses is key" Sarah says.
Once offered an amazing job, Sarah arrived in a new city, and found the office environment to be slightly hostile. During the yearlong contract, Sarah, more than ever before, sought to find her voice.  She bought some beautiful truffle chocolates and sent out an email inviting co-workers to pop by and sample one—if they were willing to share one detail about themselves. Over time, the great frost melted, and positive friendships developed. She considers overcoming that toxic situation a great accomplishment.
While success stories are welcome, Sarah notes that there is so much to learn from failure and rejection, as it teaches perseverance.  "Falling down is not a failure, the failure is not getting back up again."
Her advice to TRU students? "Be purposeful, be present, also, take advantage of all the services available—come to the Career Education Department, check out the Writing Centre, visit BMO Student Street and pet the therapy dogs. Get as much out of your education as you can."
Welcome the learning opportunities that come along on the great quest to professional advancement.   "The career path is not a straight line; it's not an endless road. I prefer to think of it as a tree—sometimes the branches break or bend, but there is always room for growth and new directions to explore."
For more information about Career Education, check out the website.