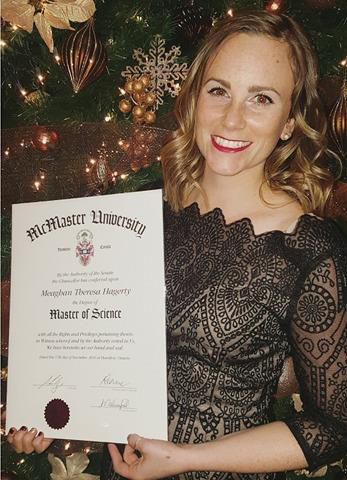 Meaghan Hagerty started in August, "holding down the fort" for Wellness Coordinator Chelsea Corsi, who had taken semester off for a refreshing and recharging leave of absence.  Chelsea, whom Meaghan refers to as "super woman extraordinaire", has decided to expand her leave into the next semester.  As part of her personal "Year of 40" health and wellness initiative, the mother of two felt it was important to "step back, take a breath, and enjoy life."
"I've been working for as long as she can remember" Chelsea says, "I needed a break."
"I like to walk my own talk" Chelsea continues. "I want to encourage healthiness in others, and it's something I need to practice for myself."
An active presence in the community, the Vice President of the Kamloops Sexual Assault Counselling Centre's board is also still involved in the campus's Mindfulness Collective project.
Meaghan's efforts give Chelsea the confidence to continue her own wellness journey. "I'm leaving the reins in very capable hands. Meghan brings energy and enthusiasm to the role, and she's doing a fabulous job."
Meaghan, who completed her Masters of Science and Global Health this past summer, recently returned from her graduation ceremony at McMaster University in Hamilton, Ontario.  Now that she is continuing onward, Meaghan is taking a moment to reflect on the past semester as it comes to a close. "My first semester here was really a blur – an exciting and fun blur, but a blur nonetheless!"
Meaghan credits the well-established program that Chelsea left behind, which allowed her to develop her own concepts and ideas easily within the Wellness Centre.  "Thankfully there was an incredibly supportive network in place to assist me."
Looking forward, Meaghan is "excited to continue in this position, building on the lessons from the initial learning curve as well as the energy that buzzes through campus."
As for the future, Meaghan is focusing on connectedness and communication with the TRU community. In order to tailor resources and programming to suit individual needs, Meaghan's focus is to gather a deeper understanding of what students, staff and faculty "genuinely want, need and care about."
Ultimately, Meaghan wants students to know that they don't have to walk the road alone. "I want to help foster the attitude that nobody has to get through university on their own, and that learning to ask for help is key to success through life – help with health and wellness is no exception to that!"
The Wellness Centre has been a bustling safe space this semester. "Students are welcome to partake in the tea station or hot chocolate, to do homework, have one-on-one chats, take a nap– talk or not talk—whatever they need in the moment."
For more information on the Wellness Centre, please visit the website, or call 250-828-5010.