Bachelor of Arts alumnus Will George was determined to find career success upon graduation and as B.C.'s youngest Manager of Economic Development and Tourism he is well on his way to making his vision a reality.
George, a 2014 arts alum with a split major in politics and economics, holds his position at the City of Merritt. It's a job in which he wears many hats, including marketing and communications, grant writing, community development, business attraction and retention, attending tradeshows and working within the community on major projects and events. A tall order for anyone, let alone a recent university graduate.
But, the skills he learned as an arts student, such as critical thinking and problem-solving, are well-suited to the role and his accomplishments are no accident. George is a prime example of how to utilize the various student success tools available at TRU.
"He came to see me early in his first semester," said Student Employment Coordinator, Susan Forseille. "I believe his words were something like—I want to make sure I have a job in place before I graduate."
For the next four years, George worked closely with Forseille and the Career Education Department on career mapping, networking, taking part in the mentorship program and building a master portfolio.
"Will wasn't afraid to have different career thoughts, explore and try out different career paths, and work with mentors in a variety of different industries. He wasn't set on any one job and he changed his mind along the way many times," said Forseille.
Upon graduating, George entered an internship program with Northern Development Initiative Trust (NDIT) in Prince George where he had the opportunity to work with northern communities on local government projects, travel, network and gain unique work experience that would become invaluable to his career. While working on an NDIT project for the Village of Lytton, he attended a conference where he met his future boss, Chief Administrative Officer for the City of Merritt, Shawn Boven.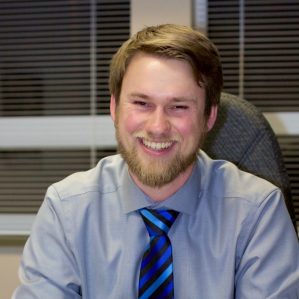 "When I first met Will at an economic development conference, he seemed well-equipped to take on the role of Economic Development Manager," said Boven. "We were looking for someone fresh, with new ideas and lots of enthusiasm. Will's career path is on an upward trajectory."
George was also willing to get outside of his comfort zone, leave his home town and take a job up north in order to get his feet wet.
"I was apprehensive to leave Kamloops, my friends and family, but I knew I wanted a career in local government so I was willing to move to make that happen," said George. "Lots of small cities are looking for young grads to bring in new ideas and breathe life into the community. I would say, don't be nervous to relocate, it's a great chance to gain a ton of experience that will open doors in the future."
He credits his time at TRU both inside and outside the classroom for preparing him for the workforce, participating in many extra-curricular activities and getting involved with the community—including creating a position with the Kamloops Vote 50 Campaign, a major campaign aimed at increasing participation in the 2014 municipal election.
By being involved in over 20 committees and 15 clubs during his time at TRU, he was able gain full exposure to everything the university had to offer. One of his most memorable takeaways was an economics and geography class where he received hands-on experience doing case studies out in the field.
"There are so many opportunities to take advantage of, students should just get involved, try to gain those hard skills and be willing to take chances."
The next Pan-Campus Networking 411 event is coming up on Jan. 26, 2017 from 4:30 – 6:30 p.m. in the Grand Hall.