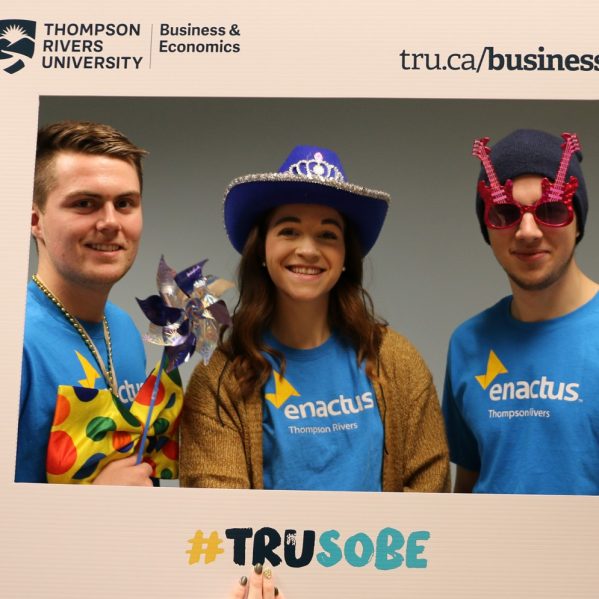 If you've been to the second floor of the International Building this fall, you may have noticed substantial renovations in full swing.
Those upgrades are now complete and the School of Business and Economics (SoBE) is celebrating an increase in the student commons area and the inclusion of the SoBE advising team, previously in the Trades building, now located in the International Building within the centre.
"It's nice to have a designated study space in SoBE. This is close to our faculty, and many of our classes so it's super convenient," said Katelyn Zubak, a first year business student from Kamloops. "It feels like this study space is meant for us, it's not quiet right now," she said laughing. "But it will be and it's going to be a great place for focusing on work."
There are now several offices, including the offices of five, full-time student services staff, a book-able meeting room and quiet study spaces.
'What we were aiming for is a student centre which students would embrace as their own; and thus making it the focal point of the School. There are so many positive spin-offs, not just for students but for the professors and staff as well," said Angela Martin, Assistant Dean.
"We envision this as a place for students to study, to meet, to work on group projects, to meet with their professors, or to just hang out.  As well, we will use the space for events with people from the business community, enhancing our students' networking skills and hopefully building relationships related to finding work after graduation," added Martin.
Hundreds of students, faculty and staff stopped by the new space today to see the changes SoBE has made. Dozens of cupcakes were eaten, fresh popcorn was handed out, Enactus hosted fun SoBE themed games and hourly prizes for participating in the photo booth were all part of the mix.
One of the initiatives currently in the works for this new student study commons is a mural contest. There is currently a call out to SoBE students asking them to contribute to the walls in the new Student Centre. Students have until Jan. 13, 2017 to submit proposals that fit into the themes of student life, life at TRU and more.
The SoBE Student Centre grand opening was held on Friday, Nov. 25, from 10–2 p.m.