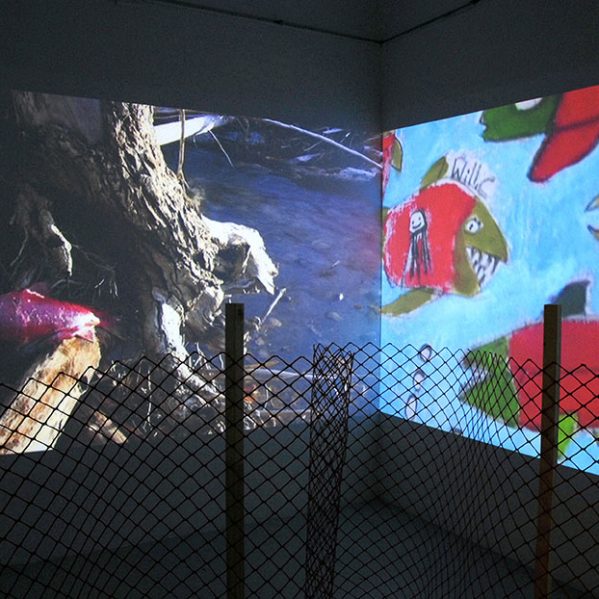 Eileen Leier, artist and Associate Professor in Visual and Performing Arts, spoke to CBC Daybreak about her exhibition, Sqlelten7úw'i – Red Salmon – Sockeye which ran from Sept. 10 to Oct. 22 at  the Arnica Artist Run Gallery. As part of the exhibition, people of all ages were invited to share their stories of salmon and help populate a 'salmon run' with their own salmon creations under the water of the virtual Adams River flowing in front of the gallery in the Old Courthouse Cultural Centre.
For Sqlelten7úw'i – Red Salmon – Sockeye the public was invited to explore the largest sockeye run in North America through film, photography and underwater video.
The artworks produced for this exhibition explore the Adams River estuary as a landscape that contains a complex set of socio-political and historic issues as well as environmental concerns that coincide with the massive public interest and recent media focus surrounding the welfare and fate of the sockeye salmon. Collaborating and consulting with local organizations, the Leier documents the perennial scene where tens of thousands of local and international visitors, especially those who journey to Roderick Haig- Brown Provincial Park, witness the run as a primordial ritual during dominant years of the salmon's lifecycle. Leier is particularly interested in the urban constructs of information kiosks, food booths, and souvenir tents—as well as the spectators—that raise critical questions about perception and meaning in relation to natural phenomena.
Leier's work was also featured in a talk on Oct. 20 by Sandra Semchuk of Emily Carr University of Art + Design as a participant in an international panel discussion, "Art, the Environment and Wellness," at The Reach Gallery in Abbotsford, BC.