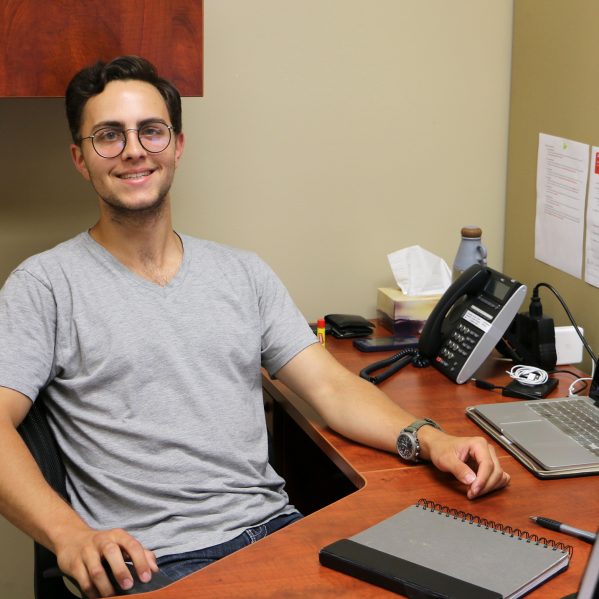 Nick Saxby is a TRU co-op student, spending his third and fourth co-op terms with United Way Thompson Nicola Cariboo.
As a marketing and communications associate with United Way, he's responsible for social media management, website maintenance and search engine optimization. He works closely with designers to create posters and ads and he regularly attends events and meetings with community donors.
"Networking is important in the business and marketing industry. Co-op positions like this open so many doors as you get to meet a variety of influential community members," said Saxby.
Most importantly, he helps people understand exactly how the United Way works with local non-profits, government, stakeholders and thousands of donors to change lives in the community.
As a Bachelor of Business Administration student, the courses Nick has already completed compliment his current role at the United Way. "Intro to marketing has given me a solid foundation of skills needed for this type of work," said Saxby. "The experience that I've gained through my co-op terms builds on what I've learned in the classroom."
The most educational challenge that he's faced is how to efficiently and effectively change his communication to match the company. "United Way's audience is primarily donors and it's definitely more of a serious tone than some of the past companies I have worked for," said Saxby. "My supervisor, Geralyn has been great, I get a lot of feedback on whether I am 'on brand' and aligned with the current messaging."
What has Saxby enjoyed the most while working for United Way? "I'm always improving how well I communicate to specific audiences. I've been able to improve my skills in design, social media and public speaking."
Saxby credits the School of Business and Economics business communications course for preparing him for his co-op positions. "Learning how to properly send a business email was huge, how to phrase things correctly and that less is usually more. Every course has helped my perspective and improved how I go about learning."
His co-op term with United Way ends in December, which happens to be the busiest time of year for campaigns. Saxby has been assisting with BBQs, breakfasts, collecting inspiring stories and creating marketing material. As a TRU student and a United Way employee, Saxby is excited to participate in the TRUly United campaign which is now underway and runs until Nov. 4. This year's goal is to raise $175,000 for student awards and community initiatives.