Posted on: October 17, 2016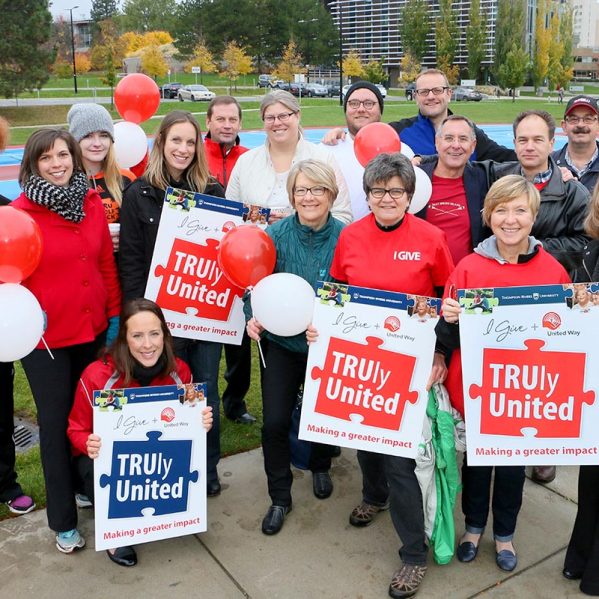 About 40 employees, WolfPack athletes and United Way staff gathered at the entrances to TRU this morning.
Waving banners, the group was kicking-off the annual TRUly United Campaign, a joint initiative between the TRU Foundation and the Thompson Nicola Cariboo branch of the United Way.
The campaign raises money for student scholarships, bursaries and United Way initiatives. Currently, 561 employees participate, with the ability to choose whether their donation goes to the TRU Foundation or back in to the community through the United Way.
Strengthening our community and our capacity for giving to students benefits everyone, says TRU President and Vice-Chancellor Alan Shaver.
"Just this week I heard the story of a young person who, a few years ago, was found homeless, living on the riverbank. She had been through over 20 foster homes. A United Way agency found her, cared for her, supported her and helped her get into TRU. With the help of bursaries she graduated. Now she is helping other people in need," said Shaver.
Last year, the TRU Foundation was able to provide scholarships and bursaries to 1,175 students, but according to Dennis Acreman, TRUly United campaign co-chair, many eligible students are denied.
"We would like to close that gap," said Acreman.
The 2016 fundraising goal is $175,000 and this year, there's some extra competition added into the mix. Domtar has issued a friendly challenge to TRU to see who can raise the most money for the United Way.
Donations can be made by payroll deduction or payroll lottery and one-time donations are also accepted. Pledge forms are being distributed to all departments across campus. You can also complete an online donation form.
To make an even greater impact, there will be several opportunities for donation matching.
Donations made today from noon until 1pm at the TRUly United table on Student Street will be tripled thanks to the generosity of the Kelson Group. The next matching opportunity will be October 26 from 12-2pm in the Campus Activity Center.
Donations are tax deductible and as an added incentive all donations made the first week of the campaign will be entered into a draw to win free parking for a year.
Impact in the future will be further enhanced with the recent announcement of  a new TRU Knowledge Mobilization Officer, a role that will connect TRU research to regional community needs to produce tangible outcomes.
As the TRUly United campaign unfolds, you can be a part of the story. By using #TRUlyunited in your post to Twitter, Facebook, Instagram and Flickr we will be able to compile a Storify webpage filled with images, video and comments for the duration of the campaign.
On Friday, October 28, the TRU WolfPack will be hosting an event at their volleyball games as part of the campaign, which wraps up the following week on November 4.