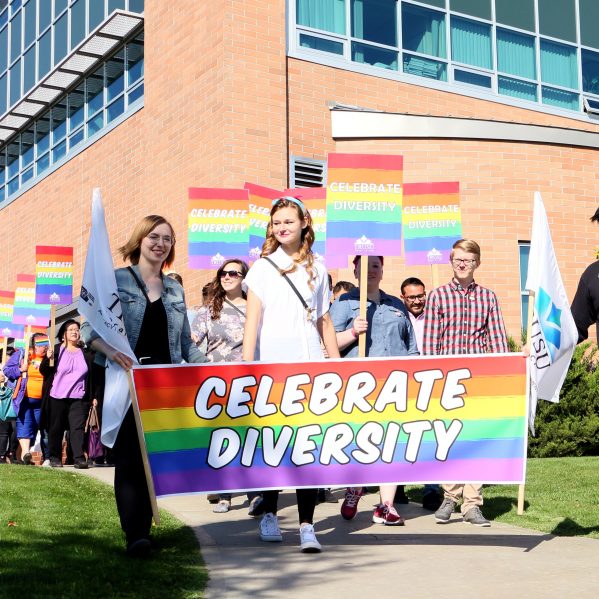 Fostering diversity and encouraging students to find their path is only part of what makes TRU a different kind of university. The unique cultural perspectives of all students and employees are valued with a strategic priority to increase intercultural understanding.
The TRU Students' Union's (TRUSU) Equity Committee is dedicated to creating safe spaces to study, work and socialize on-campus regardless of sexual orientation or gender identity. The annual Pride Parade is just one example of inclusivity in action.
"The Faculty of Student Development has been pleased to support the Pride Parade from its inception five years ago. Our partnership with TRUSU has included any facilitative supports needed for the event, as well as our presence," said Dean of Students, Christine Adam.
According to Jeffery McNeil-Seymour, School of Education and Social Work (EDSW) faculty member—it's essential to make sure with events such as the Pride Parade, that everyone feel included.
"It's important that close attention be paid to ensure that our use of language is the most current and up to date so that we acknowledge that not everyone agrees to participate under an umbrella," said McNeil-Seymour. "We have a diverse population on-campus that includes many international students and no one should feel left out."
McNeil-Seymour, will be leading a round dance at the end of the parade in hopes to to bring everyone together in unity.
"Having a round dance at the end of the day will be a reconciliation. I want to be able to honour everyone, in a good way."
Beyond events that celebrate diversity, TRU provides a multi-faith space to support the spiritual practices of our diverse student body as well as a Diversity and Inclusion Committee. The diversity and inclusion program is based on the Canadian Employment Equity Act which aims to eliminate employment barriers and workplace discrimination traditionally faced by four designated groups: women, Aboriginal peoples, visible minorities and people with disabilities.
Monica Sanchez, EDSW faculty member, helped develop a core course in the Masters of Education program called Diversity, Constructing Social Realities, that teaches future educators about how minorities are affected by gender, race and dissability. She also sits on the Diversity and Inclusion Committee and teaches workshops in equity training for anyone interested.
"Equity training (diversity or anti-oppression training) refers to teaching awareness of privilege and disadvantage and peoples own social location through self-reflexivity," said Sanchez. "Our identities are more complex than our race, ethnicity and sex. We are all subject to intrinsic bias, but we must be mindful of our emotional reactions and have compassion for ourselves and others, so we teach through a practice of mindfulness."
On a campus that includes such a diverse population of students, staff and faculty, intercultural understanding is at the forefront and will continue to improve with greater access to training, resources and events such as the TRUSU Pride Parade and iDays.