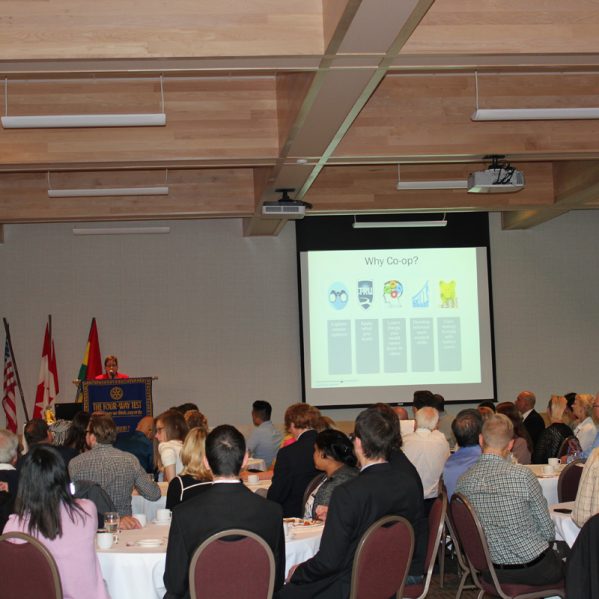 Prior to the Rotary Career Mentoring Breakfast on September 23, Brianna McIlquham, Alumni Relations Coordinator shared: "This is our first time trying this style of Career Mentoring event—we're hoping everyone has fun and learns a lot." Students were seated with Rotary Club members—business- and community-minded professionals, who were eager to share their knowledge base and life experience.
The packed room was teeming with good humour and solid career advice—with bacon and eggs on the side. Students were prepared with discussion points but conversations were clearly not a problem—especially for the chirpy Rotarians, bright-eyed and bushy-tailed on the early Friday morning.
Roars of laughter filled the Campus Activity Centre's Mountain Room; this was quite possibly the most fun that anyone has ever had at 7:00 in the morning. Rotary Club members make for warm and welcoming mentors when offering insights regarding educational pursuits and potential careers.  Among the topics discussed: resumé building, successful interview skills and professional growth.
Currently, there are an enormous number of top businesses (over 100) across Canada—and throughout the world—offering co-op placements. "The more companies that hire co-ops in Kamloops equals more students staying in Kamloops as employees," said Dr. Nancy Bepple, Co-op Coordinator, addressing the business owners and managers. Rotary Club members were invited to consider co-op or to contemplate an ongoing mentorship role.
Co-op offers an invaluable experience for students, where they alternate study terms with paid work experience. Bepple spoke of the success rates and positive attributes of the program at TRU: "there are things you simply cannot learn in the classroom." Co-op doesn't just benefit the student; it also works wonders for employers—providing opportunities for junior staff to develop their training and managerial skills. It's also a chance to utilize staff during peak times and seasons. Bepple assured Rotarians that co-op students are ready and willing to do "real work that adds value to the business." Between co-op placements and mentorship connections, students will develop confidence in the professional arena, comprehend their career path clearly and apply their classroom learning to real-world problem-solving, to be better prepared for their post-graduation occupations.
Bepple asked the Rotarians to share words of wisdom about work ethic and employment. "Never say no…you never know where saying yes might lead you." Anecdotes and advice abound—a Rotarian finished with a quote from Benjamin Franklin: "The harder I work, the luckier I get."
For more information about the TRU Career Mentoring Program visit the website or send an email to careermentoring@tru.ca.
For more information on Career Education please visit the Career Education website or call 250-371-5627.