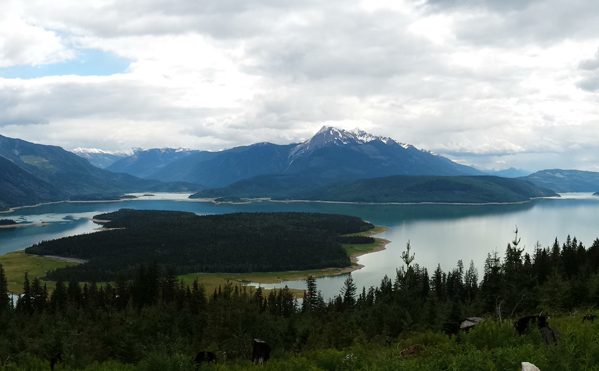 My name is Adam Soames and I'm the Assistant Silviculture Technician for Ten Peaks Holdings Ltd.
I've been performing surveys and inspections on trees and shrubs, as well as checking the status of the seedlings planted after forest harvesting. I determine whether the plants are "free growing" – which assess whether it is living in conditions suitable enough to thrive independently. The work may sound boring to an outsider, but for someone who's been in customer service his entire working life, it's a refreshing change (trees are rather low maintenance compared to the average caffeine-starved Tim Hortons customer).
My Co-op coordinator, Marion Oke, was instrumental in connecting me with this position. She achieved a nearly impossible feat: finding an employment opportunity where accommodation was provided and paid for, or one located in the Kamloops or Merritt areas. Her solution: Ten Peaks Holdings. After a quick and informal telephone interview with Mike Carnigie, the owner of TPH, I was off to buy some quality rain gear and a surveyor's vest. Not long after I was out in the bush.
My favorite day was helping with drone testing. We ended up counting trees to compare with drone photos. As a result, Mike and I ended up working together; a pleasant change from my usual solidarity. But more excitingly, it just so happened to be the time of year that wild berries were ripe. I ended up gorging myself on tiny wild strawberries the size of my pinky nail, but as sweet as candy, mouth-watering red raspberries, and best of all juicy black huckleberries that left purple stains on my hands and face. What's more, the rain stayed away, meaning it was a rather pleasant time out.
This has been a truly amazing experience. I've learned a huge amount and improved my existing skills.  To anyone hoping to take up a similar job through Co-op, I think you'd have a good time. Just make sure you bring good rain gear!
For more information about the TRU Co-op program visit the website or call 250-371-5627.