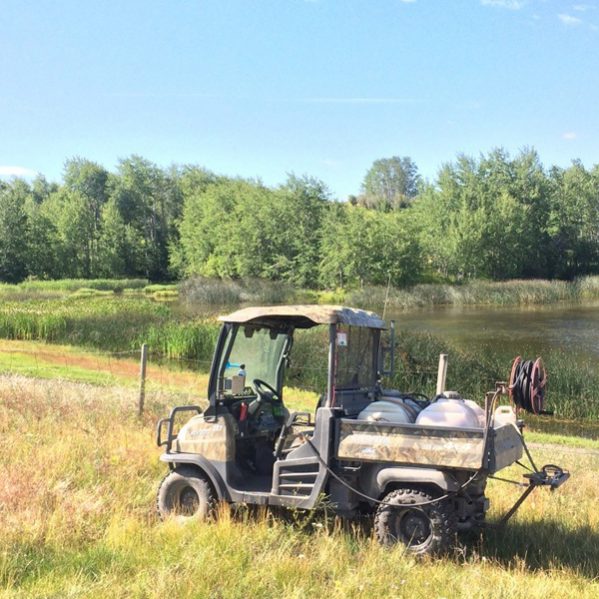 My name is Hailey Manke. I'm a Natural Resource Science student at TRU, currently on my first co-op work term at Douglas Lake Cattle Co.
Canada's largest ranch is located forty minutes east of Merritt and an hour south of Kamloops.  During this four-month position, I'm responsible for identifying, cataloguing, and applying a herbicide to invasive weeds found on the 500,000 acres of deeded land. I travel across the expansive pastures on an RTV, equipped with two one hundred liter tanks.  My daily routine is to search for invasive weeds and enter my findings into a database through the GIS Pro application on my iPad. Following the documentation, I treat the invasive weeds. Depending on the size of infestation, I have two available options: a hand sprayer that's attached to the large tanks by a long hose or by using a boom that is attached to the rear of the RTV. This employment opportunity offers a unique experience-living on the ranch with my co-workers. A highlight of the job is working in the fields, forests and grasslands. The peace and quiet makes for a most enjoyable work day. (I would like to share with other students that appropriate clothing for the weather is essential!)
The Career Education Department directly connected me with Douglas Lake Cattle Co, and set up an informational interview. Being able to visit the ranch and meet with the managers in advance allowed me to be one step ahead of other eligible applicants. During the site visit, the Career Education Department also facilitated a conversation about future employment opportunities and whether this position is the best option for furthering my career related experiences.
For more information about the TRU Co-op program visit the website or call 250-371-5627.