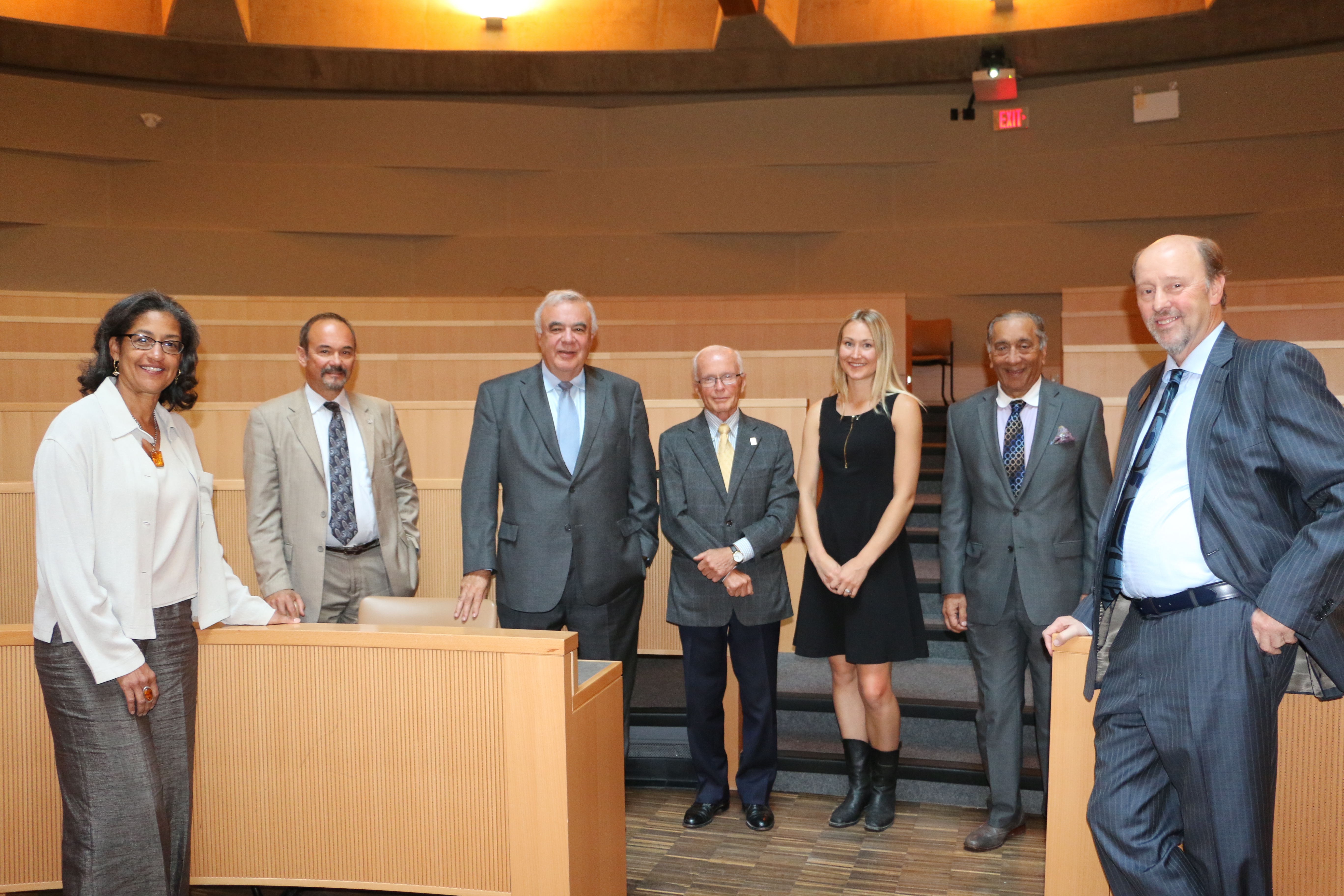 After commenting on their attire as "the best-dressed law class," Chief Justice of the Supreme Court of British Columbia, the Honourable Christopher Hinkson, delivered a warm keynote address to the incoming TRU Law class, encouraging them to be courageous future lawyers.
"I invite you to seek out the opportunity to take on complex problems and social inequities," Hinkson said, adding that the young bright minds before him have a duty to protect our rights and freedoms.
He also suggested that creative thinking and a willingness to have an open mind is necessary to advance the profession in modern times.
"If we never do anything which has not been done before, nothing will change," he said.
Hinkson was part of a distinguished panel of speakers welcoming the TRU Law class of 2019 at their orientation opening assembly. The 110 eager students make up the sixth class of TRU's Faculty of Law since its inauguration in 2011 as Canada's newest law school.
The general themes of the session included the importance of understanding and acknowledging aboriginal history and relations in our country, balancing healthy competition with collegiality, the importance of networking, and a willingness to be creative and embrace change.
Below are some notable quotes from the impressive welcoming roster.
"Your law school is key in the development of legal skills essential to the practice of law, but I also encourage you to get involved in moots, pro bono work, student politics and clinical programs."
-The Honourable Christopher Hinkson, Chief Justice of the Supreme Court of British Columbia

---

"The establishment of this law school was in part to address the crisis of access to justice, and it's working. Our graduates are working in a variety of positions across the region and country. Your class has a lot to live up to."
–TRU President Dr. Alan Shaver, who also officially acknowledged the group's presence on the traditional lands of the Secwepemc people.

---

"Compete with yourself. Work hard—but I challenge you not to strive at the expense of your classmates. Be collaborative."
–TRU Law Dean Brad Morse

---

"Enjoy yourself. Make friends. Work hard but don't be too serious all the time. Take advantage of the opportunity to learn from your young, energetic and highly-qualified instructors."
–The Honourable Wally Oppal, QC, TRU Chancellor and Senior Counsel at Boughton Law, who also officially presented the ceremonial gift of tobacco to TRU Elder Doreen Kenoras of Adams Lake.

---

"Whatever area of law you go into, it will affect First Nations people. Taxation and title and rights are two particularly relevant areas of law."
-Councillor Jeanette Jules, Tk'emlups Indian Band (Kamloops Indian Band)

---

"Congratulations on this awesome endeavor. I thank our president (Dr. Alan Shaver) for honoring indigenization. I encourage students to start learning the aboriginal ways, and to read the Truth and Reconciliation Commission, particularly as it pertains to law."
–Paul Michel, Executive Director, TRU Aboriginal Education

---

"We need diversity on the bench and in practice. You can look to the Law Society of BC to assist in educating you with regards to issues surrounding access to justice. As lawyers, you will have tremendous impact on human lives. I challenge you to never lose sight of why you became a lawyer, or who you are serving."
–Michelle Stanford, Bencher, Kamloops District, Law Society of BC; lawyer at Kamloops firm Stanford + Co.

---

"I recall the feeling I had entering law school, that I was doing something important with my life, just as I hope you feel today. But remember, if our profession is to remain relevant, we must accept change head-on."
–Michael Welsh, President, Canadian Bar Association, BC Branch; lawyer at Penticton firm Mott, Welsh & Associates

---

"Don't rush through the next three years. Get involved in (KBA) socials, networking events and professional development sessions. Meet local lawyers and pick their brain—we are all about integrating the legal profession."
-Alicia Glaicar, President, Kamloops Bar Association; Associate at Kamloops firm Mair Jensen Blair

---

"My advice to you is to be open to everything. Take advantage of the amazing opportunities to network and participate in KBA, CBA and SLS events. I did and it's benefitted me so much—two years ago I never would have dreamed I'd be standing up here welcoming the new class as President of the SLS."
-Emily Raven, third-year law student, President of the TRU Society of Law Students

---

"I'm not a prof. I'm not a teacher, but I have the pleasure of interacting with law students and providing mentorship. My door is open, come in and chat. I also encourage students to participate in the Judge Shadowing program that I coordinate with Christi McAuley from the Career Services Office."
-The Honourable Justice Richard Blair (Ret.), TRU Law Judge-in-Residence

Best of luck to the TRU Law class of 2019.