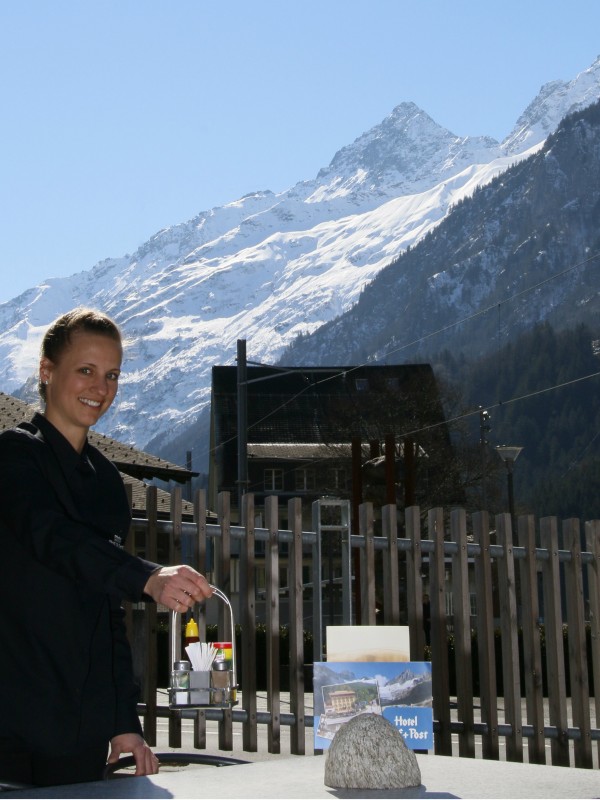 As the summer tourist season kicks off in Switzerland and the mountain passes open, TRU grad Debi Schranz is busy wowing guests at an intimate setting in the Central Swiss Alps popular with cyclists, motorcyclists and tour companies.
Schranz is a manager-on-duty at the Hotel Hof und Post, a 34-room hotel located in a town called Innertkirchen, in the Haslital Region of Kanton Bern, at the intersection of the Grimsel and Susten mountain passes.
"My duties here are diverse and I get to take on quite a bit of responsibility," said Schranz, who does everything from scheduling staff to advertising and design to serving to cleaning rooms.
"We are also the first hotel in Switzerland to offer a beer bath. You bathe in beer, drink beer and then nap in a straw bed."
Schranz is a graduate of the Resort and Hotel Management Diploma and got hired during a Swiss holiday shortly after her graduation from TRU in 2014.
"I went on holiday for two weeks, got offered a job, came back to Canada and sold everything and moved to Europe. I actually had to choose between two dreams because I was also offered a job in Pemberton at the same time," she says of her serendipitous dilemma.
Schranz had previous experience at the Hof und Post dating back a decade, when she was visiting family and got a summer job at the hotel. Travelling there again two years ago, she dropped in to say hi and was offered a full-time job, adding that her education at TRU has prepared her well for the task.
"It speaks highly of my skills because in Switzerland they have such a high standard in the hotel business—everything from how to open a bottle of wine to washing sheets."
Schranz credits her first Swiss hotel experience 10 years ago as her motivation to enter the industry.
Upon returning to Canada, she enrolled in some business and accounting programs in the Lower Mainland, but reflecting on that summer job, began looking around at hospitality programs.
"I started researching TRU. I found that it had small class sizes—where teachers would know my name—and it was affordable, and a community I wanted to live in. My sister was in the nursing program there. It made sense," she explained.
When she's not working, Schranz says she spends her time in the mountains hiking, skiing, doing yoga, or helping one of the local farmers in the barn, milking goats. She is also taking German classes. As for her future, Schranz is open to seeing what opportunities present themselves.
"I'll spend a couple of years here and then see what happens!"
Read more about other students immersed in a Swiss experience this summer
     Student lands UN internship in Geneva
     Blazing trails abroad
Also, learn how TRU students can gain a Study Abroad experience in dozens of countries, including Switzerland.