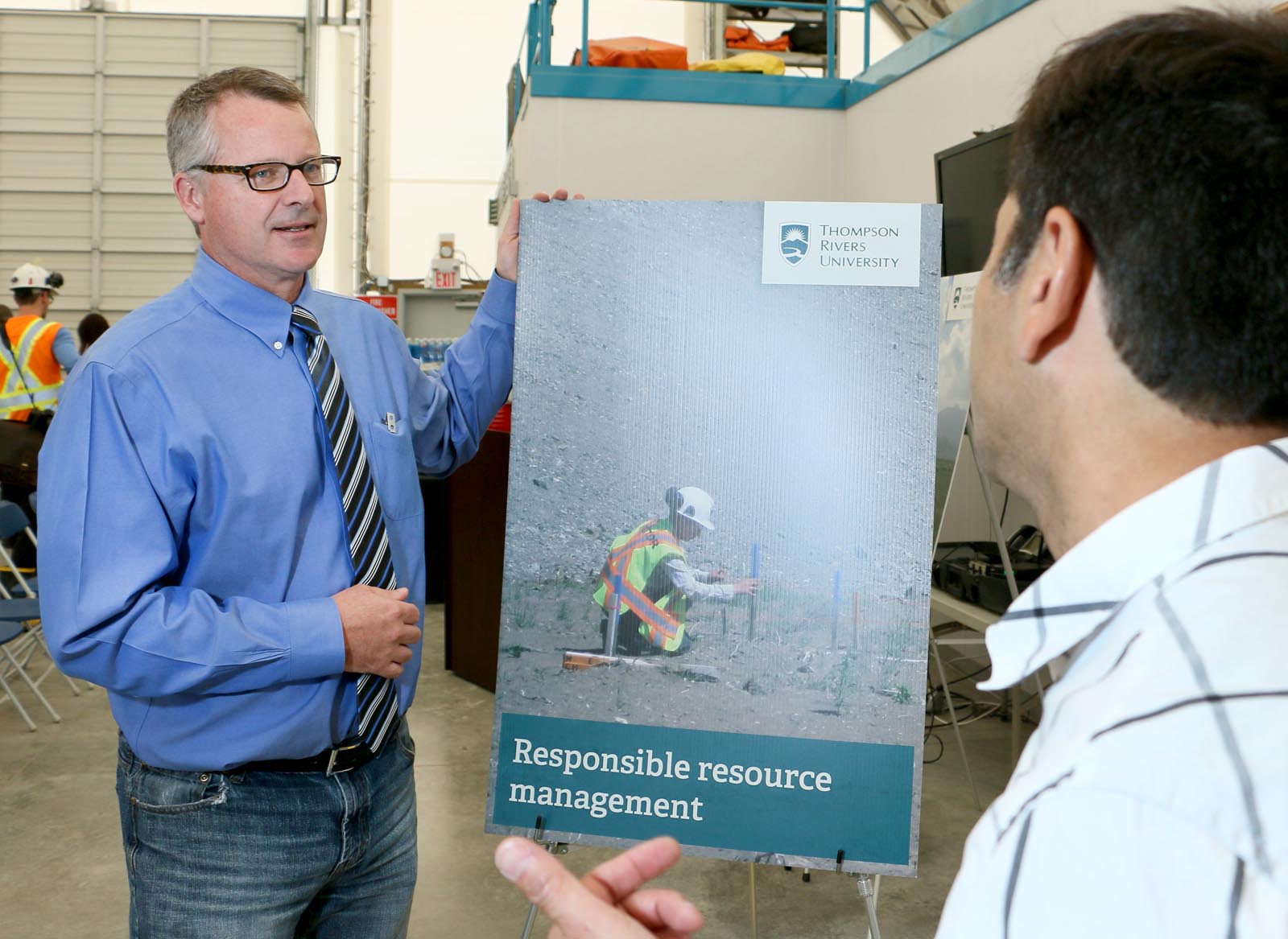 New Gold, operators of the New Afton copper and gold mine west of Kamloops, has pledged $200,000 toward the creation of a Natural Sciences and Engineering Research Council (NSERC) Industrial Research Chair in Ecosystem Reclamation at Thompson Rivers University.
This is the third large grant TRU has received toward the development of a Research Chair. In late 2015, Genome BC pledged $250,000 toward the project; the Real Estate Foundation of BC granted a further $150,000 in April.
Read: Real Estate Foundation commits $150K towards environmental leadership
Read: Genome BC pledges support for a research chair in ecosystem reclamation
New Gold's contribution is eligible to be matched by NSERC on a one-to-one basis.
"These investments allow TRU to be at the forefront in the development of tools to help solve environmental disturbances caused by mining, forestry and ranching — solutions that are more pressing than ever in the face of climate change," said Dr. Lauchlan Fraser, professor and candidate for the NSERC Industrial Chair.
"New Gold and the New Afton Mine highly value corporate social responsibility and proper environmental stewardship," said Scott Davidson, Manager of Environment, Social Responsibility and Tailings at New Gold's New Afton mine. "New Gold has partnered with TRU to continue research in the area of reclamation over a five-year period. Working locally on initiatives like this helps to build capacity in the community and leaves behind a positive legacy. We are proud to support applied research with TRU and build on our ongoing relationship with the university."
Creating an NSERC Industrial Research Chair supports the development of industry-based solutions to environmental problems, and puts TRU one step closer to the creation of a Centre for Ecosystem Reclamation — a first of its kind in Canada.
"These investments speak to the value of the research being undertaken at TRU. This research will not only solve local challenges, but it will also have an impact at an international level," said Alan Shaver, TRU President and Vice-Chancellor.
Reclamation solutions will be developed in consultation with local Aboriginal communities, incorporating their interests and using native plant species to restore traditional land use.
Read: Reclamation research nets graduate scholarship
This research ties directly to TRU's strategic priorities to ensure the environmental sustainability of the region. More effective reclamation plays a role in climate change, as mine sites, specifically water levels and longevity of species, are already being affected by changes in climate.
More information
Dr. Lauchlan Fraser
lfraser@tru.ca
Professor, Thompson Rivers University
250-377-6135
Backgrounder
About TRU
At Thompson Rivers University nearly 26,000 students study on campuses in Kamloops and Williams Lake or in distance or online courses and programs through Open Learning.
From traditional academics to trades, from certificates to graduate degrees, TRU offers over 140 on-campus programs and 60 Open Learning programs to choose from. TRU's main campus in the heart of Kamloops welcomes a diverse student population that is over 10 percent Aboriginal and 10 percent international, enriching an inclusive community culturally and academically.
TRU's modern combination of excellent teaching, community-inspired research, flexibility and student support create an environment where research, creation and innovation thrive—and so do its students.
About New Gold's New Afton Mine
The New Afton copper-gold mine is located approximately 10 kilometres west of Kamloops, BC, and occupies the site of the historic Afton Mine, and includes an open pit, underground workings, historic support facilities, a new concentrator and recently constructed tailings facility. New Afton began production in June 2012.
New Gold has a rich history of supporting research at Thompson Rivers University. Projects supported include wetland remediation research on the Great Basin Spadefoot, a blue-listed amphibian found in the wetlands near the mine, and new research being conducted to advance the search for effective biological control options against the fungus that causes White Nose Syndrome in North American bats. New Gold has offered up the use of a bat hibernaculum (bat cave) on the mine site. The cave is being used by TRU microbiologist Dr. Ann Cheeptham and adjunct professor Dr. Cori Lausen to identify new microbes and viruses that inhibit the growth of the fungus. White Nose Syndrome has already killed millions of North American bats since it was first documented in New York in 2007, and has been tracked as far west as Washington State.
Read: TRU researchers awarded $75,000 grant to study deadly bat disease