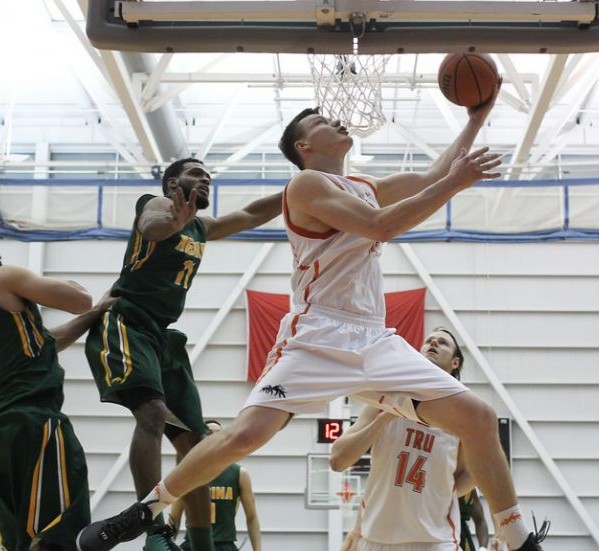 In its tenth year competing in Canadian Interuniversity Sport (CIS), the WolfPack played the best season in school history since joining Canada's most competitive varsity league.
In a season packed with team and individual success stories, four teams went on to compete in the post-season for the first time since entering the CIS. It was a big year on the women's side with the basketball, volleyball and soccer teams all advancing to the playoffs.
The men's basketball team won the Explorer Division title and moved on to the Canada West Final Four where they captured the silver medal and advanced to the CIS national championships for the first time in school history. They finished in a tie for seventh and eighth to cap off a very successful season. With a great year under his belt, coach Scott Clark was named Canada West Coach of the Year. Josh Wolfram was named a Canada West first team all-star, with teammate Jeff Tubbs making the all-rookie team. Wolfram also went on to be named Basketball BC's university player of the year.
Volleyball player Iullia Pakhomenko was awarded both the Canada West and CIS women's volleyball Player of the Year—the first female TRU athlete to win the CIS honour—as well as being named a Canada West all-star and CIS all-Canadian.
In his final season with the 'Pack, men's volleyball stand-out Brad Gunter became the Canada West and CIS all-time record holder in both kills and points. Gunter was named a Canada West first team all-star as well as a CIS all-Canadian and first team all-star. Teammates Kyle Behiels and Sam Taylor Parks were named to the Canada West all-rookie team.
A familiar face on the soccer scene, Kelly Shantz was announced as the new head coach of the women's team. He will look to improve on a successful season and take the program to the next level.
Three athletes from the swim team—the newest addition to the Pack—went to the league swim championships. As the program continues to grow, watch for some superstars to emerge on the scene.
Carmin Mazzotta took over the cross country running program and is establishing a team which looks to challenge in the near future.
TRU's baseball team underwent a retooling after almost its entire starting line-up graduated last season. Despite a young roster filled with new faces, the team finished third in the Canadian Collegiate Baseball Conference (CCBC). Seven of their players were named CCBC all-stars.
After a record season, the WolfPack continues to grow. Come out and back the 'Pack this fall.