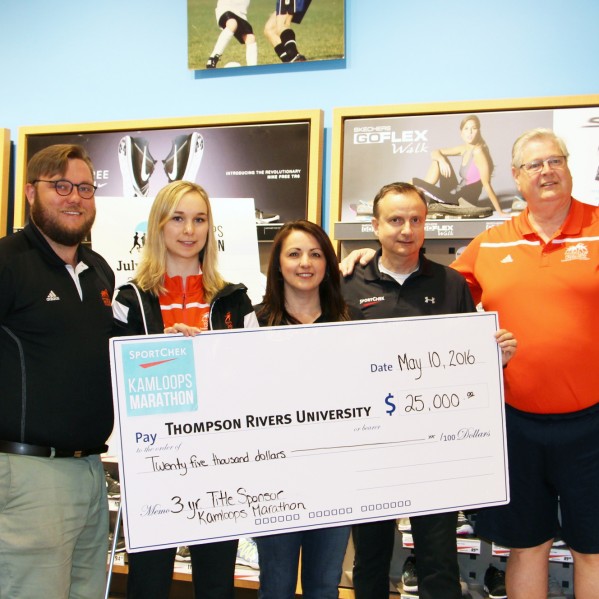 When the gun sounds to start the full marathon on July 24, Kamloops' fifth annual race will be known as the Sport Chek Kamloops Marathon thanks to a three-year title sponsorship deal with Canada's largest sporting goods retailer.
The agreement will see Sport Chek provide in-kind sponsorship over the next three years to help support the community event, which is a fundraiser for TRU WolfPack student athletes and the university's cross country running team.
"Every year the marathon grows, and Sport Chek has ensured its longevity so that we can continue to build this event that celebrates our community, health and athletic excellence," said VP Advancement, Christopher Seguin.
A certified Boston Marathon qualifier, the Kamloops Marathon has grown annually—last year with 600 participants and this year with a goal of 750.
With a new title sponsorship, race organizers are hoping that the event will become an even greater attraction.
"We are thrilled to partner with TRU as the title sponsor of the Sport Chek Kamloops Marathon. We look forward to growing the marathon and celebrating the dedication and training runners go through to achieve their better," said District Manager Howard Toering, Sport Chek.
The race includes a full and relay marathon, half marathon, and an 8km and 3km family fun run. Proceeds from those participating in the 3km family fun run will go towards Canadian Tire's Jumpstart Charities.
"I am extremely excited that all proceeds from the family fun run will be supporting Jumpstart, which helps children embrace sport every year," said Seguin.
The Kamloops Marathon was started as a partnership between the City of Kamloops and TRU in 2012 and is now attracting high-level runners from across Canada as well as a growing number of international racers.
More Information
Christopher Seguin
VP Advancement
250-852-6357
cseguin@tru.ca