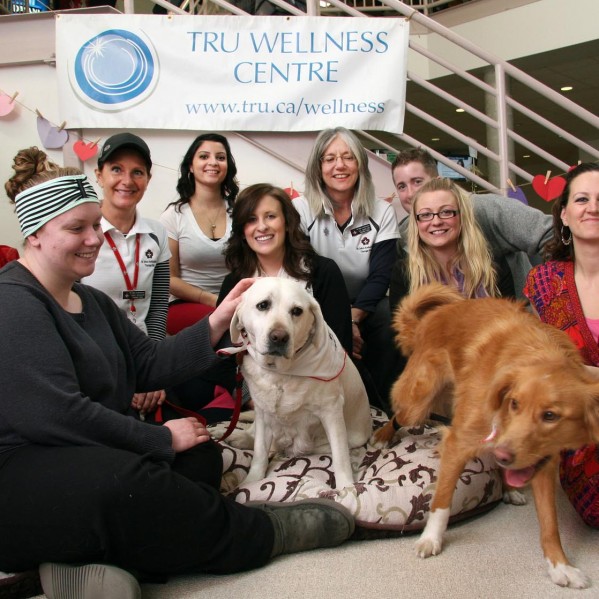 The Wellness Centre was recently honoured with the WellnessFits Platinum Extra Mile Award for its development of countless health-based initiatives and the progressive work done with its tobacco and e-cigarette policy.
WellnessFits is a partnership of the Canadian Cancer Society that awards a bronze, silver and gold Extra Mile Award to businesses that have shown creativity, ingenuity and dedication through the development of their workplace wellness programs. The Platinum award was created especially for TRU, to give recognition for going above and beyond.
"TRU's wellness initiatives were so expansive and so out of the ballpark that they were in a league of their own, so much so, we created the platinum award," said Laura Dale, WellnessFits coordinator.
"We loved how TRU creates a culture of change in the workplace by mixing curriculum development with policy."
WellnessFits is a free comprehensive workplace wellness program that offers businesses and organizations resources and support they need to create healthy workplaces.
"I am filled with gratitude and very humbled by this recognition from the Canadian Cancer Society. The WellnessFits Program has been a leader in employee wellness and I am extremely grateful for their innovation and for inspiring me to work on implementing their strategic health promotion model here at TRU," said Chelsea Corsi, wellness coordinator.
"A myriad of campus, community and provincial stakeholders have all been a part of our success. Without these strong relationships, this recognition would not have been possible," she said.
The award was presented by Matt Herman, Executive Director of Healthy Living and Health Promotion at the BC Ministry of Health.
"WellnessFits is proud of the hard work TRU has shown in building a healthier workplace for their employees and we look forward to seeing where they take their wellness program next," said Herman.