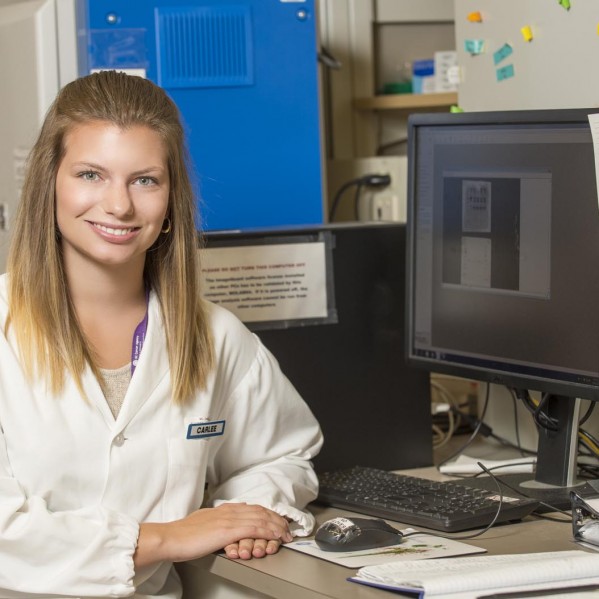 Assisting with ground-breaking cancer research has earned Carlee Poleschuk TRU's 2015 Co-op Student of the Year award.
In her fourth year of a Bachelor of Science and majoring in chemical biology, Poleschuk spent her winter and summer co-op terms of 2015 at TRIUMF, which is Canada's national laboratory for particle and nuclear physics. Located at UBC, the facility attracts top students and talented people from around the world as they work towards finding answers to tough questions in physics, material science and nuclear medicine.
Collaborating with TRIUMF's nuclear medicine team and the BC Cancer Agency, she helped efforts to unlock the question: How does a physician image a cancer that does not respond to common techniques?
Poleschuk says those two terms forever changed her career plans.
"Now I'm exploring medical and graduate school and my goal is to go into the field of nuclear medicine," says Poleschuk, adding, "My co-op terms at TRIUMF completely influenced my future career goals."
TRU Co-op Coordinator Marion Oke says Poleschuk exemplifies the qualities that make many TRU co-op students so successful in the workplace.
"Carlee approached all of her work terms with interest, enthusiasm and a commitment to learning and doing her very best for each and every co-op employer she worked for," says Oke. "She is extremely deserving of this year's award."
Poleschuk has applied for the provincial and national co-op student of the year awards.
More about TRU co-op
Co-operative education allows you to apply your academic learning in actual work situations and get paid at the same time. That means you earn while you learn.
More than 300 TRU students in arts, business, sciences and tourism participate in co-op each year and in a variety of industries and occupations in the private, public and non-profit sectors.
Also conducting UREAP research
Poleschuk is also a current Undergraduate Research Experience Award Program (UREAP) recipient. Her project title is "Capillary Electrophoresis Study of Interaction Between Omega-3 Fatty Acids and Epigallocatechtin Gallate."
UREAP provides a $4,500 scholarship to students to undertake their own research projects. The Winter 2016 deadline is 4 p.m., Feb. 29, 2016.