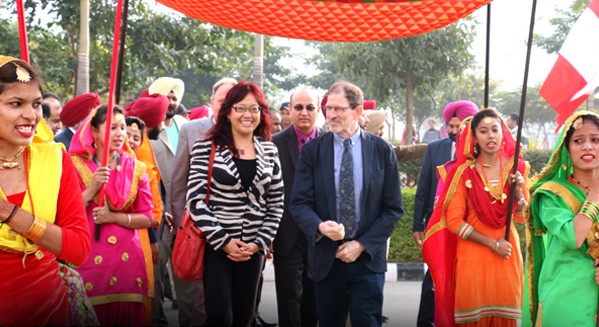 More students could flow into Thompson Rivers University after a successful mission to India in December led to the signing of proposals with two of that country's biggest schools.
In the areas of tourism management and computing science, the proposals would enable students at English-speaking schools I.K. Guraj Punjab Technical University and Chandigarh University to do the first half of their program in India before moving to TRU's Kamloops campus. Nearly 400 Indian students are on campus currently, and the proposals mean that figure could increase.
"We are extremely satisfied with the outcome of this trip as it opened doors to education and industry collaboration in a complex and tough market," said TRU Associate Vice-President International and CEO Global Operations Baihua Chadwick.
The programs would start with 20 students and gradually increase, said Chadwick, and depending on assessments of the involved academic departments, the first intake could be as early as next year.
"In the 21st century the world has become smaller and smaller and we need to provide students the opportunities to gain global competency while exposing our faculty to international collaboration," said Chadwick. "I have no doubt these initiatives will enhance TRU's academic and professional competitiveness."
Two incentives are also being discussed for Bachelor of Tourism Management students: guaranteed employment upon completion of their program and a housing discount and scholarship while in Kamloops. Those incentives would be provided through partners in the hospitality industry who have operations in Kamloops, Canada and India.
I.K. Guraj Punjab Technical University has 180 campuses and more than 200,000 students. Chandigarh University is the largest private university in the state of Punjab, with over 30,000 students. India has 1.25 billion people and according to the United Nations, is expected to surpass China as the world's most populous country by 2028.
The TRU mission team also met with high-ranking government officials in higher education, skills development and technical training. Discussions with officials in urban planning looked at how TRU's School of Trades and Technology could help provide skills training for India.
Media inquiries
Baihua Chadwick
Associate Vice-President International and CEO Global Operations
Thompson Rivers University
250-371-5525
bchadwick@tru.ca