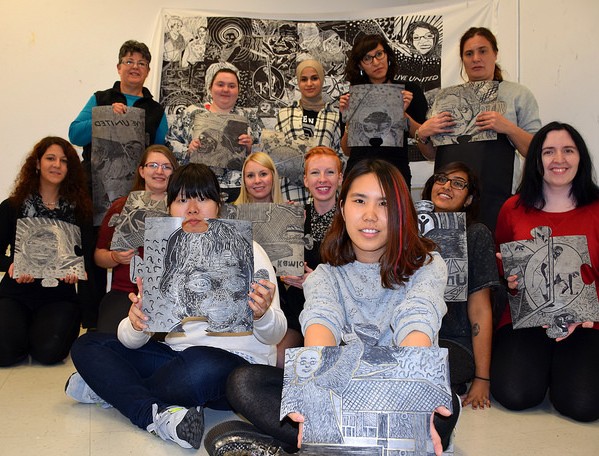 As the TRUly United campaign officially kicked off this week, the work of 15 visual arts students was revealed in Student Street; the print is a series of puzzle pieces joined together to showcase the connection between the community and the university and the way both work toward a shared vision.
Under the guidance of visual arts senior lecturer Ila Crawford, the second year students each created a lino-cut puzzle piece — some students created more than one piece —and then printed them together. Lino-cut prints are a type of relief print where areas of the plate are carved away and ink is rolled onto the surface of the plate. The areas carved away remain white, while the areas not carved are inked up and printed onto a surface when pressure is applied.
To create a cohesive piece of artwork the students consulted with one another, ensuring each piece was visually connected to the next. Then they worked side by side, rolling ink onto each plate to hand-print it, and the result is an eye-catching 3 ft. by 6 ft. print on fabric.
Crawford, who has a background in both visual arts and social work, was drawn to the project because of the cause, and because of the way it would allow the students to work together.
"It was a great way for them to learn how to negotiate time and space. I directed the work, but it was interesting to watch their process," she said.
It was also a great way for the students to learn more about The Kamloops Thompson Cariboo United Way.
"It raised their curiosity about it, and the project offered a way to introduce them to the United Way and the TRUly United Campaign."